Are Simone Biles And Suni Lee Friends?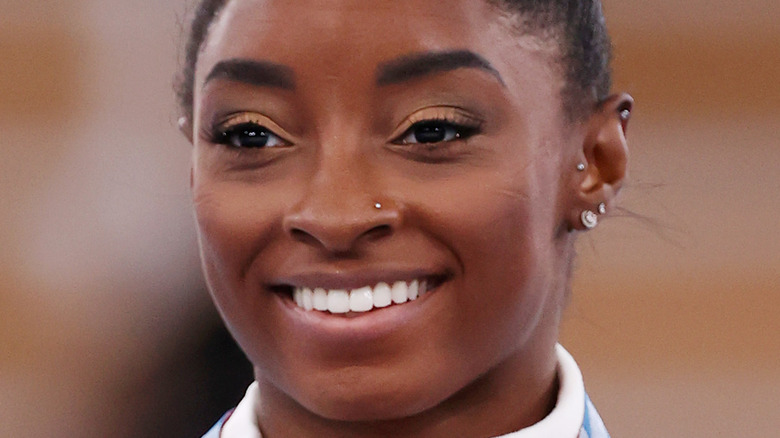 Jamie Squire/Getty Images
Simone Biles and Suni Lee have every reason to see one another as fierce competition, given their elite status as Olympic champions. However, they have shared supportive statements about one another over the past few years, suggesting they might truly be friends with one another.
As her USA Gymnastics bio detailed, Biles became a gymnast as a young child. She made her mark on the world stage in 2013 as she started racking up key wins, including becoming both the U.S. and world all-around champion. She earned accolades with her floor, balance beam, uneven bar, and vault routines as well, and was the silver medalist at the AT&T American Cup that year. Biles kept winning from there and set medal records at the 2016 Olympics as she became the most decorated female gymnast ever for the U.S.
Lee's rise in gymnastics is much more recent, although it's still quite impressive. Her USA Gymnastics bio pinpointed 2015 as her first year experiencing national competitions, at the age of 12 (per Bleacher Report). Team USA noted it was the summer of 2019 when Lee really elevated her game. That was when Lee came in second place in the national championships, finishing behind Biles. She snagged several medals at the world championships after that and was expected to be a key U.S. team member for the Olympics. Up until that 2019 summer competition, Biles and Lee seemed to be merely acquaintances at most. However, that competition substantially changed their dynamic.
A friendship formed outside the gym
Bleacher Report noted Suni Lee wasn't necessarily expected to stand out at the 2019 nationals, as she was new to this elite level of competition. Then, just before departing for nationals, Lee's father had a devastating accident. He fell from a ladder and he was left paralyzed from the chest down. Lee competed despite her worries for her father, and she excelled. According to Elle, that competition also sparked a connection between Lee and Simone Biles. A few snapshots of the two gymnasts together made it to Instagram as the U.S. team bonded after that, but then their lives turned upside down.
A few months after Lee and Biles' friendship started developing, the coronavirus lockdown hit. Lee learned from social media the 2020 Olympics had been postponed due to the virus, and her gym closed for several months. As soon as it opened, Lee broke her foot, so she faced more time away from the gym. In addition, she lost both a close aunt and uncle to COVID-19. "She was there for me," Lee noted of Biles during that tough time. Biles and Lee stayed in touch via Snapchat and texts, and their bond grew.
When the Olympics finally took place in Tokyo, both Lee and Biles were there, noted USA Gymnastics. Early in the competition, Biles shockingly withdrew. Lee stepped up for the team, and noted via Twitter she had "never been prouder to be apart of such an amazing team."
Simone Biles and Suni Lee rave about one another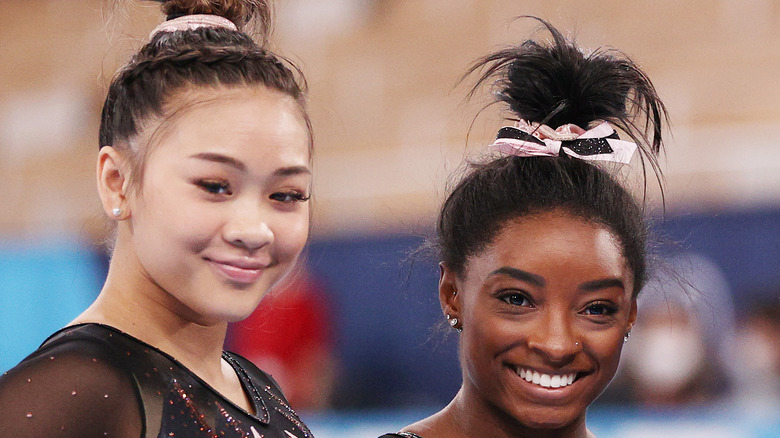 Patrick Smith/Getty Images
MPR detailed Suni Lee won the all-around women's gymnastics title at the Olympics. As the women's team celebrated, Simone Biles took to Instagram to celebrate Lee's win. "CONGRATULATIONS PRINCESS absolutely killed it!!! OLYMPIC CHAMPION RIGHT HERE!!! So so so beyond proud of you!!!!" Lee shared the same photo on Instagram as she praised Biles. "Proud of you & everything you've accomplished! Thank you for being a role model and someone I look up to every single day," Lee wrote.
Soon after that, Biles was inspired when she saw Lee place her gold medal around her father's neck. As Today shared, Biles decided to surprise the family with a special gift. "I love your daughter Suni so much, and I know how much she loves you," she explained to her teammate's father. The surprise was an electric wheelchair to replace his manual chair.
After the Olympics, Biles returned home to Texas to start a new chapter in her life. As The Cut detailed, she emphasized setting boundaries, believing, "if you take care of your mental well-being first, the rest will fall into place." Lee enrolled at Auburn University, shared Teen Vogue, and she joined "Dancing with the Stars." Biles, who was on Season 24 of "DWTS," told People, "I think America will fall in love with her because she has such an inspiring story." By the looks of things, Lee and Biles have formed a friendship that will last for years to come.