The True Meaning Behind 'Scoop' By Lil Nas X Featuring Doja Cat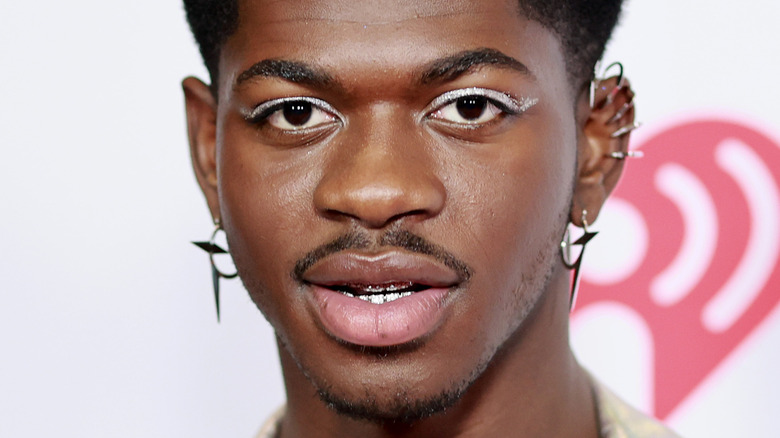 Emma Mcintyre/Getty Images
If you adore the music that Lil Nas X has released during his relatively short but wildly successful career, then you're definitely not alone. He's been making major waves in the music industry with songs like "That's What I Want" and "Lost In The Citadel." The same can definitely be said about Doja Cat, who's found fame and countless fans thanks to tunes like "Need To Know" and "Ain't Sh*t." That's why it was more than a little exciting when the two teamed up.
And Doja Cat was beyond thrilled about her "Scoop" collaboration with the rapper, considering the fact that, in June, she told MTV that she "[couldn't] wait to work with him." Going on to praise Lil Nas X, she added, "He is the sweetest person and ... very funny and actually is one of the very few celebrities that knows how to use TikTok correctly. I feel like he's the best one out of all of us." That's quite a compliment!
Also noting that she "support[s] him fully," that's perhaps because — among other likely reasons — they share a few things in common. That includes what they happen to be saying in the song that they released together, the undeniably playlist-worthy "Scoop."
Lil Nas X hopes looking good will lead to a certain something
Found on Lil Nas X's super-popular album "Montero," his song with Doja Cat, "Scoop," reveals that the rapper has been putting in some work in the hopes that the person he has his eye on might eye him back and appreciate what he sees. And when we say work, we mean the physical kind as he notes in the pre-chorus when he sings, "I been workin' on my body / You ever seen a n***a hit pilates?" A little later he adds, "Sh*t, I been in the crib goin' crazy / I been movin' work on the daily / Baby, I ain't tryna be your baby / Understand, I'm just tryna be the daily."
Going on in the first verse to admit that his ex is "hittin' [his] phone, tryna get back," he simply states, "Don't you hit me with that, 'Miss you,' I ain't with that." Also not interested in any "chit-chat," he isn't shy about admitting that he's looking for, er, um, some up close and personal time that's more sensual than romantic. Could this be about Lil Nas X's on-again, off-again boyfriend, Yai Ariza? While he doesn't spell it out, what is clear is that the rapper isn't the only one feeling that way.
Doja Cat's body is 'like somеthing you'd eat cake off'
Lil Nas X may be perfectly upfront and honest about his actions and intentions in "Scoop," but he's not the only one who you'll hear in the song. In the second verse, Doja Cat joins him and it becomes obvious right away that she is also feeling both fabulous and frisky. "Tomorrow is my day off (Okay) / All them rehеarsals got me tight, look at the payoff (Okay) / And now my body look like somеthing you'd eat cake off / I just got my veneers, now b****es wanna rip they face up," Doja Cat tells anyone who's listening.
Mirroring what Lil Nas X stated before her when it comes to both looking good and, in turn, hoping and expecting to get a certain kind of attention because of that, she also shuts down anyone from her past, adding (again, with some, um, suggestive adult-rated language), "But you thought you'd have a chance after you wanna disrespect me? / Let him apologize, and eat it in a Bentley / He named my right cheek Jennifer and left one Lopez..."
Also sure to point out that she knows exactly what she's doing, she finishes with: "Can't call me stupid with this big ol' f**kin' forehead / Motherf**ker, let me." Fierce in so many ways!