The Real Reason Angelina Jolie Refuses To Watch Her Films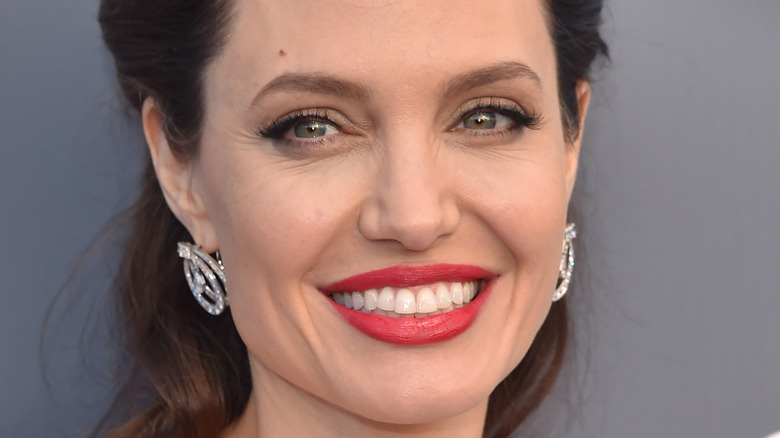 DFree/Shutterstock
Angelina Jolie is known as an actor and an activist. The "Eternals" star has stood up for LGBTQ+ inclusion while promoting the latest Marvel film. The Marvel movie was banned in Saudi Arabia, Qatar, and Kuwait for showing a same-sex couple's kiss, per The Hollywood Reporter. Jolie spoke out against the ban, telling news.com.au that she was "sad" for those who couldn't see the movie and that she was "proud of Marvel for refusing to cut those scenes out."
Censors in the gulf countries asked Marvel to take out the kissing scenes, and Jolie didn't hold back her feelings during an Australian "Eternals" press event. News.com.au reported that Jolie said, "I still don't understand how we live in a world today where there's still [people who] would not see the family Phastos has and the beauty of that relationship and that love. How anybody is angry about it, threatened by it, doesn't approve or appreciate it is ignorant."
It's no surprise that the Oscar-winning actor is advocating for the LGBTQ+ community, but it was a surprise to learn that Jolie refuses to actually watch her own films.
Angelina Jolie called herself a 'terrible critic'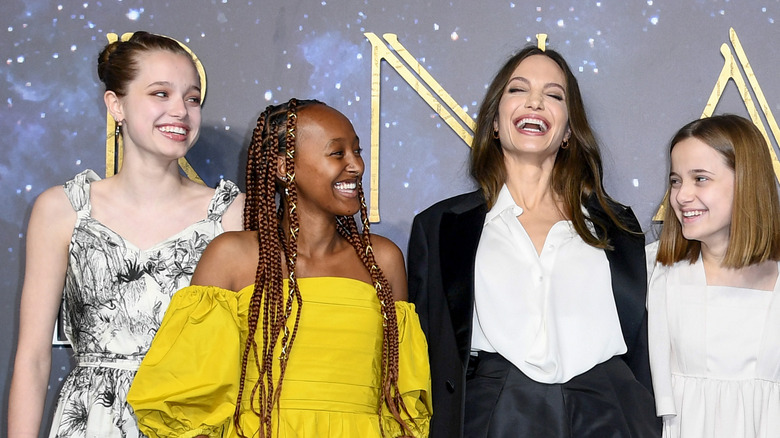 Gareth Cattermole/Getty Images
Angelina Jolie confessed she doesn't really watch her movies. Since Jolie is a single mom of six, it's easy to assume she might not have time to watch herself on screen! But the Oscar-winning actor says she doesn't watch her movies because she prefers the process of making films, and she's a "terrible critic." In an interview on Nova radio's "Smallzy's Celebrity Small Talk," Jolie explained, "I usually see it and I get frustrated cause I thought it was going to be something else." The "Eternals" star continued, "There's quite a few films of mine I've actually never seen, 'cause I like the process."
But Jolie revealed she made an exception to her usual rule for "Eternals." She plays Thena in the Marvel film about immortal beings. Jolie said, "I really just like the making of. But I enjoyed watching this one, I've seen it." The activist actor is all in for the MCU film, and made promoting the movie a family event. At the U.K. premiere of "Eternals," almost all the Jolie-Pitt kids joined their mom on the red carpet. Zahara, Knox, Vivienne, Shiloh, and Maddox stunned at the premiere, wearing chic clothes from their mom's closet with some vintage thrown in. "My kids are all mixed with vintage, and in my old Oscars dress. We did all vintage and up-cycled my old stuff," Jolie said, per Teen Vogue.