What Did The NFL Just Force Aaron Rodgers To Do?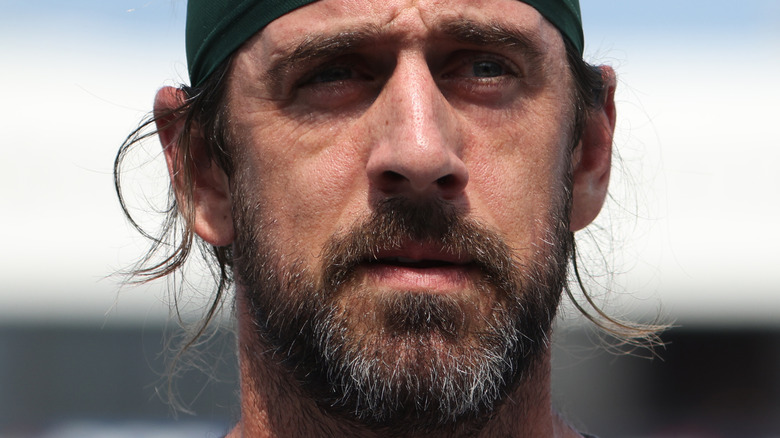 Timothy T Ludwig/Getty Images
Aaron Rodgers raised quite a few eyebrows in early November when it was confirmed he'd tested positive for COVID-19. The Green Bay Packers quarterback's diagnosis caused quite the furore, as he'd previously claimed during a press conference over the summer that he had been "immunized."
According to NFL, Rodgers had previously "sought and was denied an exemption from the NFL-NFL Players Association COVID-19 protocols" because of antibodies he had over the summer. Because of his unvaccinated status, Rodgers had to undergo extra procedures that his vaccinated teammates didn't have to, including wearing masks, extra testing, and having periods of self-isolating.
It's safe to say that Rodgers' positive test confirmation divided the nation. While some slammed the football star for his stance, many others, including Carrie Underwood's husband and former professional hockey star Mike Fisher, were outspoken in their support of the quarterback. "I stand with @aaronrodgers12 I believe in the freedom to choose what we put in our bodies and the freedom of conscience," Fisher wrote on Instagram on November 6, which inspired a like from Underwood and a bit of an awkward moment at the 2021 CMA Awards.
As for Rodgers? Well, he was forced to take 10 days away from football as a period of self-isolation, but returned for a triumphant 17-0 win against the Seattle Seahawks on November 14. Well, it was triumphant with him on the field at least...
Aaron Rodgers' virtual press conference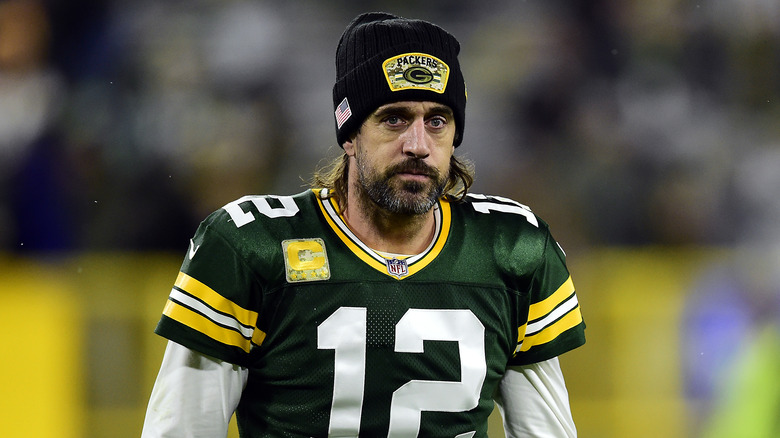 Patrick Mcdermott/Getty Images
We're guessing Aaron Rodgers wasn't as thrilled about his post-game activity as he was during the Green Bay Packers vs. Seattle Seahawks game on November 14, as his COVID-19 positive test still lingered in the wake of his 10-day isolation period. Per Daily Mail, Rodgers was forced by the NFL to give his post-match press conference virtually via video call after he allegedly "refused to comply with NFL rules" by wearing a mask, which would have allowed him to enter the press room.
It seems like Rodger's anti-mask stance was made clear before the game, as ESPN's Rob Demovsky confirmed the news on Twitter. The journalist claimed Shailene Woodley's fiancé's "other option, unless he wanted to pay more fines, was to do it wearing a mask in the media auditorium."
Speaking about his return during the around 15-minute November 14 press conference, Rodgers said that it felt "good to be back with the guys, good to be back at home, good to be on the field, really," adding, "I am happy. Just a little tired. It has been a long 10 days."
Rodgers was still rocking the longer hair that hit the headlines in the months before his positive test, albeit under a black beanie hat. The athlete had previously grown out his locks to dress up as the Keanu Reeves character John Wick for Halloween, which he proudly showed off on Instagram.