Kim Kardashian Celebrates Pete Davidson's Birthday In Style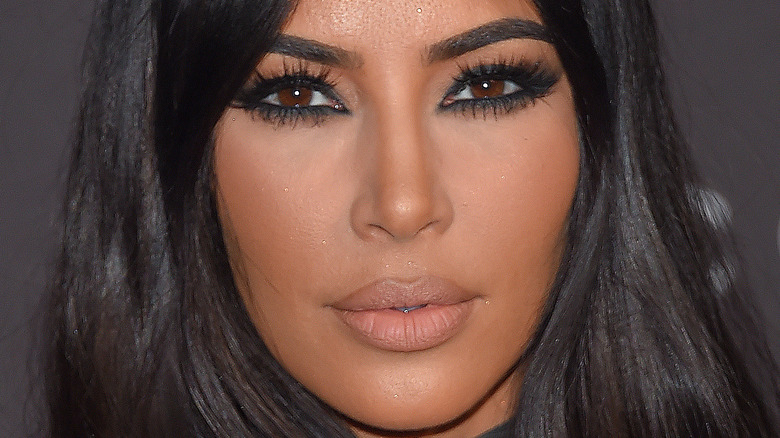 DFree/Shutterstock
Kim Kardashian and Pete Davidson are the talk of Hollywood right now. The maybe couple have been keeping everyone guessing about the status of their relationship ever since People published snaps that showed the unlikely couple holding hand at a theme park just before Halloween in the wake of Kim's "Saturday Night Live" hosting gig.
At the time, a source told the outlet that the reality star and "SNL" comedian — who previously dated Kate Beckinsale — were "just friends." However, the twosome have been spotted together multiple times since, with varying takes on just how close they're really getting in the wake of Kim's split with her estranged husband, Kanye West.
Things appeared to be heating up between the two — who are yet to officially confirm publicly if their relationship is anything more than platonic — when Kim made the trip from the west coast to New York City, where Davidson lives. According to TMZ, they were spotted together out and about on what appeared to be at least two dates where a witness claimed they were "displaying plenty of PDA" at a couple of Big Apple hotspots.
The sighting that's got everyone talking now? Well, that one has a pretty special meaning...
Kim Kardashian and Pete Davidson matched clothes
Kim Kardashian and Pete Davidson are Instagram official! Well, kind of... Rapper Flavor Flav did the honors as he shared snaps of himself with the maybe couple and Kim's mom, Kris Jenner, celebrating Davidson's 28th birthday on November 16.
The family affair happened at Kris's home in Palm Springs, according to TMZ, where the rapper gave the comedian a present he's sure to remember. "Pete,,, I never took a clock off my neck to give to someone and you will be the last person I do this for," he wrote in the caption. The first snap showed Davidson, Kim, and Kris in matching brown flannel ensembles (does it get more coupley than that?) while the second showed Flavor Flav standing alongside Davidson.
As of November 18, Kim doesn't appear to have publicly shared any snaps from the event on Instagram, though Kris shared a photo that was seemingly taken at the event as she wore the same brown gingham ensemble. The shot was a repost on her story from stylist Simone Harouche and showed them both matching outfits with Allison Statter.
The latest sighting came a few days after a Hollywood Life source claimed the former "Keeping Up with the Kardashians" star "has not stopped talking to her sisters about Pete." The insider added, "They text all day everyday and she shares these texts with her sisters. She is very much into him and this is not a fling it seems."