Are Charges Coming In The Gabby Petito Murder Investigation?
Only days after autopsy results were made public for Brian Laundrie, the former fiance of and person of interest in the homicide of 21-year-old Gabby Petito, it appears there might be an unexpected development in a case many presumed would never head to court. Petito's murder, which first gained attention nationwide after the aspiring travel van influencer was reported missing in early September, was by all appearances put to rest after Laundrie's remains were later discovered in late October.
Though Laundrie — who was found to have died by suicide in a wooded Florida park after evading federal authorities — was declared a person of interest in the case by federal authorities, his actions during and after the search for Petito cemented his culpability in the eyes of the public. In short: case closed.
But according to a November 23 report by People magazine, a recent statement made by a lawyer representing the Petito family raises questions as to whether there might be other avenues of justice for her friends and loved ones. Is it possible that others might be, by legal definition, responsible for the tragic events that ensued? 
The Petito family lawyers announced a possible development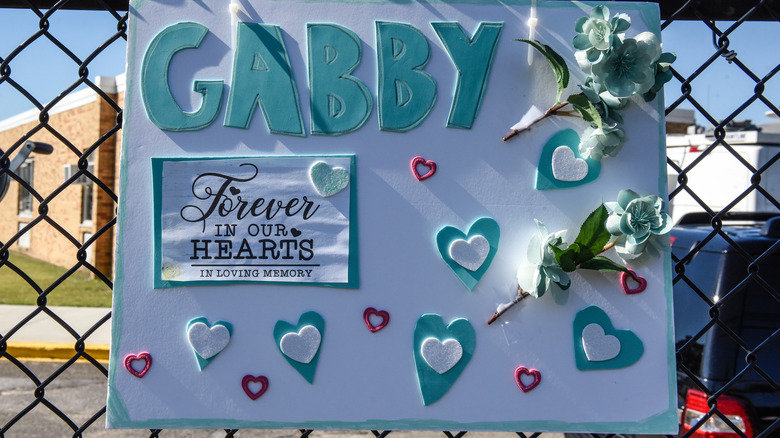 Stephanie Keith/Getty Images
According to People, Petito family attorney Richard Stafford issued a statement on November 23, which seemingly alluded to the involvement of other parties in the Gabby Petito homicide case — or at least that federal officials are currently investigating as to whether charges could be brought. "The Schmidt and Petito family has been aware of the circumstances surrounding the suicide of the sole suspect in Gabby's murder," Stafford wrote, per People.
He then added that until a confirmation by law enforcement and federal prosecutors can be made, his clients will remain silent on the subject, noting, "Gabby's family will not be making a statement at this time due to the request of the United States Attorney's Office and the Teton County Prosecutor's Office." Though there is no clear timeline as to when the next update in the case will occur, Stafford made one thing clear: "When that determination is made, we will have a statement."
The subject of who those unnamed individuals could be is, as of this writing, only speculative, though the possibility that it could be Brian Laundrie's parents, Chris and Roberta Laundrie, was enough that their own attorney issued a statement following the news, per Insider. "I have no reason to believe any charges will be filed against Chris and Roberta Laundrie with respect to this case," Steven Bertolino, the Laundries' lawyer, told the news outlet.
If you or anyone you know is having suicidal thoughts, please call the National Suicide Prevention Lifeline​ at​ 1-800-273-TALK (8255)​.