What Queen Elizabeth Just Told The Royal Family About Her Health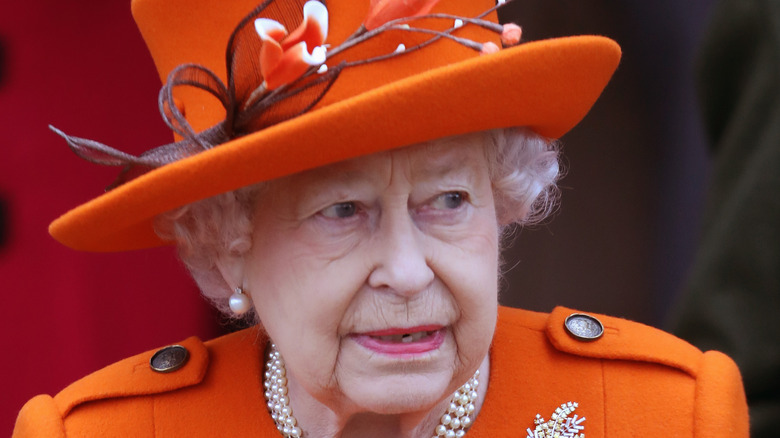 Chris Jackson/Getty Images
This past October, Queen Elizabeth parked great speculation about whether she'd soon be stepping down from the throne following a highly publicized health scare. It all started when she canceled a trip to Northern Ireland on medical advice, per AP, then spent the night in hospital to undergo various "preliminary investigations" into her mystery condition. She was ordered to take it easy for a few days, which then turned into a few weeks, forcing her to miss the COP26 United Nations Climate Change Conference, per BBC. According to People, she was advised to "continue to undertake light, desk-based duties," but stop "official visits." Come November, the queen hit another setback when she suffered a sprained back and was forced to cancel her scheduled appearance at London's Remembrance Day ceremony "with great regret," per People.
Speculation about the queen's health mounted until Prince Charles shared a positive update during a trip to Jordan, when he confirmed that she was "alright, thank you very much." It echoed an earlier reassurance made by Boris Johnson who said he spoke to her and found her to be in "very good form," per the Daily Mail. Indeed, on November 17, ITV NEWS Royal Editor Chris Ship tweeted about her majesty's return to "light duties" when she met with General Sir Nicholas Carter at Windsor Castle to mark his retirement. As he noted, it was her first in-person appearance since October 19 when she attended the Global Investment Summit. 
Now, Queen Elizabeth is planning to ramp up her return to normalcy even further.
Queen Elizabeth is reportedly 'determined' to celebrate Christmas in her traditional way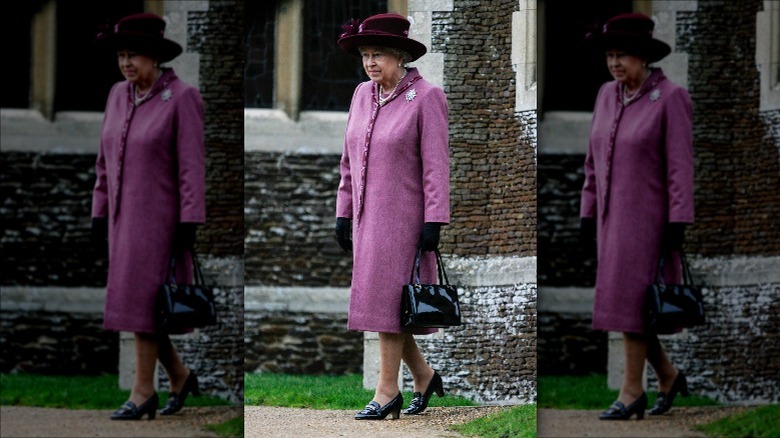 Alessia Pierdomenico/Shutterstock
Despite Queen Elizabeth's recent health struggles, it appears the 95-year-old monarch has bounced back. According to the Mirror, she is planning to travel to Sandringham House in Norfolk, England on December 17, so she can prepare to host her family for Christmas. It will be a bittersweet event as it will be the first year she celebrates without her late husband, Prince Philip.
Speaking of the queen's holiday plans, a source claimed that she has "told everyone she is feeling far better of late and is very much looking forward to welcoming them for Christmas," particularly because the pandemic has kept the family apart.
As for the guest list, Prince Charles and Camilla are sure to attend, as are Prince William and Kate Middleton and their three kids. Prince Harry and Meghan Markle were reportedly "hoping to go back home for Christmas ... if not before so that [the queen] can finally get to meet [her great-granddaughter] Lilibet and see [great-grandson] Archie again," a source told Us Weekly in October. However, as royal biographer Stewart Pearce later revealed on Us Weekly's "Royally US" podcast (via Express), "Harry and Megan won't be able to [spend Christmas with the royals] because ... they're very, very busy with their projects." Invites have also reportedly been sent to Prince Andrew, Princess Anne, and Princesses Beatrice and Eugenie, plus all of their spouses and children. 
Queen Elizabeth is also said to be "determined" to attend church with her family on Christmas Day.