The Truth About Travis Barker's First Wife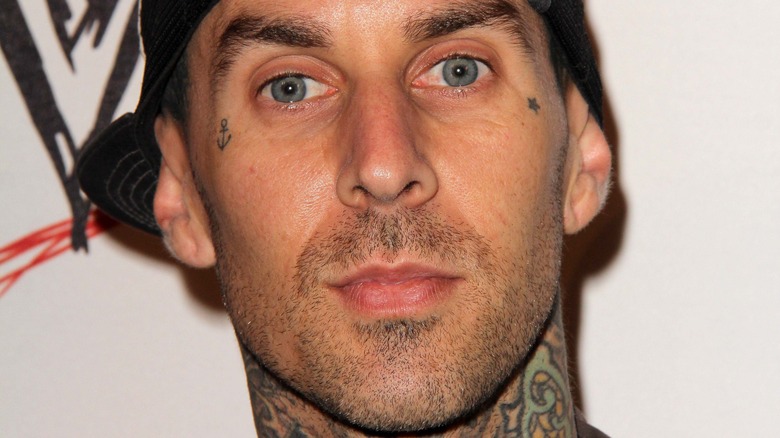 s_bukley/Shutterstock
Travis Barker has been making a whole lot of headlines lately, and not because of his music, his career, or his passion for the drums. Instead, he's been making headlines for his relationship with "Keeping Up With The Kardashians" star Kourtney Kardashian. Ever since they've gone public with their romance, they've been photographed showing extreme PDA, like they did in Italy back in August, according to Us Weekly.
In fact, they've been so hot and heavy that even Kardashian's ex Scott Disick couldn't help but comment on the matter in a series of DMs that he sent to another one of Kardashian's exes, Younes Bendjima. After seeing a photo of Barker and Kardashian getting very up close and personal on a gondola together, it triggered Disick to send a message to Bendjima that said, "Yo is this chick ok!????? Brooo like what is this. In the middle of Italy."
With that said, there's another person who has been commenting a lot about Barker and Kardashian's relationship: his ex-wife Shanna Moakler. And while Moakler sure has a lot to say about them, little do fans know that she's not Barker's only ex-wife out there. In fact, he was married to someone else before he got together with the model, and she's someone who has had quite the history with the Blink-182 drummer, too.
Travis Barker's marital history explained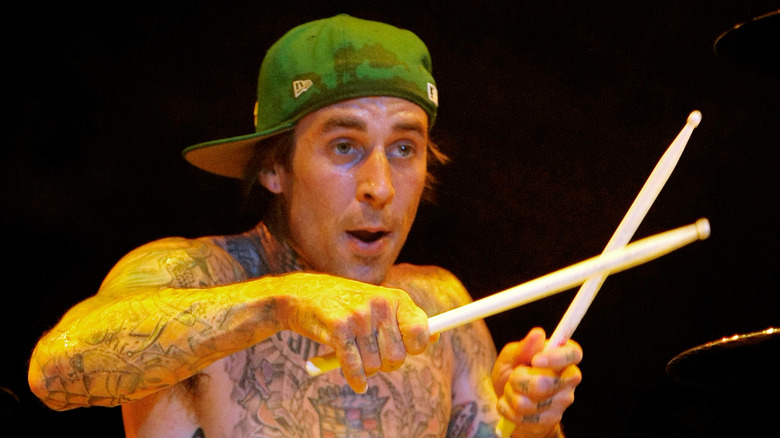 Ethan Miller/Getty Images
Travis Barker's first wife was a woman named Melissa Kennedy. According to Hollywood Life, Barker and Kennedy's marriage lasted less than a year and during the height of Blink-182's fame in the early aughts. Not much is known about their marriage, other than the fact that they divorced in 2002, per PopSugar.
According to Kennedy's IMDb page, she was featured in two of Blink-182's documentaries in the past, but other than that, she's kept a very low profile. She also had a hand in helping Barker launch his clothing line, Famous Stars and Straps, and has worked as a realtor in her native California as well. Kennedy has never really spoken out about her famous ex, and nor has Barker said anything about his first marriage, either. In other words, that part of Barker's chapter in his life is completely done, shut and sealed.
Ironically, it's Barker's second wife, Shanna Moakler, who keeps telling the media that she's not bitter about Barker and Kourtney Kardashian's relationship, yet still keeps talking about it. "I think they're very deserving of one another. I hope they get good ratings," Moakler told Page Six. But that's not the only thing she's said about them.
Melissa Kennedy is the one ex who keeps quiet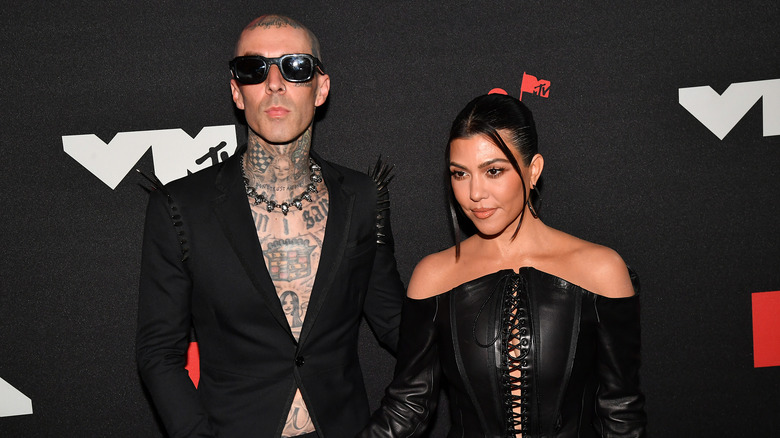 Jeff Kravitz/mtv Vmas 2021/Getty Images
Travis Barker and Shanna Moakler were married in 2004 — two years after his split from Melissa Kennedy — but ended things in 2008. And while it's been more than a decade since they were last together, Moakler is still holding on to some parts of their relationship, including the bond they had over a certain movie. According to Us Weekly, Moakler even went as far as to suggest that Barker's romance with Kourtney Kardashian is just a recycled version of what they once had together. She also seemed irked over the "True Romance" movie reference that Barker and Kardashian made back in May.
Moakler put it this way, "What was weird is that they were posting about a movie ['True Romance'] that Travis and I basically bonded over. I called him Clarence in the movie." In fact, the movie inspired the name for their daughter, Alabama, and played a major part in their wedding. She continued, "I walked down the aisle to 'You're So Cool' from 'True Romance.' Our first dance at our wedding was to the love song from 'True Romance.'" With Moakler having so much to say, it's no wonder Kennedy keeps so quiet.