The Real Meaning Behind Morgan Wallen And Lil Durk's Broadway Girls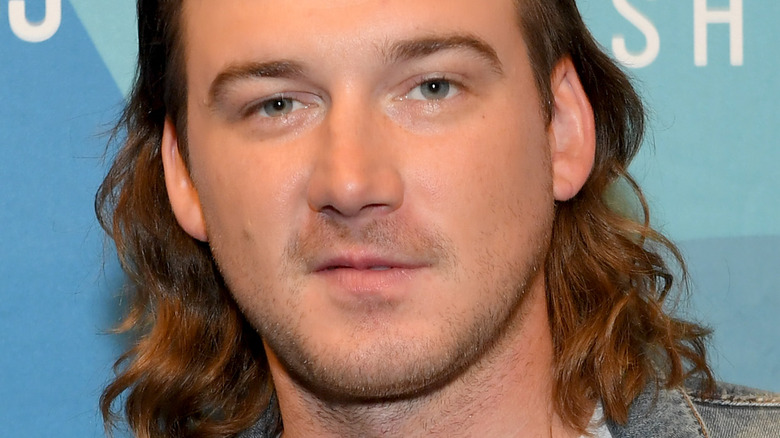 Jason Kempin/acma2020/Getty Images
Morgan Wallen is making a bold return to music as a feature on rapper Lil Durk's trap-heavy "Broadway Girls." Wallen faced major controversy earlier this year after TMZ published a video of the country singer drunkenly saying a racial slur. "I'm embarrassed and sorry," Wallen told the outlet in response to the footage. "I promise to do better." Wallen was temporarily suspended from his music label and banned from several award shows in the wake of the video reveal. The incident also led Wallen to receive major backlash from his peers in the country music industry. "We all know it wasn't his first time using that word," singer Maren Morris tweeted in response to Wallen's apology.
Despite the scandal, Wallen's "Dangerous: The Double Album" was the top-selling album of 2021, according to Billboard. The "Whiskey Glasses" singer is also gearing up for a massive tour in 2022. Wallen has already made return appearances onstage to sold-out crowds of adoring fans this year. Now that it's clear he's making a comeback, Wallen just teamed up with Chicago rapper Lil Durk on his first foray into hip hop.
Morgan Wallen parties too hard on Broadway Girls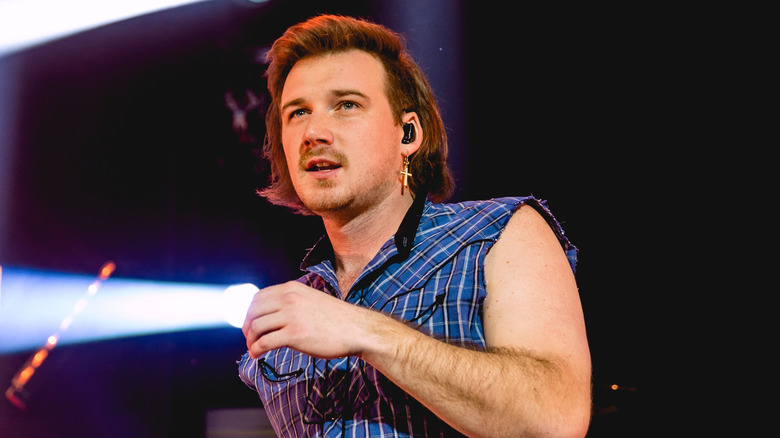 Tony Norkus/Shutterstock
Morgan Wallen wallows about his partying-turned-heartbreak on Lil Durk's "Broadway Girls." The Tennessean sets the stage by describing getting played by an untrustworthy lover on Nashville's iconic main strip. "Oh, there's two things that you're gonna find out / They don't love you and they only love you right now / If I was smarter, I'da stayed my a** at home / And leave them Broadway girls alone," Wallen sings.
Wallen's drinking days haven't done him many favors. The country star revealed in an interview on "Good Morning America" that he was on a partying bender when he said a racial slur in February. Following the incident, Wallen checked into rehab for alcohol abuse. "For 30 days, I spent some time out in San Diego, California — you know, just trying to figure it out. Why am I acting this way? Do I have an alcohol problem? Do I have a deeper issue?" he recalled. Prior to the scandal, Wallen was disinvited as the musical guest on "Saturday Night Live" for breaking COVID-19 protocols after footage of him partying at the University of Alabama circulated on TikTok, per The Washington Post.
"She said I'm too drunk and crazy, she don't like the way I dance / I said, 'You don't have to join in,' she said she'd take a chance," Wallen sings of his star-crossed rendezvous on "Broadway Girls," adding, "Girls like you just wanna take me around, around and around."
Lil Durk teams up with Morgan Wallen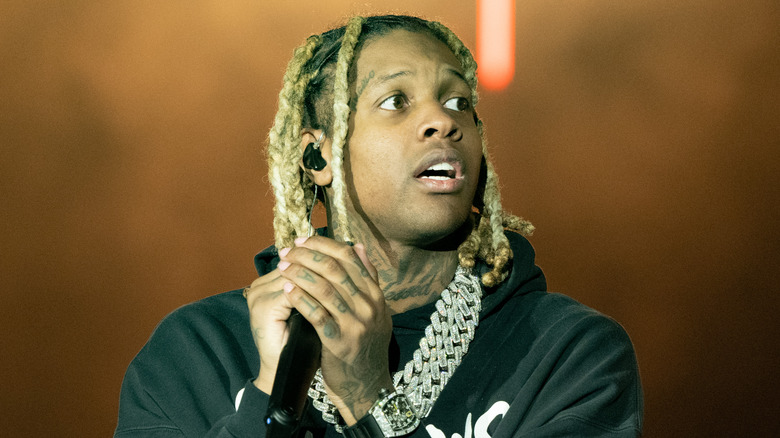 Scott Dudelson/Getty Images
Though Morgan Wallen's appearance on the hip-hop-leaning "Broadway Girls" is unexpected, Lil Durk is all in for the unlikely collaboration. The song's theme of trifling party girls seems to transcend genres. "Broadway girls a trap / They on me, they tryna finesse me / They see me with Morgan and know that I rap," Durk raps on the track, hyping up the trap-country crossover.
Lil Durk, who hails from the Southside of Chicago, further promoted his song with Wallen following its surprise release on December 17 on his Instagram. "Broadway girls out now wit my dawg @morganwallen let's go trenches x country," Durk captioned music video stills of the two artists rocking out together on the titular Nashville street.
Durk's supporters offered positive reactions to his teaming up with Wallen. "This is a game changer.. Whiskey glasses and Wockesha," one follower commented, referencing hits from their respective genres. Listeners were also quick to acknowledge what the duet meant for Wallen after his racial slur controversy. "This might end racism," one follower sarcastically commented, adding a crying laughing emoji.
If you or a loved one has experienced a hate crime, contact the VictimConnect Hotline by phone at 1-855-4-VICTIM or by chat for more information or assistance in locating services to help. If you or a loved one are in immediate danger, call 9-1-1.
If you or anyone you know is struggling with addiction issues, help is available. Visit the Substance Abuse and Mental Health Services Administration website or contact SAMHSA's National Helpline at 1-800-662-HELP (4357).