The True Meaning Behind Kanye West's Eazy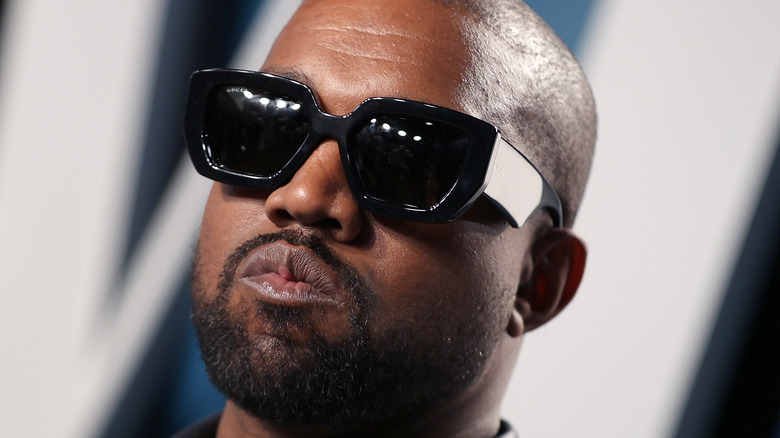 Rich Fury/vf20/Getty Images
Kanye West's music genius draws from real-life inspiration. Throughout his career, West's love affair with his estranged wife Kim Kardashian has been chronicled in his hip-hop tracks. 
In fact, West admitted his feelings for her in his music as early as 2012. "And I'll admit, I had fell in love with Kim," West rapped on his song "Cold," referencing her failed marriage to basketball star Kris Humphries, "Around the same time she had fell in love with him."
West got even more candid about his marriage in his music following Kim's official filing to divorce him in February 2021, per TMZ. West released his long-anticipated album "Donda" months later, and many of the lyrics off the record pointed to his own indiscretions as what lead to their split. West seemingly took accountability for being unfaithful to his wife in the song "Hurricane," rapping, "Here I go actin' too rich, here I go with a new chick / And I know what the truth is, still playin' after two kids." The rapper recently used his music in an attempt to win back the SKIMS mogul when West called out to Kardashian to take him back at a benefit concert. Ad-libbing his famous song "Runaway," Ye sang, "I need you to run right back to me ... More specifically, Kimberly."
While those past efforts see the musician as remorseful over losing his marriage, the true meaning behind West's latest track "Eazy" is shockingly the opposite.
Kanye West doesn't go 'Eazy' on Kim Kardashian diss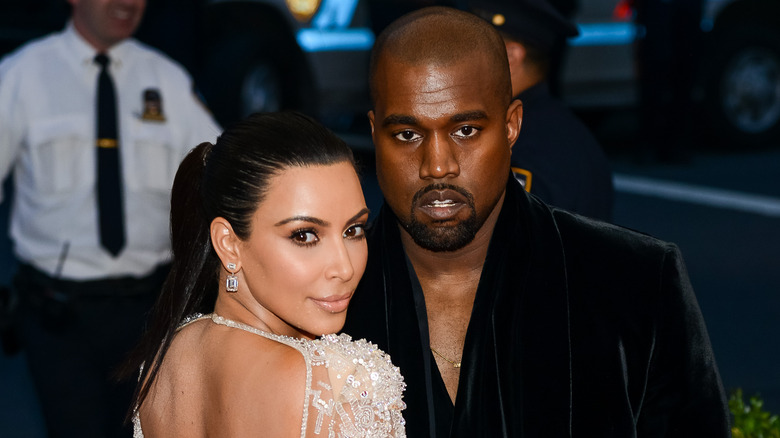 Sky Cinema/Shutterstock
Kanye West slammed his estranged wife Kim Kardashian on his new song with rapper The Game, "Eazy." The rapper didn't shy away from the topic of divorce, rapping, "We havin' the best divorce ever / If we go to court, we'll go to court together," adding in reference to Kim's sister Kourtney Kardashian: "Matter of fact, pick up your sis, we'll go to Kourt's together."
Ye went on in the song to bash Kim's parenting. "I got love for the nannies, but real family is better / The cameras watch the kids, y'all stop takin' the credit," he raps. West famously bashed Kim's staff in their children's home in an episode of "Drink Champs." "I do not want [her publicist] over our house," he said at the time, "and I don't f**k with some of them nannies, either." 
West touched on his and his ex's new conquests; his fling with actor Julia Fox and Kim's relationship with comedian Pete Davidson– which he is apparently unhappy about. "God saved me from that crash / Just so I can beat Pete Davidson's a**," West raps on the track. "And my new b***h bad," Ye raps of Fox, who recently spoke to Interview Magazine for a second time about their romance heating up. "I just feel really safe with him," she told the outlet. "It's a redemption story." Clearly, West has a new story to tell in his music.