Jonah Hill Hits Back At Engagement Rumors In A Hilarious Way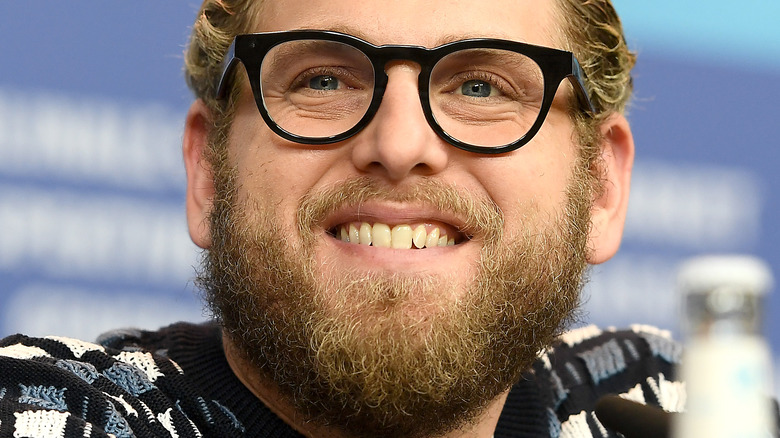 Matthias Nareyek/Getty Images
Jonah Hill is known for a lot of things. He's known for being in hit films like "21 Jump Street," "Moneyball," and "The Wolf of Wall Street," for being a jokester, and being Beanie Feldstein's brother — a revelation we're still not over. Hill is notorious for being difficult to work with, but not because he's some diva. "It was really, really hard filming with Jonah, and just not ruining take after take, laughing," Jennifer Lawrence told Vanity Fair while promoting 2021's "Don't Look Up."
Hill has also had his fair share of relationships throughout the years, including an engagement to Gianna Santos, which was called off in October 2020. In his previous relationships, Hill has kept things private, even after being engaged to Santos. So, it's not surprising that gossip channels keep a close eye on him as he isn't interested in being in the paparazzi spotlight. When Hill went "Instagram official" with Sarah Brady back in September 2021, we knew it was serious.
Living his best life with his self-esteem at an all-time high, Hill isn't afraid to let the media have it–especially when they troll him with unflattering photos. He clapped back at the Daily Mail in February 2021 for grabbing photos of him surfing which used to bother him. Now, he's once again pushing back on folks trying to pry into his private life.
Jonah Hill told a sightings account to 'stop writing fake stuff'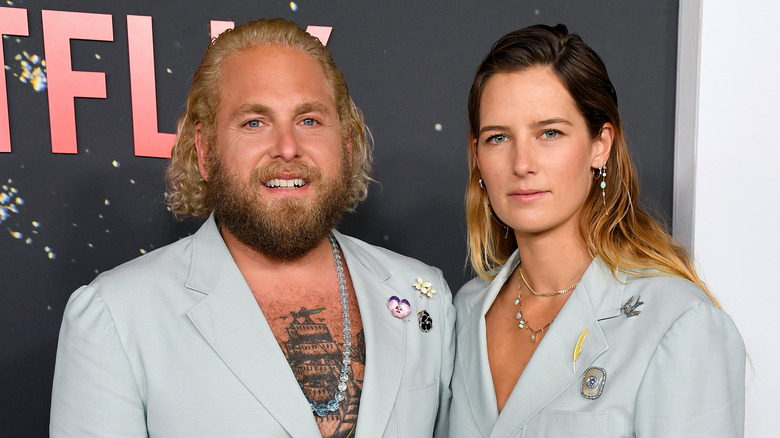 Kevin Mazur/Getty Images
As someone who is serious about privacy, Jonah Hill is the kind of star who gets a special kind of attention from paparazzi groups. And when celebrity sighting account Deuxmoi posted a tip that he was engaged to his girlfriend Sarah Brady, Hill was not going to hold back. The blind item posted by Deuxmoi didn't call Hill out by name, but they wrote, per Page Six: "A list actor that has been away on vacay in hawaii with surfer GF will return to Hollywood this Thursday ENGAGED!!! Friends say they'll come back engaged but want to keep the buzz on the DL!! Oops!!!!!!"
After seeing the post, Hill took to his Instagram Stories to respond in his usual silly manner. "The rumors are not true," he wrote. "I am engaged. But not to my girlfriend. I am engaged to your mom." He also marked the location as "Your Mom's House." 
Even if they aren't ready to take the next step, Hill hasn't been too shy about showing Brady some public affection. Just three days prior, the actor shared a Valentine's Day photo of the two of them on Instagram, writing, "Thank you for endless new adventures and for teaching me new lessons every day. Thanks for the chance to ... be better every day." Hill and Brady might not be engaged yet, but it's good to see that he is taking the media prying in stride. It must be all the relaxation he's gotten in Hawaii.