Kim Kardashian Takes Another Big Step In Distancing Herself From Kanye West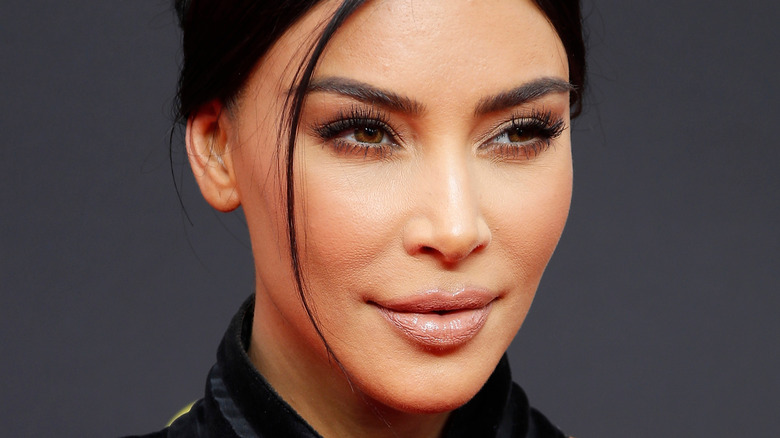 Kathy Hutchins/Shutterstock
Now that Pete Davidson has officially called Kim Kardashian his girlfriend and Kanye "Ye" West is no longer dating Julia Fox, Ye has increased his attempts to woo Kardashian back, some of which have disturbed fans. 
Making everything worse is Ye's decision to do all this activity in the most public way possible: sometimes at his performances, and especially on social media. The latest round of drama started when Ye attacked Kardashian's parenting skills regarding social media by airing his grievances publicly on, you guessed it, social media. Even Davidson, who until recently lived peacefully without social media, per Page Six, surprisingly joined Instagram in the midst of the latest KimYe drama. And Ye immediately followed him. It's interesting timing as Ye recently apologized for using all caps in his many posts and says he's hoping to work on his communication skills. But it remains to be seen whether that will happen... and signs so far point to no.
However, Kim isn't waiting around to see what Ye does next, as she has just taken a big step to take her life back.
Kim Kardashian decides to quiet the noise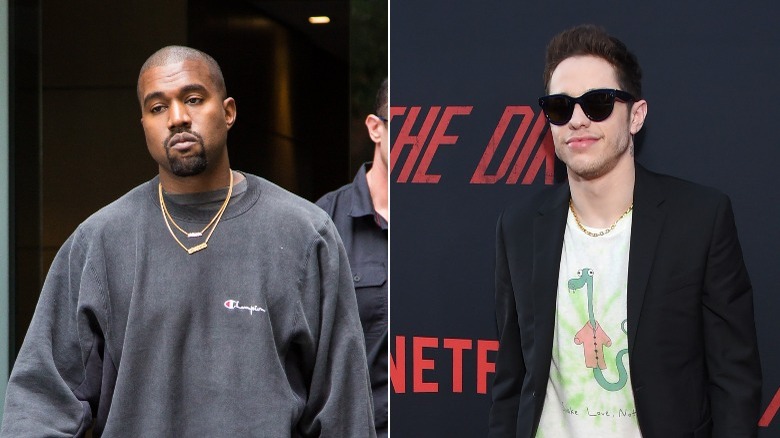 Liam Goodner & DFree/Shutterstock
As Kanye "Ye" West continues to use social media to flip between bashing Pete Davidson (who he calls "Skete"), trying to win back Kim Kardashian, and apologizing for his previous (deleted) posts, Kim has decided to take at least one matter into her own hands. The "Keeping Up with the Kardashians" star has finally severed an important electronic tie with her ex, per Page Six: She stopped following him on Instagram.
Kardashian unfollowed Ye shortly after he posted a photo from a 2018 monologue Davidson gave on "Saturday Night Live," per Perez Hilton, with the caption, "HI SKETE YOU GOT ANYMORE MENTAL HEALTH JOKES FOR ME?" Ye also explained his posts were "not harassment," as folks including Kim have claimed; "This is payback." As the world waits to see whether Davidson will use his new Instagram account to respond to Ye's latest round of attacks, Kardashian decided she wants no more of it.
Sadly, even when Kardashian tries to keep things private between she and Ye, he makes them public. She had pleaded with him in text messages to stop "creating a dangerous environment" for Davidson, per The Sun. Ye then shared screenshots of the text, and asked his fans not to "do anything physical to Skete," saying he'd "handle the situation" himself. Shortly after, Ye shared another text from Kardashian that said, "Why can't you keep any of our conversations private??" Now Kardashian can at least try to follow the internet saying, "don't feed the trolls" and ignore Ye's behavior.