Insiders Are Reportedly More Worried About The Queen Than Ever Before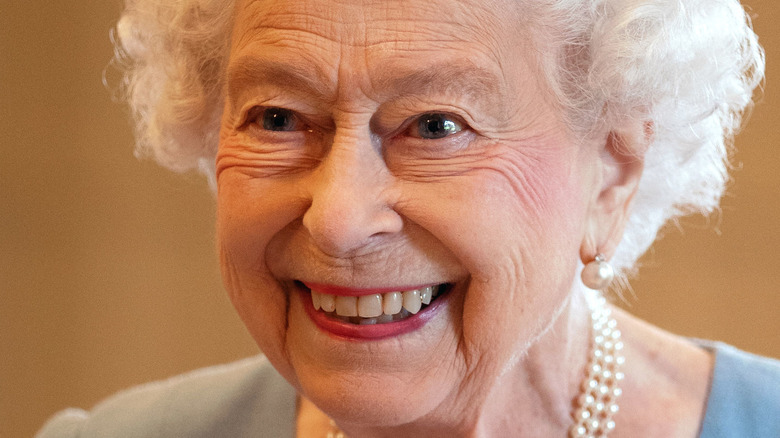 Wpa Pool/Getty Images
Queen Elizabeth's COVID-19 diagnosis on February 20 has fueled growing concerns for her long-term health and the future of the monarchy. Since the positive test, CNN noted she was "experiencing mild cold-like symptoms" and keeping overall duties light. Two days in, and Buckingham Palace made a statement about adjusting her schedule — updating everyone that the mild symptoms are ongoing and "she has decided not to undertake her planned virtual engagements" of the day. According to People, the queen's schedule will be evaluated daily to accommodate her condition.
This stretch of being under the weather comes at a difficult time, especially as Prime Minister Boris Johnson lifted all COVID-19 restrictions in England, per NBC News. This — paired with the death of her husband Prince Philip in April 2021, the constant buzz surrounding Prince Harry and Meghan Markle, and Prince Andrew's sexual assault settlement – does indeed leave a high level of stress for the queen.
It is this concoction of scandal, tragedy, and public speculation that is leaving those with insider information unsettled and wary of the future and how it all will affect the queen. 
Concerns are high during first days of Queen Elizabeth's COVID-19 diagnosis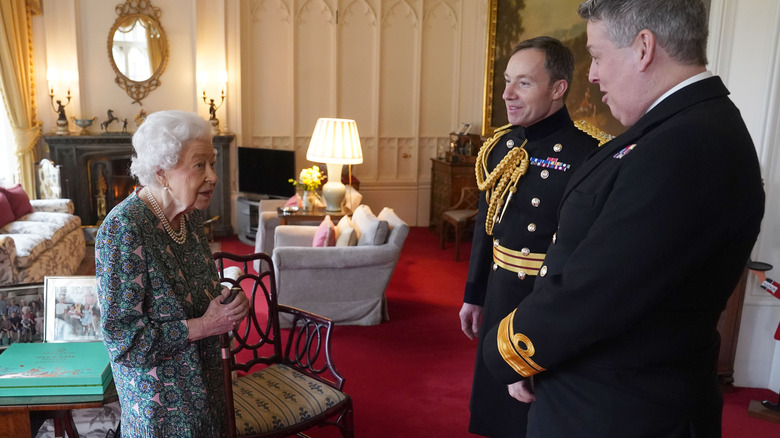 Wpa Pool/Getty Images
Despite the calm response from Buckingham Palace, insiders are speaking up about the overwhelming nature of everything Queen Elizabeth and the royal family have been facing. "It's a drip-feed of negativity for the monarchy," a palace insider told People. "I've not known such a tumultuous time as this." Acknowledging the COVID-19 diagnosis on top of regular duties and family scandals, the insider noted, "It just feels to be one thing after another for the queen. It's going to take a toll."
Elizabeth may be feeling low, but it is being shared that she remains "stoical and mentally strong." It appears her physical activity has been suffering for some time, but even more so with her cold-like symptoms. She has not gone horseback riding in months and has even joked about not being able to move, per TruNews, as recent in-person events have her reliant on a cane.
Pushing difficulties aside, the queen is still set on enjoying the celebration of 70 years serving the people of the United Kingdom. Plans for the Platinum Jubilee are robust and communities are preparing for the festivities in early June. "Her main concern will be to get back to be in fighting form to start the Jubilee celebrations," the royal insider shared. "She's of the generation where you 'suck it up.' It is duty first." Here's hoping the intense concern calms down and the queen is on track for a speedy recovery.