Details About RHOSLC Star Heather Gay's 2012 Arrest Revealed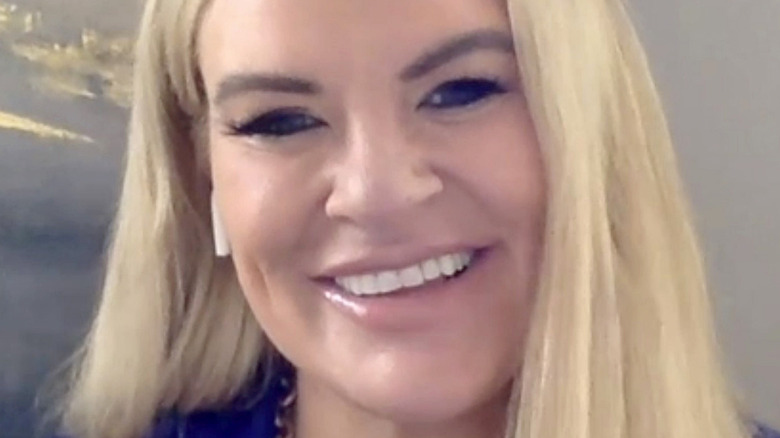 Getty Images/Getty Images
New details have emerged regarding "The Real Housewives of Salt Lake City" star Heather Gay's arrest back in 2012, and it's all pretty dramatic, well, for real life at least, but maybe not so much when it comes to the Housewives.
It's no secret that the Housewives have had several run-ins with the law, with the combined rap sheet of the Bravolebrities looking pretty hefty. One of the biggest cases is the infamous jail time of "The Real Housewives of New Jersey" star Teresa Giudice and her husband, Joe Guidice, with Teresa spending 11 months behind bars after being sentenced to 15 years in prison in 2014. Joe then served 41 months in jail and was deported back to his home country of Italy after they were convicted of "mail, wire, and bankruptcy fraud," per People.
Then there's those with a history more like Luann de Lesseps', who was arrested in Florida back in 2017 and faced multiple charges, including "disorderly intoxication, battery of an officer, resisting arrest and making threats against a public servant," per Page Six.
Heather isn't the first "RHOSLC" star to have a brush with the law, either. Her co-star, Jen Shah, infamously had a major run in with the police in 2021 when she was charged with conspiracy to commit wire fraud.
There are plenty more examples we could go into as well, but we'll spare you those for now as we get into the details of Heather's legal drama.
DUI drama
It turns out "The Real Housewives of Salt Lake City" star Heather Gay isn't exactly as squeaky clean as she might have liked us to think. In fact, she was reportedly arrested for DUI back in 2012 and allegedly admitted to the cop who pulled her over that she'd "had a 'few sips' with friends at a local club," according to court documents obtained by The U.S. Sun.
It was reported that the reality star (who wasn't a reality star at the time) allegedly wouldn't take a Breathalyzer by the side of the road but did back at the station, where she blew 0.06. It was also alleged that amphetamines were found in her system. Heather pleaded not guilty and claimed the police didn't have the right to test for amphetamines in her blood, even filing a motion to suppress evidence, but that was denied.
As for how things ended up? Well, the DUI charge was reduced to a reckless driving charge, and, after being found guilty, she spent two days doing community service.
Heather doesn't appear to have spoken publicly about her arrest, but hasn't been above calling out others for their behavior in the past. During a September 2021 appearance on "Watch What Happens Live," Heather and host Andy Cohen discussed Jen Shah's legal drama, and he asked if she'd questioned her about it. Heather responded, "I knew her business was unsavory when I was her friend, so why would I change now that it's public?"
Denial, denial, denial
It seems like Heather Gay isn't too proud of her past, as one of the juiciest parts of the big reveal is how all the arrest details became public knowledge. It all hit the headlines after Heather's feed partner Lisa Barlow questioned her about it during "The Real Housewives of Salt Lake City" season 2 reunion, which aired in February 2022.
The two got into a pretty heated argument (because, what else would we expect from a "Housewives" reunion?) during which time Barlow sassily asked, via Reality Tea, "What about your DUI?" Heather then hit back, "I don't have one. Look it up!" As we know, Heather's charge was downgraded to reckless driving, so, technically, she's not lying.
Though she doesn't appear to have spoken publicly about the information coming out, she didn't appear worried about people seeing Barlow make the allegations on the show. Heather urged fans to tune in to the episode on Instagram on February 18, sharing a video clip from the dramatic reunion alongside the caption, "The Reunion trailer we've all been waiting for is here! The 3-part #RHOSLC Reunion begins next Sunday, Feb 27th on @BravoTV."
Heather also appeared to be pretty happy to be moving on from the drama. "The end of the second season of #RHOSLC marks the beginning of the second chapter of my life. Something I never before could've imagined," she captioned a clip shared to Instagram on February 21, adding, "Truly grateful to still be here. #DontLeave."