What Kanye West Did To Make Money Before He Was Famous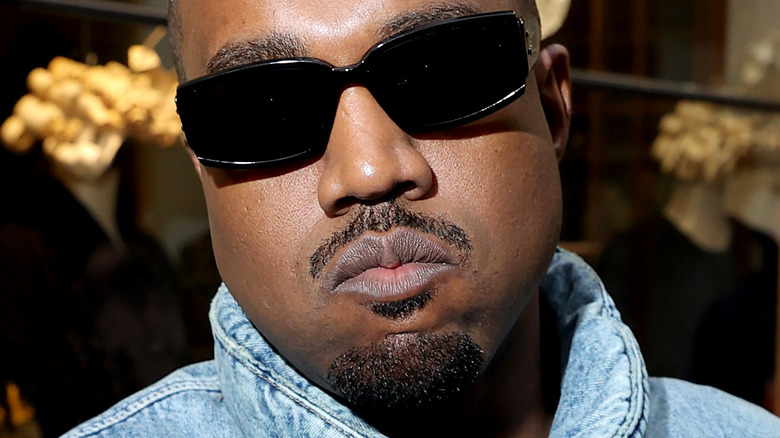 Victor Boyko/Getty Images
With the back-to-back release of the Netflix documentary, "jeen-yuhs: A Kanye Trilogy" in January and hip-hop mogul Kanye West's 11th studio album "Donda 2" in February, West (who now goes by "Ye") is one of the most ubiquitous and influential performers in the music industry today. The artist most recently made headlines for circumstances related to "Donda 2," the follow-up to the 2021 record "Donda," a music collection named after Ye's late mother. The first "Donda" debuted at No. 1 on the Billboard 200, per AllMusic, making it another highly successful album by Ye. Unlike this album, however, "Donda 2" will not be featured on the Billboard charts. As Pitchfork reported in February, it was released via Ye's Stem Player, which makes it ineligible for Billboard chart consideration. 
Ye took to Instagram to address the news, as Billboard reported in March. "Big win for the kid We can no longer be counted or judged We won we won we won we won," Ye wrote, before adding, "We make my own systems We set our own value aaaand yesterdays price is not todays price baaaaabeeeee!!!!!" The Daily Mail stated that Ye made over $1.3 million in sales from his "Donda 2" release in just 12 hours. But before he was known worldwide and earning top dollar as a music artist, Ye once worked a surprisingly conventional job.
Kanye West worked at the Gap as a teenager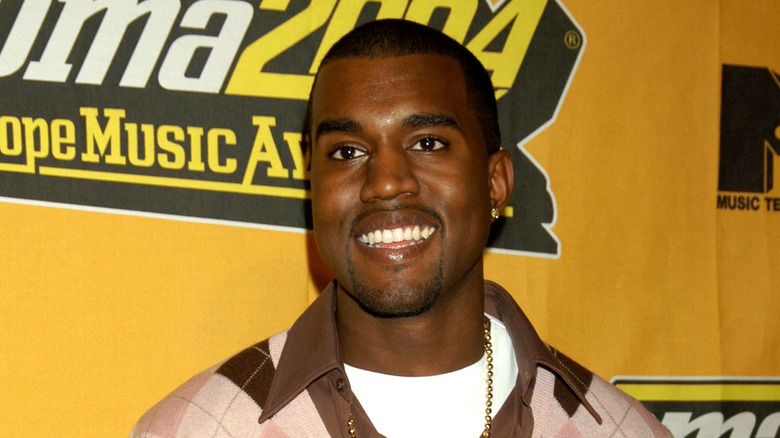 Brian Rasic/Getty Images
Kanye "Ye" West is not only one of the world's top-performing artists — he's also a dominant entrepreneur. Over the years, he's secured a net worth of $1.8 billion, per Forbes, through business pursuits in places like the fashion industry, a lifelong passion of his. In February 2015, he made waves in the fashion world when his Yeezy brand of sneakers debuted in partnership with Adidas at New York Fashion Week, as L'Officiel wrote in 2021. The brand is now a billion-dollar endeavor, according to Forbes in 2019.
Prior to Ye's entrance into the fashion industry, he worked at the Gap when he was a 15-year-old high school student, an experience he opened up about to Paper Magazine in 2015 (via Yahoo Celebrity). "I don't think I had any desire to actually make clothes, but I always felt like that's what I wanted to be around," said Ye. before admitting at the time that "Abercrombie was too expensive for me and the Gap was too expensive for me." Ye also said he felt his destiny was "to be the gap, the bridge" in his "creative path."  Interestingly, Ye recently made a career move involving the actual clothing company the Gap, which brought him full-circle.
Kanye West partnered with a famous retailer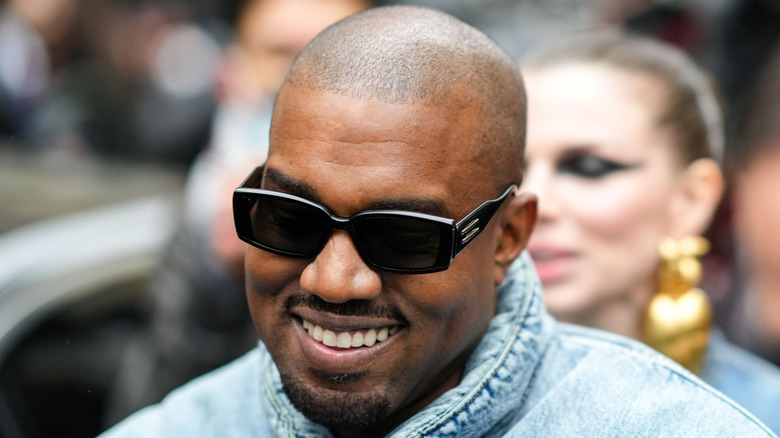 Edward Berthelot/Getty Images
The launch of Kanye "Ye" West's 2021 clothing line in collaboration with the Gap, per The New York Times, brought him back to his roots with the fashion retailer he worked for as a teenager. The brand for the collection, Yeezy Gap, was first showcased in June 2021, per Hip Hop DX. Officially released in February 2022, the line also featured further designs from Balenciaga creative director Demna, Us Weekly wrote. The magazine stated that the price range for the line varies from $120 to $440. 
In a November 2021 interview with REVOLT, Ye explained that he chose to partner with the Gap over a shared vision to create fashion that is both stylish and accessible to a large consumer audience. He also referenced his history working with the retail company during the chat. "I always wanted to create egalitarian [fashion] ... I worked for the Gap, so it was meant to be," he said. "I always felt like [the] Gap was sort of, like, Apple for apparel." Ye has come a long way since he started working at the Gap as a teen — and considering his  2020 deal with the brand is a 10-year partnership, via Page Six, more Yeezy Gap clothing can definitely be expected in the future.