Teen Mom 2's Leah Messer Shares Moving Update On Daughter's Journey With Muscular Dystrophy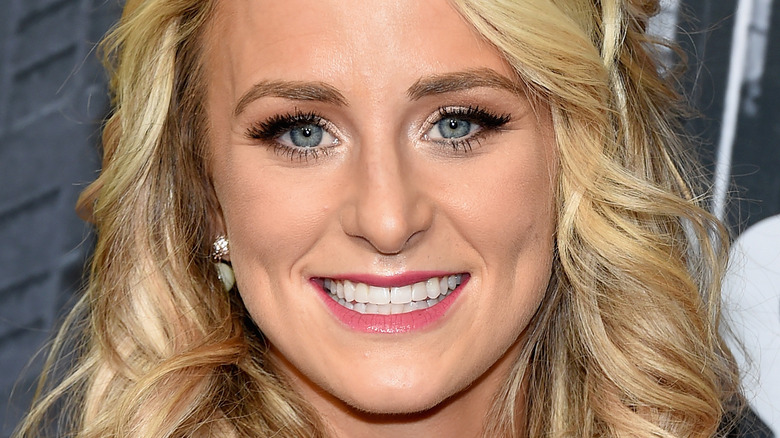 Michael Loccisano/Getty Images
When the world was first introduced to Leah Messer all the way back in 2009, she was only 16 years old and about to give birth to twin baby girls, Aliannah ("Ali") and Aleeah ("Gracie"). The new family unit (including the girls' father, Corey Simms) then transitioned from starring on "16 & Pregnant" to joining the ensemble cast of "Teen Mom 2." After Simms and Leah divorced, she and her then-husband, Jeremy Calvert, welcomed their daughter Adalynn ("Addie").
Leah and her girls became a mainstay in the "Teen Mom" franchise, and audiences have watched them grow up throughout the years. Unfortunately, Ali was diagnosed with Titin Myotonic muscular dystrophy in 2014, per The U.S. Sun. The disease has affected Ali's ability to control her muscles and she uses a wheelchair when needed. Leah has made it a point to educate about the rare diagnosis, and has given updates about the types of treatments Ali has undergone.
Now, Leah has a happy message to send to her supporters about Ali's condition.
Leah Messer says a special hobby helped Ali
On March 17, Leah Messer posted a joyous message on her Instagram to update her fans on an important doctor's appointment for Ali. Ali's doctor, Dr. Tsao, reported that there has been an overall improvement in Ali's condition. Leah wrote in the caption of her post, "[Dr. Tsao] sees more of an improvement than he ever has, mind & body. He said what he sees is remarkable because she seems a lot stronger. 700+ of her type of #MuscularDystrophy."
In the compilation video that accompanied the update, Leah posted a text thread of supportive messages between her and an unknown sender. In this conversation, she revealed that the doctor believes that Ali's new hobby of horseback riding has helped both her physical health and her mental state. "[Ali] pushes herself differently because she loves it," Leah added about her daughter's love of horseback riding. She ended the heartwarming post with the hashtags, "#MDwontStopHer" and "#NeverLoseHope."
Fans in the comments rejoiced over the good news and wished both Ali and Leah luck with this medical journey. Hopefully, next year's doctor's appointment will also bring another round of amazing news for Ali to celebrate.