How Chris Rock Responded To A Fan Who Had Harsh Words For Will Smith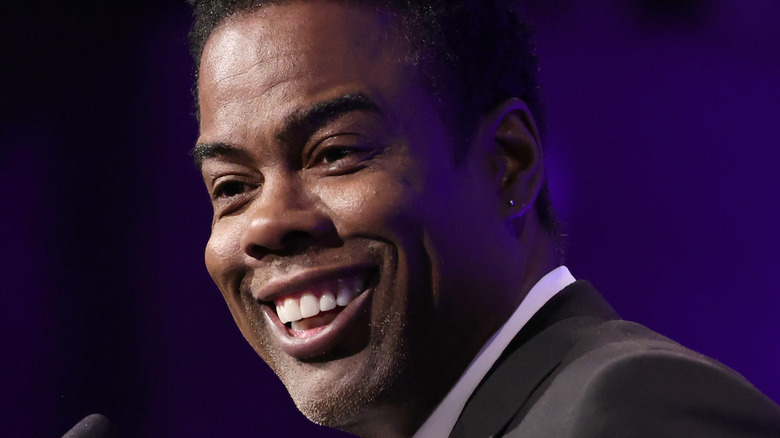 Jamie Mccarthy/Getty Images
The Will Smith and Chris Rock #SlapGate controversy has effectively divided the world into two camps: Team Will and Team Chris. Those siding with Smith says that his reaction to Rock's joke was warranted as he was only defending his wife, while those in Rock's camp insist that the actor's behavior was inexcusable and that he should have been held accountable.
Since the incident, many have been vocal about their stance, with A-listers like Jim Carrey even saying that Smith should have been arrested. "[Rock] doesn't want the hassle [of suing]," Carrey said in an interview with "CBS Mornings." He continued, "I would have announced this morning that I was suing Will for $200 million because that video is going to be there forever, it's going to be ubiquitous," he said. Carey added that Smith, or anyone for that matter, does not have "the right to walk up on stage and smack somebody in the face because they said words."
Many celebrities shared the same sentiment as Carrey, but if there's one person in Hollywood who has yet to ridicule the actor, it's the victim himself: Chris Rock.
Chris Rock stopped a fan from heckling about Will Smith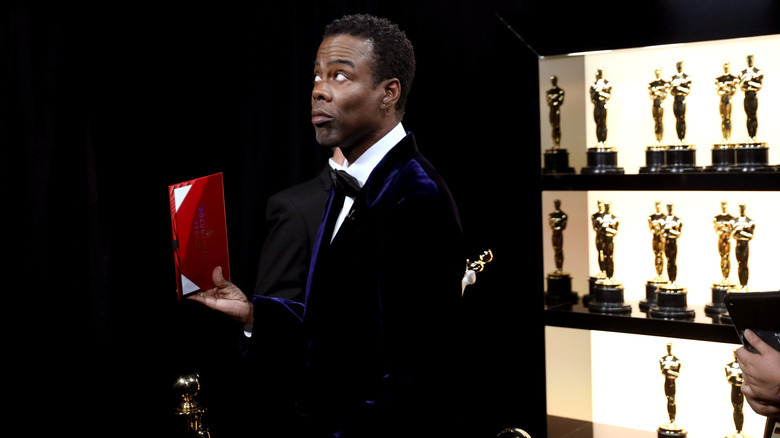 Handout/Getty Images
Following the 2022 Oscars, Chris Rock was in work mode as he kicked off his tour. #SlapGate helped his tickets sell like hotcakes, with the first few shows in Boston being a full house. While the comedian refused to talk about what had happened, it didn't stop hecklers from trying to spoil the night. According to People, an audience member yelled "F*** Will Smith!" but Rock refused to engage. "No, no, no, no, no ..." he apparently said.
The same thing happened in his first two shows, with hecklers shouting Smith's name in the middle of the set. After repeated attempts, the audience member was escorted out of the show with their hands cuffed behind their back, per The Wrap. "Is this how this tour is going to go?" Rock asked the audience.
To date, the "Madagascar" star has yet to discuss the situation at length publicly. "I haven't talked to anyone, despite what you heard," he said at one of his shows, per The Independent. He also said that he's in the middle of trying to come to terms with the severity of the situation, but he promised to make a statement in the near future. "I'm still processing what happened, so at some point I'll talk about that s***," he said. "It'll be serious. It'll be funny, but right now I'm going to tell some jokes."