Alec Baldwin Seemingly Trolls Critics With Quip About Baby No. 7's Name
lev radin/Shutterstock
It's been a whirlwind few years for Alec Baldwin. In October 2021, the actor made headlines after fatally shooting cinematographer Halyna Hutchins on the set of their film "Rust" in New Mexico. The actor was holding a prop gun that was supposed to be loaded with blanks, but instead, a real bullet fired out the barrel of the gun. The news was one of the biggest headlines of the year, and it struck a more extensive conversation about gun safety on the set of movies. In October 2021, Variety reported the production company halted moving further with the film until all investigations were complete. After the incident, Alec shared a tweet. "There are no words to convey my shock and sadness regarding the tragic accident," he wrote, adding he was "fully cooperating with the police investigation to address how this tragedy occurred."
Things got a little brighter for the star in April, as his lawyer revealed that a report "exonerates" the actor from any wrongdoing in the shooting via Newsweek. Another bright spot in early 2022 is the pending arrival of his eighth child. In March, Alec and his wife, Hilaria Baldwin, announced to People that they're expecting their seventh child together. Alec also has one daughter, Ireland Baldwin, from a previous marriage to Kim Basinger. "One of the most beautiful things my children have experienced with a big family is how the heart can grow with every new sibling," Alec and Hilaria said. 
Now, they're throwing a little shade at the haters.
Alec Baldwin says his new baby will have an American name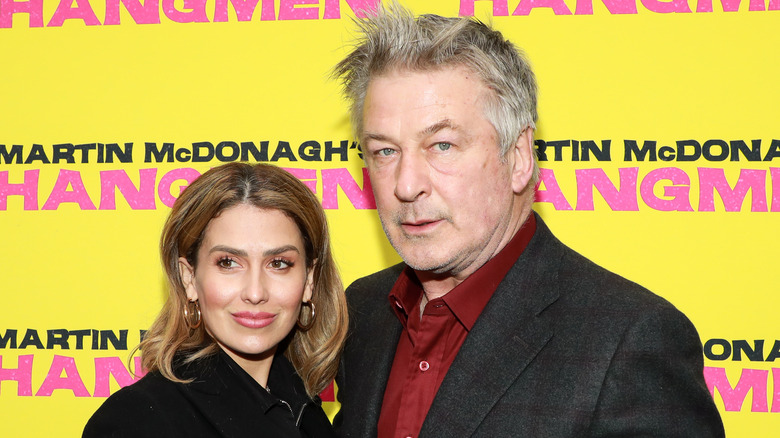 Jason Mendez/Getty Images
Alec Baldwin and his wife, Hilaria Baldwin, are no strangers to controversy. The couple share children Carmen, María Lucía, Rafael, Leonardo, Romeo, and Eduardo "Edu," and each of the kiddos possesses a Spanish or Italian name. The pair attended the New York Philharmonic Spring Gala in New York in late April, and according to Page Six, the duo joked they might give their next baby a more "all-American" name. Alec could be overheard telling Tom Murro they were thinking of naming the child "Babe Ruth or Chase Manhattan." This is likely also a nod to Hilaria's previous heritage controversy, where she was accused of faking being of Spanish descent.
Hilaria has never been shy about sharing photos of her children, and they regularly make appearances on her Instagram. The doting mom loves to show off her brood of kiddos, doing everything from yoga to sharing food and more in-between. In April, Hilaria took a serious tone in an Instagram video that captured her checking the baby's heartbeat on a doppler. "So much of motherhood is waiting and realizing that there is so much beyond our control. As I approach the time when I lost the second baby in 2019, at 16 weeks, I get more nervous," she wrote, referring to her miscarriages. "I get asked all the time how to stay calm and make it through after loss," she continued, adding it's "hard to stay calm." 
We can only wish Hilaria the best in her latest pregnancy journey, and we can't wait to meet little Babe Ruth.