Rachel Lindsay Reflects On Unfairly Being Held Responsible For Chris Harrison's Downfall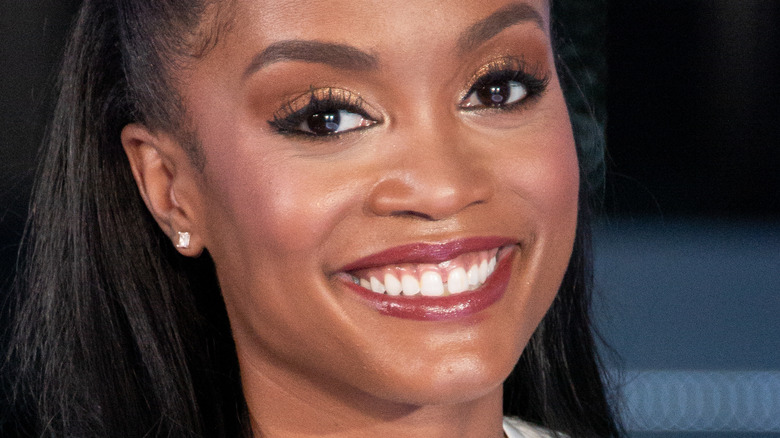 Noel Vasquez/Getty Images
Former "The Bachelorette" star Rachel Lindsay has a few things to say about Chris Harrison and the drama that lead to his exit as host. As "The Bachelor" fans may remember, Lindsay interviewed Harrison on "Extra" during Matt James' season and it was awkward, to say the least. Harrison was questioned about the eventual final rose recipient, Rachael Kirkconnell, and the controversy surrounding her time on the show. Eventually, the conversation became a tense one and the resulting fallout had Harrison stepping back from the franchise. Not long after that, he left the hosting gig permanently, and a number of "The Bachelor" fans blamed Lindsay's interview.
After the "Extra" interview, Harrison was hit with a lot of backlash. He defended Kirkconnell, saying the "judge, jury, executioner thing where people are just tearing this girl's life apart and diving into ... her parents, her parents' voting record" was over-the-top. After the interview and response to his words, Harrison apologized in a since-deleted Instagram post. At the time, Lindsay told E! News she would "sit and see what happens next" with Harrison, although "The Bachelorette" star acknowledged Harrison seemed "willing to grow" from the problematic interview. Now that the dust has settled on Harrison's initial interview and the chaos that followed, Lindsay has talked about the topic again and touched on the hatred she received from fans.
Rachel Lindsay never wanted Chris Harrison's job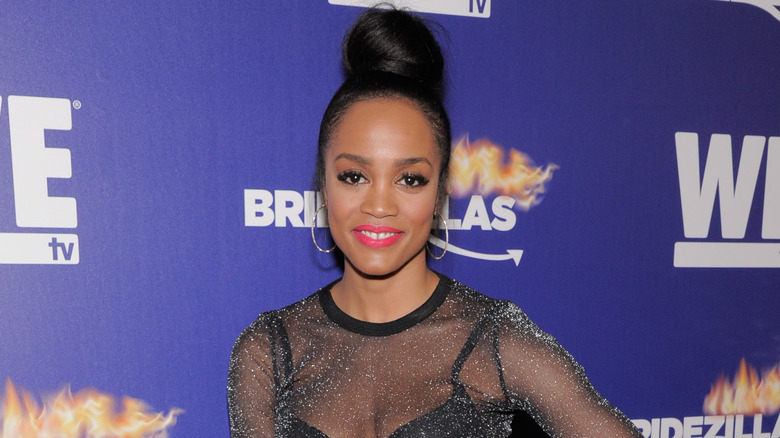 Ron Adar/Shutterstock
On April 24, "The Bachelorette" Rachel Lindsay chatted with Los Angeles Times senior entertainment writer Amy Kaufman at the Los Angeles Times Festival of Books. Lindsay discussed her book "Miss Me With That," and touched on the drama involving Chris Harrison, admitting she had been surprised by his permanent departure. And she was even more taken aback by the momentum behind the sea change among #BachelorNation, reflecting, "Usually, it's been me fighting for... change, inclusion, and diversity," she explained, before noting how other franchise veterans spoke up and stood by her that time. "Then it got so much media attention, that Chris had to apologize," she explained. 
Unfortunately, after Harrison departed "The Bachelor" franchise, many fans blamed Lindsay. "They said I tricked him, that I have this vendetta against him ... I wanted his job," she said. "Let me tell you right now, I don't want it." The response was expected for Lindsay, who said, "It was very on par with how some of the audience treats me when it comes to controversial issues that happen in Bachelor Nation. Somehow, it's my fault. Somehow, I'm not showing that person enough grace and understanding. 'They were a good person, it was an accident.' But for some reason, they can never find that for me." Lindsay went on,"I never looked at it as I 'took down' the host of the franchise. He did that all by himself," sparking a round of applause from the festival audience.  
Lindsay is clearly standing in her truth on how it all went down with Harrison, and many fans love her for it.