Ashley And Wynonna Judd's First Public Appearance Since Their Mother's Tragic Death Was Absolutely Heartbreaking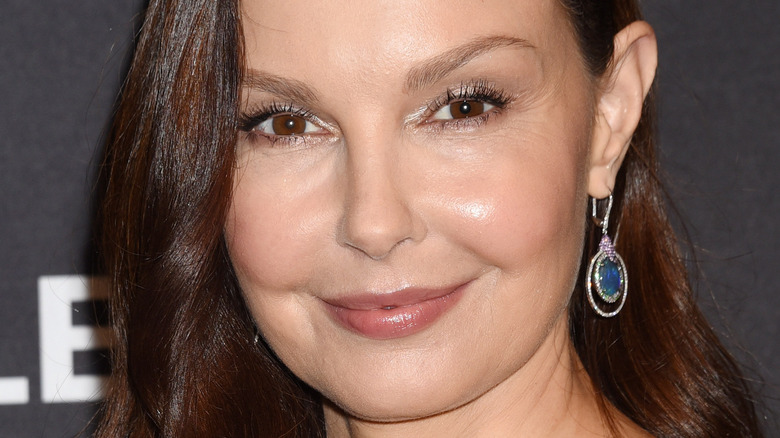 Ga Fullner/Shutterstock
The three superstar women of the Judd family have experienced plenty of success, but their lives have also been marred by sadness. For her part, actor Ashley Judd has faced a large share of tragedy, from childhood abuse to almost losing her life in 2021 when she suffered a terrible accident in the Democratic Republic of the Congo. Meanwhile, half-sister Wynonna Judd has also dealt with plenty of heartbreak, mostly involving her own family. What's more, the two Judd siblings have experienced plenty of prickly moments between themselves (Ashley once accused Wynonna of putting a tracking device on her car) and Naomi Judd's relationship with her famous daughters was known to get rocky, to say the least.
However, when Naomi tragically died on April 30, the sisters came together to support one another and pay tribute to their "beautiful mother." Naomi's cause of death left fans with plenty of questions as Ashley and Wynonna revealed that she died from the "disease of mental illness." The fact that her passing came just one day before she and Wynnona were to be inducted into the Country Music Hall of Fame also had many wondering what would become of the planned ceremony. In a since-deleted post on Wynonna's Instagram, the singer had enthused that she and her mother were looking forward to attending and seeing their fans and, in the end, she chose not to let their supporters down.
Ashley and Wynonna Judd's emotional tribute to their mother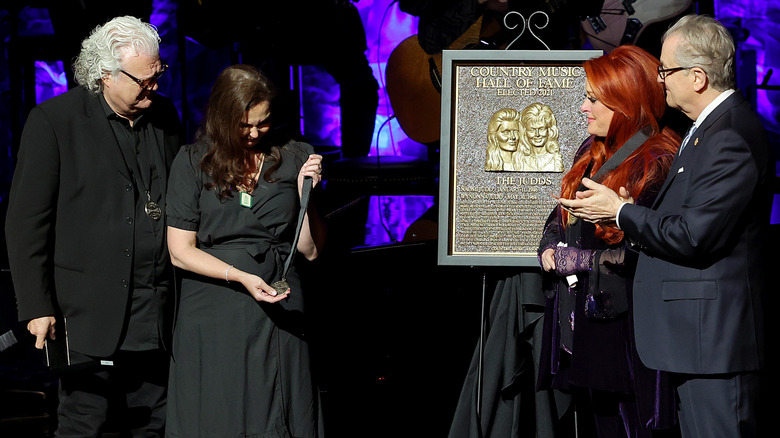 Terry Wyatt/Getty Images
Fans weren't sure if Wynonna Judd would be present to witness The Judds' induction into the Country Music Hall of Fame on May 1, just 24 hours after her mother's death, but she did attend and she brought sister Ashley Judd with her to accept their late mother's award on her behalf. The pair took to the stage at the CMA Theatre in Nashville, Tennessee to honor their 76-year-old superstar mother and (try to) celebrate Wynonna's achievements, too, and, not surprisingly, they couldn't help but cry. 
Both sisters fought back tears as they were presented with medals and a plaque and were visibly emotional as they addressed the crowd. As Daily Mail reports, Ashley thanked fans for keeping Naomi's spirits up, saying it was "your affection for her that did keep her going in the last years." She also apologized for letting them down, saying, "I'm sorry that she couldn't hang on until today." The actor then reminded the audience that it was important to celebrate her sister (whom she called a GOAT) because, after all, she too was being inducted. Taking to the mic, Wynonna acknowledged the strangeness of the situation, which had her mending a broken heart while receiving such heartwarming praise. Despite emotions running high, she showed off her sense of humor as she exaggeratedly rolled her eyes and cracked a joke, saying she was unprepared "because I knew mom would probably talk the most." On a more tender note, she recited Psalm 23, proclaiming that "though my heart is broken, I will continue to sing."