Pete Davidson Proves He Literally Has Kim Kardashian's Back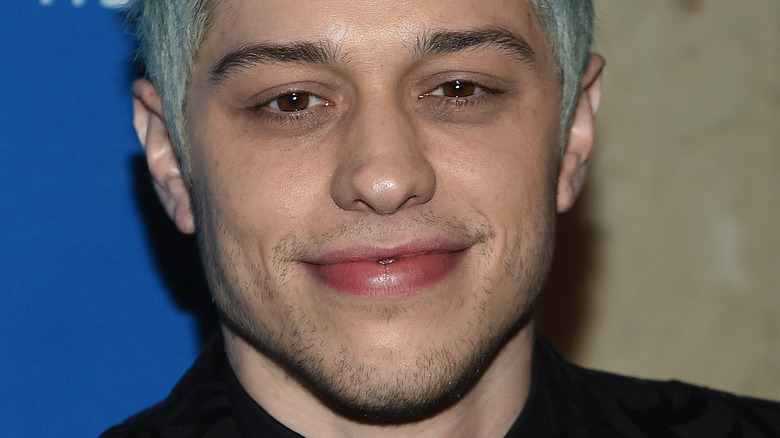 Dimitrios Kambouris/Getty Images
It looks like things are really getting serious for Kim Kardashian and Pete Davidson. What originally might have been a rebound coming off of Kardashian's divorce with Kanye (now just "Ye") West has turned into a fully-fledged relationship. Before you get too excited, no, Kardashian hasn't filmed with him yet for the family's new reality show. "I'm not opposed to it," she told Variety in March. "It's just not what he does. But if there was an event happening and he was there, he wouldn't tell the cameras to get away."
There have been plenty of camera-heavy events for Kardashian and Davidson recently (though it's unclear if "The Kardashians" cameras were part of that). The two have been spotted all over the place since going Instagram official in March. Within a week, they attended the premiere of her new show, showed up in DC for the White House Correspondents Dinner, and finally at the 2022 Met Gala, where Kardashian wore Marilyn Monroe's actual dress.
Davidson is more than just arm candy for Kardashian, though. He's also been by her through hard times. He publicly backed her against attacks from Ye, and even showed up to support her and her family in their defamation from Blac Chyna. Thanks to a few mishaps before the Met Gala, Davidson just proved he's got Kardashian's back — in more ways than one.
Pete Davidson and Kim Kardashian look out for each other
After dropping a whopping 16 pounds to fit into Marilyn Monroe's original dress for the 2022 Met Gala, Kim Kardashian had a major fashion emergency days before hitting the red carpet. In a video obtained by TMZ, Kardashian stands in the middle of the fitting room surrounded by concerned stylists as they realize there's no way they're going to get the dress to fit over her butt. 
As Kardashian becomes increasingly agitated, Davidson stands up and holds her hands to balance her while a team of stylists attempts to maneuver the dress over her body. "Should I go to the gym?" she asks him nervously. Providing the physical and emotional stability Kardashian needed in that moment, Davidson calmly tells her to just "relax." 
Unfortunately, all that stress may not have been worth it, as Kardashian has been heavily criticized for promoting the dangerous crash diet that helped her lose nearly 20 pounds. Speaking to Vogue, Kardashian claimed she "cut out all sugar and carbs," and did cardio every day to make it happen. However, numerous outlets and celebrities have publicly criticized Kardashian for her comments. "To openly admit to starving yourself for the sake of the Met Gala," Lili Reinhart reportedly wrote in a since-deleted Instagram Story, per E! News. "The ignorance is other-worldly disgusting." Professional dietitians have also spoken out against the standard, but Kardashian has yet to respond to the criticisms.