Inside Whoopi Goldberg's History With Donald Trump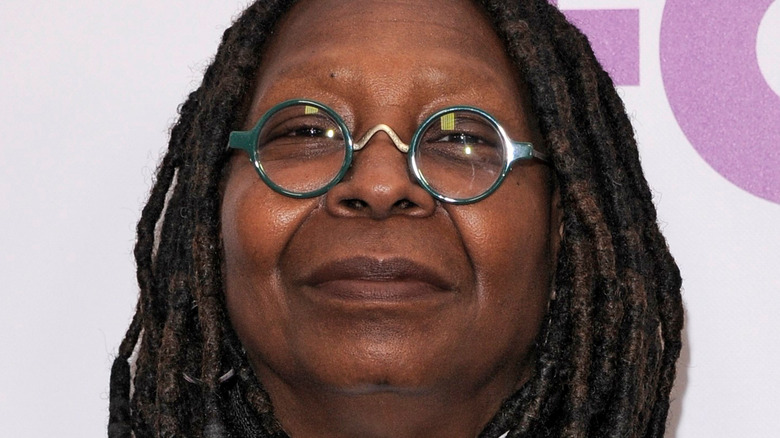 Ron Adar/Shutterstock
The co-hosts of "The View" are known for fighting amongst each other, but occasionally they put their weapons down to focus on a common enemy. Previous guests who have unified the forever-at-odds panel include Bill O'Reilly, Ann Coulter, and Jeanine Pirro, and certain figures in American politics have also brought (many of) the women closer. However, there's one person who's risen above the rest with a years-long villain arc on "The View."
When Donald Trump announced he was running for president in 2015, he gave "The View"'s panel years' worth of Hot Topics as well as something even conservative co-host Meghan McCain could agree upon: criticism of Trump's presidency. But in 2018, after watching a montage of his past appearances on "The View," McCain and fellow co-host Sunny Hostin pointed out Whoopi Goldberg and Joy Behar's prior friendliness with the controversial politician. Goldberg explained her change of heart by saying, "The person who began running is not the person I knew."
While one can certainly appreciate someone as a friend and not necessarily as the leader of the free world, Goldberg and Trump's relationship was already fractured long before the latter's presidency. The pair goes way back, and previously fought on "The View" years before Trump officially ran for office.
Whoopi Goldberg shut down Trump's birther claims
Back in 2011, Donald Trump appeared as a guest on "The View" and announced that he was considering running for president. At the time, he was promoting the false claims that then-president Barack Obama wasn't actually born in the United States. "Why doesn't he show his birth certificate?" the then-host of "Celebrity Apprentice" asked, per CNN. "There's something on that birth certificate that he doesn't like." The panel immediately erupted over the statement, with Whoopi Goldberg particularly outraged about the allegation. "Donald, I think that's the biggest pile of dog mess I've heard in ages!" she shot back, per The Hollywood Reporter. "It's not because he's Black, is it? Because I've never heard a white president being asked to show his birth certificate. That's B.S."
Goldberg seemed less than enthused with Trump in his future appearances on "The View," such as when he called in to the show in 2015 to discuss his views on immigration. After Trump said "Illegal immigration is a tremendous problem in this country, and I want them out," Goldberg replied, "Not all Mexican immigrants are murderers and rapists," and pointed out that his wife Melania is an immigrant herself.
Aside from being a Hot Topic, Trump hasn't appeared on "The View" since. However, he wouldn't be the only member of his family to publicly feud with Goldberg on the show.
Whoopi Goldberg also clashed with Donald Trump Jr.
When Donald Trump Jr. and his fiancee Kimberly Guilfoyle were guests on "The View" in 2019, the panel once again clashed. None of the show's co-hosts were happy about Trump Jr. and Guilfoyle being on the show, including conservatives Meghan McCain and Abby Huntsman, but no one was more annoyed than Whoopi Goldberg. She wouldn't address Trump Jr. by name, instead referring to him as "the son of the gentleman in the White House," per Deadline, and had to ring a bell to stop him from speaking over her co-hosts.
Goldberg proceeded to criticize Trump Jr.'s father, saying, "Part of being president is having a pair that can take whatever heat comes towards you." When Joy Behar brought up Trump's infamous Access Hollywood tape, Trump Jr. shot back their own regrettable moments, like Behar's blackface controversy and Goldberg defending Roman Polanski. Although Goldberg didn't acknowledge Trump Jr.'s claim about herself, she backed up Behar by saying, "She was not in blackface. Being Black, I recognize blackface."
Although Whoopi Goldberg has gone head to head with both father and son, she seemed to maintain a soft spot for Tiffany Trump. After fashion writers avoided her at New York Fashion Week in 2017, likely because of their views on her father, Goldberg defended her, per The Wrap: "You know what, Tiffany? I'm supposed to go to a couple more shows — I'm coming to sit with you." Despite Goldberg being an outspoken critic of her father, Tiffany tweeted her appreciation for the offer.