The Awkward Request Kourtney Kardashian's Kids Had For Her And Travis Barker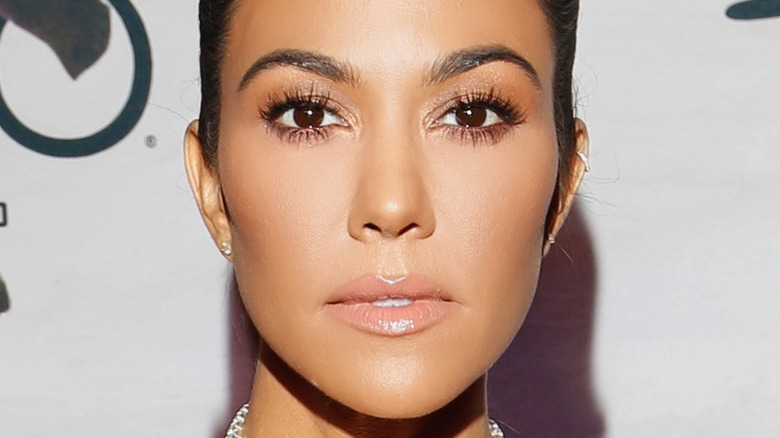 Jeff Schear/Getty Images
Kourtney Kardashian and Travis Barker are sizzling. According to Elle, the pair began dating in early 2021, but they were close friends before. The couple's romance moved quickly, and it didn't take long for them to take things to another level. On October 17, 2021, Barker got down on one knee and asked Kardashian to be his wife.
According to People, Kravis unofficially wed in Las Vegas on April 4 following the Grammys. However, they did not obtain a marriage license when they said "I do," so it wasn't legal. In May, the pair took steps to make things super official, heading to a courthouse in Santa Barbara to tie the knot. The ceremony included a few bodyguards, Barker's dad, and Kardashian's beloved grandmother, Mary Jo "MJ" Campbell. "Having her by her side as she became Travis's wife was so important to them both, and it was one of the most special moments of their lives," a source told Hollywood Life. How sweet is that?
Kardashian is on an IVF journey to expand her family with Barker. "We are super excited because it's the first time we have made it to an egg retrieval in six months of doing fertility treatments," Kardashian said on an episode of Hulu's "The Kardashians," via People. She also gushed over what a great dad Barker already is. And while the potential of welcoming a new child is exciting, Kardashian's son and daughter have a bone to pick with their mother and their stepdad.
Reign and Penelope Disick are dunzo with Kravis' PDA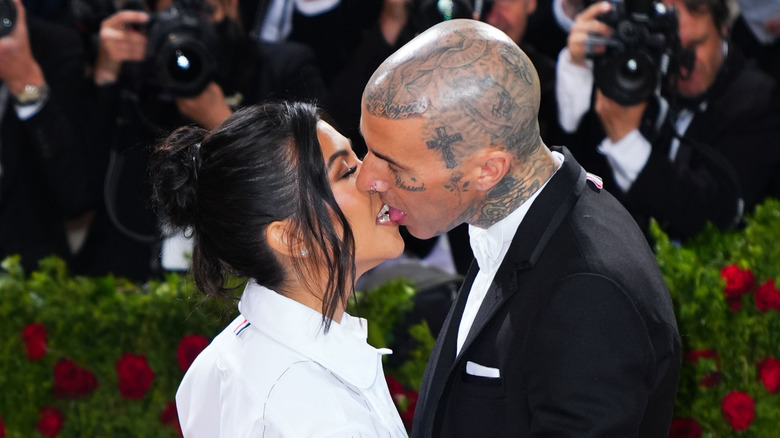 Gotham/Getty Images
Kids say the darndest things! Fans have been watching all of the Kardashian drama play out of the first season of "The Kardashians," and they have also gotten to see even more of Travis Barker and Kourtney Kardashian's steamy PDA moments. However, a few people in their lives are not down with the PDA, including Kardashian's kids. According to Page Six, Kourt's youngest son, Reign Disick, got a little tired of seeing his mom and Barker kissing at the dinner table, so he made his thoughts known.
"I am going to die. Ew, guys." The 7-year-old continued, "Can you guys not kiss in French again?" before asking, "Could you guys please not French-kiss again?" In the same episode, Kardashian's daughter, 9-year-old Penelope Disick, also asked the couple to stop kissing so much. We can imagine that it wouldn't be fun to see your mom during a kiss-a-thon.
Kardashian's kids are not the only members of the Kardashian family who have taken notice of the hot and heavy PDA between the pair. When matriarch Kris Jenner appeared on "The Ellen DeGeneres Show" to talk about the family's new series, Ellen DeGeneres joked that when she also witnessed the PDA when she visited the Kardashians over Christmas, saying, "Travis and Kourtney just make out non-stop. That's all they do." Kris quipped back, "Well, it is 98 percent of the new show." We think she hit the nail on the head with that one!