What's The Real Meaning Of Music For A Sushi Restaurant By Harry Styles? Here's What We Think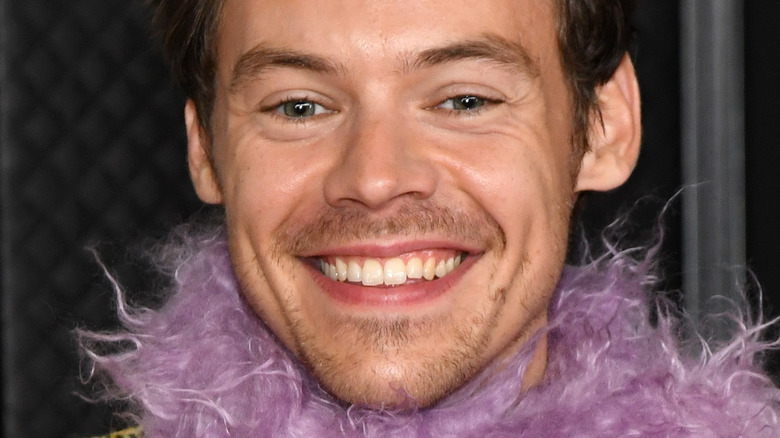 Kevin Mazur/Getty Images
Time to go to "Harry's House!"
That's right, Harry Styles' third studio album dropped on May 20 to the joy of the former Directioner's fans everywhere. While everyone has been speculating about Styles' sexuality, his relationship with actor/director Olivia Wilde, and his role in the upcoming film "Don't Worry Darling," Styles has been hard at work in the studio creating his funkiest album yet. On the meaning of the album's title, Styles told Better Homes & Gardens, "I realized that home feeling isn't something that you get from a house; it's more of an internal thing."
Compared to his 2017 self-titled album and 2019's "Fine Line," this new collection of songs has a completely different vibe. "It sounds like the biggest, and the most fun," Styles explained to BHG. "But it's by far the most intimate." Hmm ... "Intimate," you say? Well, color us intrigued! The album's first track, "Music For a Sushi Restaurant," definitely lives up to Styles' description.
The song was inspired by Harry going to an actual sushi restaurant!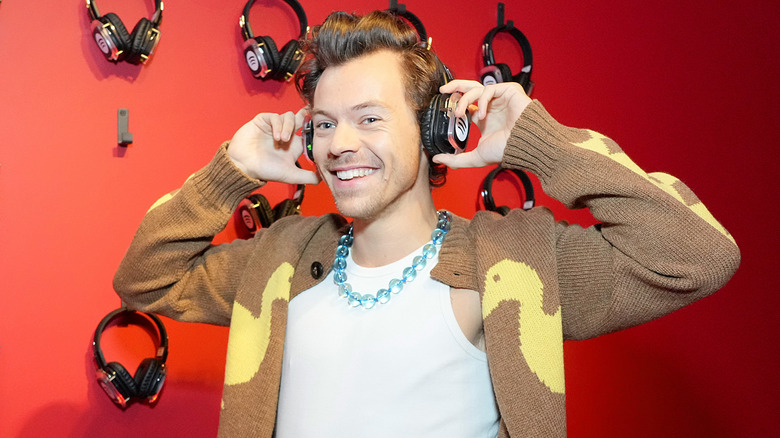 Kevin Mazur/Getty Images
As the first song that plays when you start "Harry's House," "Music For a Sushi Restaurant" sets the tone for the rest of the tracks off the album. Its funky bass line, techno undertones, and booming horns have you dancing in your seat right away! Plus, his melodic "Ba, ba-ba / Ba-ba, ba-ba" at the beginning of the song (which many fans have said reminds them of the theme song for the Disney Channel's "A.N.T. Farm") have you in awe at the beauty of Harry Styles's voice. But where did the title "Music For a Sushi Restaurant" come from?
"I was in a sushi restaurant in Los Angeles with my producer and one of our songs came on from the last album," Styles revealed in an interview with NPR. "I kind of said, like, 'This is really strange music for a sushi restaurant.' And then I was like, 'Oh, that would be a really fun album title.'"
But instead of naming the whole album this, Styles uses this song to make his music more appropriate to be played in a sushi restaurant. And when you look closer at the lyrics, it is apparent that this track is much more suggestive than you would first think.
Music For a Sushi Restaurant is about more than just rice and fish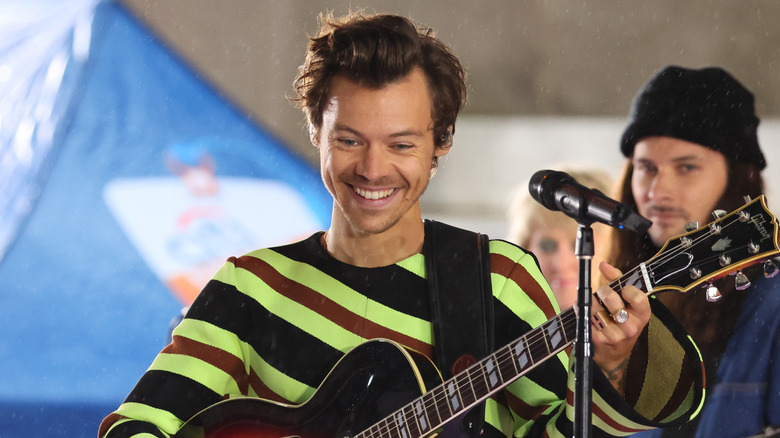 Dia Dipasupil/Getty Images
Right off the bat, "Music For a Sushi Restaurant's" first verse goes, "Green eyes, fried rice, I could cook an egg on you." While Harry Styles does mention fried rice, which would be found at any sushi place, the cooking of the egg suggests that whoever he is singing about is hot, hot, hot! We also should note that Olivia Wilde's eyes have a wild color, with blue-gray on the outside and green in the middle.
Styles continues, "You're sweet ice cream, but you could use a flake or two / Blue bubblegum twisted 'round your tongue." Woah, woah, woah; he wasn't lying when he said the album was going to be "intimate!" The interlude is particularly eyebrow-raising, though. "It's 'cause I love you, babe / In every kind of way," Styles says. It seems as if that love goes both ways, as Wilde ultimately ended up sharing the song to her Instagram Story.
The second verse follows "Music for a sushi restaurant / Music for a sushi restaurant / Music for whatever you want," the former One Direction singer croons. At this point, it's very clear that this song isn't just about sitting at a sushi restaurant. Instead, it's about leaving the sushi restaurant to do "whatever [they] want." Wink, wink.