Why Experts Are Divided Over Jada Pinkett Smith's Scripted Response To The Oscars Slap - Exclusive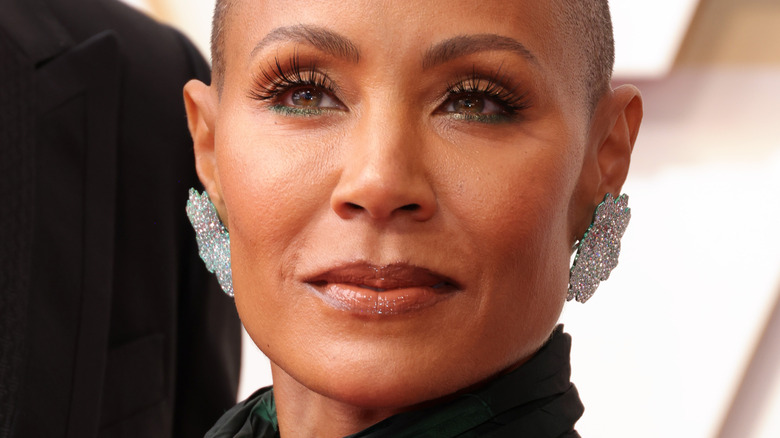 Momodu Mansaray/Getty Images
When Will Smith attacked Chris Rock on-stage at the 2022 Oscars over a joke aimed at his wife Jada Pinkett Smith's alopecia, the whole world was thrown into a state of shock. Since the incident, quickly dubbed "the slap heard around the world," many celebrities, thought leaders, and fans have weighed in on the matter. One person who's stayed silent, though, is Pinkett Smith herself. That is, until now.
The Season 5 premiere of Pinkett Smith's "Red Table Talk" began with a disclaimer that she would get real about the Oscars incident, but only in due course. "Some of the discoveries around our healing will be shared at the table when the time calls," a statement read. Just over a month on, in an episode titled "Alopecia: The Devastating Impact," the "Girls Trip" actor finally issued a spoken response. "My biggest hope," she began, "is that these two intelligent, capable men have an opportunity to heal, talk this out, and reconcile." Pinkett Smith also added that, given "the state of the world today," it was vital for people to rely on one another, Smith and Rock included. "Until then," she concluded, before segueing into the episode, "Will and I are continuing to do what we have done for the last 28 years, and that's keep figuring out this thing called life, together. Thank you for listening."
Given her initial silence, Pinkett Smith's hotly anticipated reaction has garnered a ton of attention from media outlets and fans alike. However, opinions on the matter have been divided, to say the least.
Experts question Jada Pinkett Smith's intentions
Two experts speaking exclusively to Nicki Swift have differing views on Jada Pinkett Smith's post-Oscars slap statement. Marketing maestro Austin iuliano believes the response gave Pinkett Smith a platform to "[put] the blame on Will and Chris," and was an attempt to shift focus away from the controversies surrounding her marriage. "In my experience as a marketer, this feels like a spin." However, body language expert and author of "A.W.E.S.O.M.E." Jess Ponce III sees things differently. "She was serious, but not emotional. She was clear, but not judgmental." Ponce was quick to point out that there was no denying the scripted statement was "on her terms." However, per an analysis of Pinkett Smith's body language cues, the expert believes that was genuine. "Her words and her body were in alignment."
One thing both Ponce and iuliano can agree on, though, is that the real intrigue lies in what the actor didn't say. "What is most interesting about this segment isn't what is said but what is not said," shared iuliano. Ponce echoed that, noting, "She did not comment on the act itself, the intent, nor its aftermath."
While iuliano muses that this was a way to distance herself from the scandal, Ponce is of the mind that it might've been a way for the "Red Table Talk" host to set the stage for a future episode. "Is she setting up a future conversation? ... The missing conversation is what most people are trying to read." Hopefully, at some point, we'll gain some real clarity.