The Truth About JoJo Siwa And Meghan Trainor's Relationship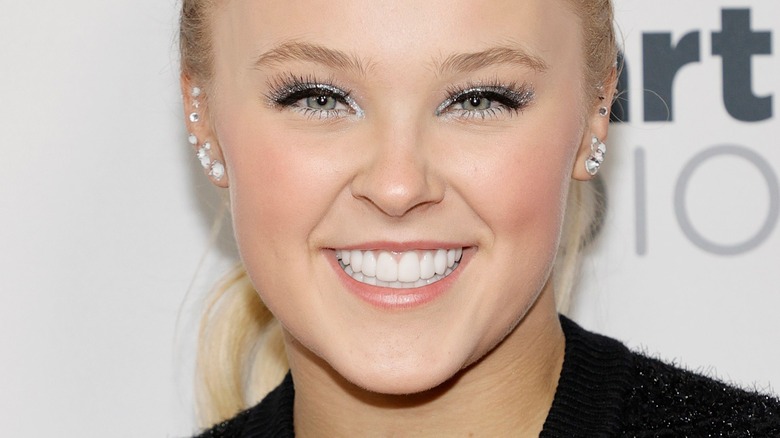 Amy Sussman/Getty Images
Meghan Trainor and Jojo Siwa being friends; makes a lot of sense when you think about it, right?
When you think back to the music video for Trainor's 2014 smash-hit "All About That Bass," the visuals are dominated by a pastel rainbow color palette with the lyrics focusing on an intensely positive message. Is that not totally what Siwa's music and image have been since the beginning of her career as a young bubblegum pop singer-slash-dancer? Trainor first burst onto the scene when Siwa was still "Jojo with a Bow Bow" on "Dance Moms," so it's no surprise that Siwa would gravitate towards Trainor's music. So later, when Siwa came into her own as a solo star, a friendship would be born between the two. In fact, the two have developed a rather sisterly bond over time, according to Trainor's TikTok.
But how did the two singers meet? What's the secret behind their relationship?
Jojo and Meghan were already fans of each other
Jojo Siwa and Meghan Trainor first met when they collaborated on a video for Siwa's YouTube channel in March 2020. "[O]ne of my favorite parts of my life is that really cool people know who I am," Siwa told her audience. "And one of those really cool people is Meghan Trainor!" Siwa then recounts the story of how both her and Trainor happened to be rehearsing near each other, and Trainor's mother popped in to say that Trainor is a big fan of Siwa. The love was obviously mutual, so they made plans to film a video together.
When Trainor arrived decked out in full Siwa cosplay — complete with the giant bow, side ponytail, and everything — Trainor says, "I look like your older sister that went to college!" The pair bonded over their love of music during Siwa's take on "Carpool Karaoke." Siwa even said it was a "dream" to be able to sing Trainor's "Lips are Movin" with Trainor herself.
The bow entrepreneur later told Us Weekly that she could send Trainor a "text at any time and just ask anything, and [she] would reply in an instant." Then, pregnant Trainor asked Siwa to take her place in her "I Believe In Santa" music video for her 2020 holiday album. "JoJo is a superstar!" Trainor said. "She works so hard and her incredible, positive energy is contagious. It was an honor to have her star in this music video!"
Meghan stood by Jojo when she came out to the world
When Jojo Siwa came out as gay in January 2021 by lip-syncing to the iconic LGBT+ anthem, "Born This Way," Meghan Trainor was immediately supportive of her "baby sister." "I texted her because I was like, 'Wait, do we just love the Lady Gaga song? Or is this a whole moment?'" Trainor revealed in an interview with J-14 Magazine. "She was like, 'Both,' and I was like 'I'm so proud of you!' It was so amazing and exciting." This support — as well as the love sent to Siwa from several other celebrities — probably meant the world to Siwa considering how there were also some negative reactions from the public.
But regardless of any haters coming her way, Siwa is thriving! She even has her own dance competition show called "Siwa's Dance Pop Revolution," in which Trainor appeared as a guest judge as a favor to her friend. Trainor also donated $100,000 to Siwa's childhood cancer charity when Siwa was a guest host of "The Ellen DeGeneres Show" in 2021.
Outside of their friendship, both women keep extremely busy in their own rights; with Siwa taking the judge's seat on "So You Think You Can Dance" and Trainor raising her young son, Riley. Regardless of such, it seems that their friendship is here to stay!