Kate Middleton's Relatable Parenting Moment During Platinum Jubilee Has The Entire Internet Talking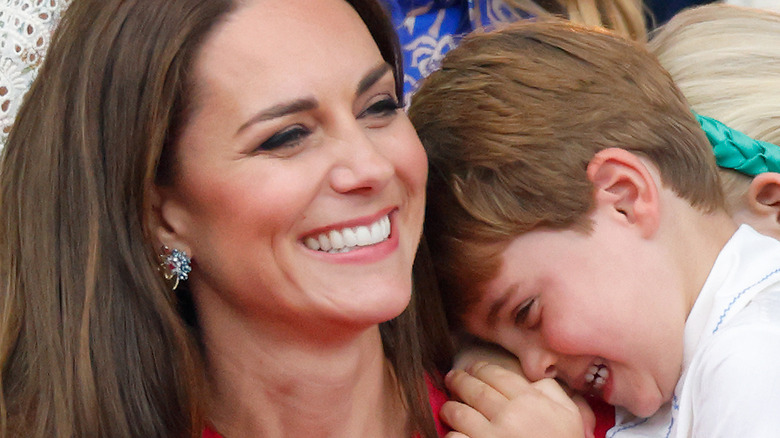 Max Mumby/indigo/Getty Images
Anyone who's familiar with the British royal family knows they have to deal with a lot of regular people problems just like the rest of us. The only difference is, whatever happens to the royal family tends to happen for the whole world to see. And although the 96-year-old queen has endured quite a bit recently — losing her husband in 2021 and subsequently contracting COVID-19, for instance — there was one moment during Queen Elizabeth II's Platinum Jubilee celebration that served as a lighthearted reminder that the royal family isn't all that different from your average brood.
On June 2, Platinum Jubilee festivities commenced, marking Queen Elizabeth II's 70th year on the throne. At the Pageant celebrating this momentous occasion on June 5, one member of the royal family certainly raised some eyebrows, though it wasn't the queen (who only made one brief appearance near the end at the Buckingham Palace balcony alongside her heirs). 
Instead, it was her granddaughter-in-law, Kate Middleton, who suffered through a very relatable parenting moment during the Jubilee — a parenting moment that got the entire internet talking. 
Kate Middleton had to deal with a very bored 4-year-old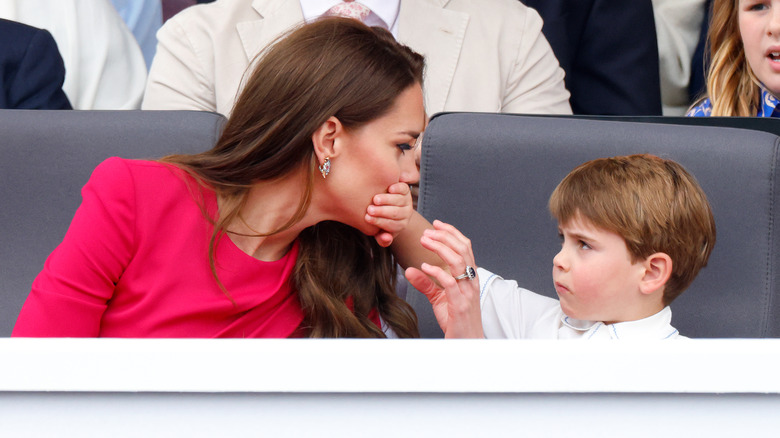 Max Mumby/indigo/Getty Images
On June 5, Kate Middleton lit up the internet with her desperate and hilarious attempts to calm her 4-year-old son, Prince Louis, during the Platinum Jubilee Pageant. In videos widely circulated online, Louis, who appeared to be quite bored with the whole event, slapped his mother's face away, waved his hands in the air, and made a number of disgruntled faces, mostly directed at his mother, who made numerous futile efforts to soothe the boy. He appeared in stark contrast to his older siblings, on his left flank, who remained composed throughout. 
Louis would later continue to make faces while standing alongside his family, including Queen Elizabeth II, on the Buckingham Palace balcony. 
Early on June 6, "He's 4" began trending on Twitter, largely thanks to widespread discussion of the young prince's actions. "Why am I CRYING," one user wrote in reference to the video, in a tweet that amassed nearly 140,000 likes in less than a day. Most people defended Prince Louis against any criticism he might face, given the fact that he's 4 (hence the trend). "Tell me no one here with an early 4yo boy has never experienced the 'joy' of a public display," another user wrote in his defense. "[G]et the [f]*** over it. HE'S. 4. YEARS. OLD." Indeed, most 4-year-olds are not subject to international live feeds and social media discussion, so Kate's frustrating parenting moment can hardly be seen as condemnable.