Who Is Yaya DaCosta's Ex, Joshua Bee Alafia?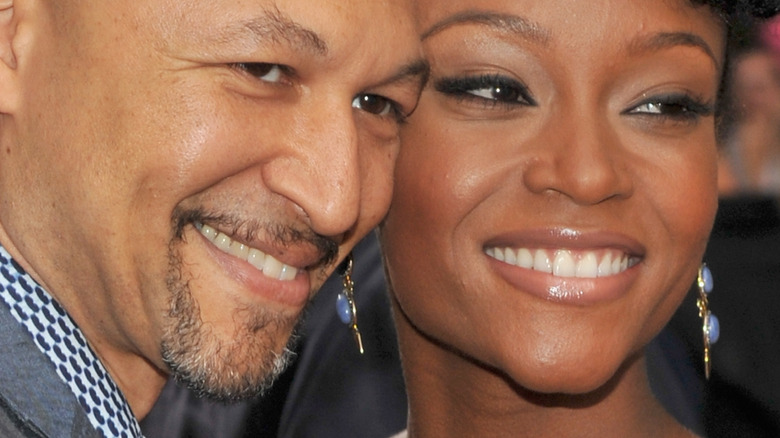 Kevin Mazur/Getty Images
"One Chicago" fans are still reeling over the split of characters April Sexton and Dr. Ethan Choi, it's easy to forget that the actors behind their "Chicago Med" personas have their very own, real-life partners. As with any love story, there is always the potential for heartbreak, as well as joy — and that's something Yaya DaCosta knows all too well.
In 2014, "Chicago Med" actor DaCosta went through a split with her partner, Joshua Bee Alafia. Their breakup came shortly after the actor and former model gave birth to their son. DaCosta is known for being deeply private about her love life, as she said in an interview with MadameNoire. "Because I never talk about my personal life, it's hard to dispel rumors," she explained. She also clarified that she and Joshua Bee Alafia couldn't divorce, as they'd never wed. They split because giving birth, the former reality show contestant explained to the outlet, "was an enlightening experience."
Given DeCosta's penchant for privacy, there's a chance we'll never know more than that. Fans will probably also never get any further clarity on her comments to the publication that she, "was never married, first of all." This was despite Us Weekly claiming that the former couple had wed in Pennsylvania, and Page Six reporting that the actor had filed for divorce under seal.
Although fans may still wonder why the pair decided to part ways, one thing that doesn't need to remain a mystery to us is just who DaCosta's ex-partner is.
Joshua Bee Alafia wears many hats
Joshua Bee Alafia may be best known in mainstream circles thanks to his relationship with "Chicago Med" star Yaya DaCosta, but when it comes to independent filmmaking, he's something of a legend. Billed as a filmmaker, writer, and meditator on his website, Alafia has worked as a cinematographer, editor, writer, and director over the years — and one of his films, "Cubamor" won so much critical acclaim that it's since been adapted into a musical format. Per NAMT, the ball started rolling on the newly adapted musical in 2012. Alafia himself is not involved in the production (which had a digitally-presented reunion show in 2020 by TheatreC) but continues to be lauded for his work on the iconic film.
Arguably one of his biggest passions, though, is meditation and helping others get the most out of the practice. A Buddhify contributor, Alafia has previously spoken of the joy he gets from teaching meditative practices to others, especially those who have been "severely traumatized." Speaking of his work with incarcerated kids, Alafia explained that while there is a significant challenge in working with young people "who don't really want to practice listening to themselves and looking inwardly when they're going through so much." He aadded that ultimately, "Reaching kids in that kind of oppressive atmosphere was nothing short of magical."
Outside of his work with Buddhify, per Tricycle, he also teaches meditation through a number of other organizations, including his very own, Liberation Center Worldwide.
... and they're all tied into his spirituality
Outside of his work with Buddhify, per Tricycle, he also teaches meditation through a number of other organizations, including his very own, Liberation Center Worldwide.
To call Joshua Bee Alafia passionate about meditation would understate his dedication to the practice. While he's experimented with meditation styles over the years, he has not wavered in his devotion to Buddhism. "My Buddhist journey has been a beautiful one," he told Tricycle in an interview. "I became interested in Buddhism in college. Back then ... the second wave of Tibetan Buddhists were coming, and I was just really attracted to the Dalai Lama and his cause, as well as ... the clarity and the elegance."
Given his commitment to spirituality, it only makes sense that it seeps into nearly every area of his life — and his work as a filmmaker is no exception to the rule. In fact, as he told Buddhify, he considers filmmaking and meditation to be, "very interrelated." Indeed, he explained, "Taking people through the four foundations of establishing mindfulness is very similar to taking people to three acts of a story."
Like his former "Chicago Med" star ex Yaya Dacosta, Alafia doesn't speak much about his love life, so we'll probably never know how he dealt with the 2014 breakup. However, with such a strong spiritual background, we suspect he's doing just fine.