What's The Real Meaning Behind Drake's Sticky? Here's What We Know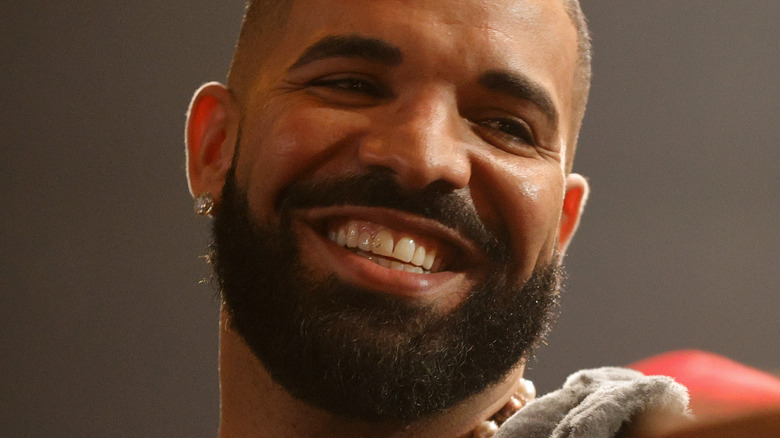 Amy Sussman/Getty Images
Grammy award-winning rapper Drake blindsided fans on June 16 when he announced that he would be dropping his brand new album, "Honestly, Nevermind" on the very same day Beyoncé revealed there highly anticipated follow-up to "Lemonade." No one saw the surprise album drop coming, but fans were quick to stream the record anyway, with many describing it as a "dance" album — a far cry from his usual rap-leaning tracks.
Reviews have been a mixed bag, as well. Not many are impressed with Drake's deviation from his signature style, but there are a few standouts from the album, most notably a track called "Sticky." As one fan said, "lemme save everyone some time sticky and jimmy cooks the only redeemable songs on new drake," while another said, "Drakes album is an L for anyone that sees this. Sticky and Jimmy Cooks is the only songs worth a damn. L 2022 Drake."
We've already broken down what "Jimmy Cooks" is all about, but if you're curious to know what Drake meant with his words on "Sticky," we did a little digging.
Drake opens up about his life as a public figure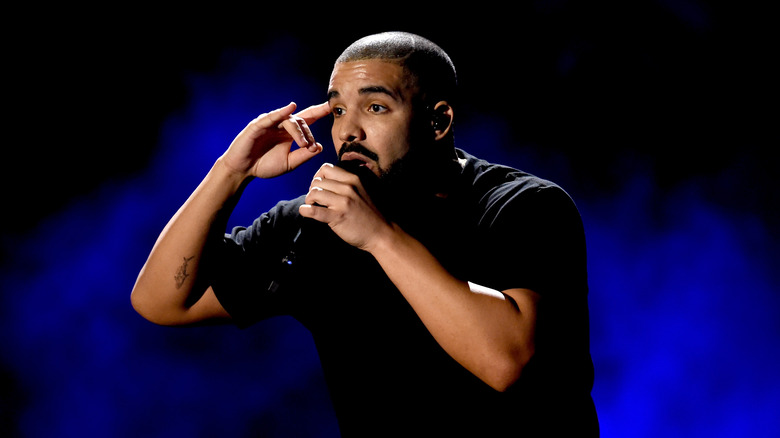 Kevin Winter/Getty Images
Drake opens up "Sticky" by flexing on his achievements and possessions, while also noting that his own mother never wanted him to become a rap star. 
"Homer hanging on my neck / The bracelet matches the set / My brother named his ting Nadal /Let's stop all that back and forth over the 'net / My mama wish I woulda went corporate / She wish I woulda went exec' / I still turn to a CEO so the lifestyle she respect," the lyrics read, per Genius. He goes on to complain about the Met Gala and says how he's always absent from the event, as they only allow him to let a single person tag along. "They only givin' n****s plus ones, so I never pull up to the Met."
Drake also seems to hint at a failed relationship with a girl, and how she probably regrets ending things with him, because now every subsequent track makes people think that he's with someone new. "Shawty try to play it cool but / Now she wish she woulda stayed 'cause / Every song that I made is / Ringin' like I got engaged." But, even if Drake enjoys his riches and the benefits fame has to offer, he's still alone at the end of the day, leaving him in a "sticky" situation. "When everything is put to rest / And everybody takes a breath / And everything gets addressed / It's you alone with your regrets," he raps. "All that pumpin' up your chest / All that talk about the best / You know how sticky it gets."
Drake offers support to Young Thug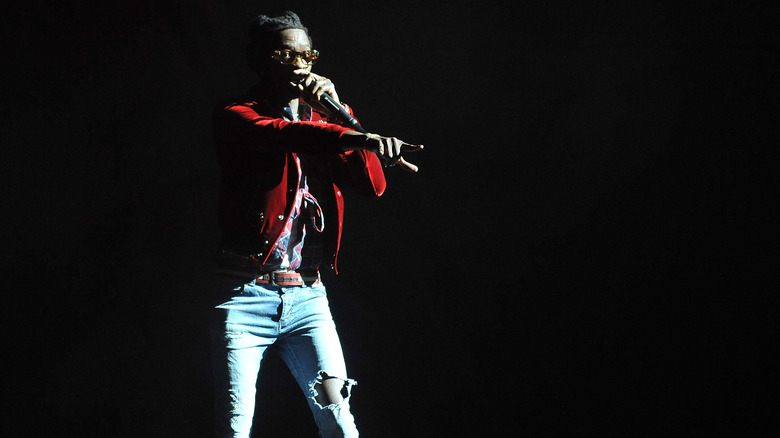 Jim Dyson/Getty Images
Elsewhere in the song, Drake expresses his support for Young Thug, who was arrested on racketeering charges in May. NPR reported that the rapper, whose real name is Jeffery Lamar Williams, co-founded "Young Slime Life," a street gang that's known to be affiliated with the national Bloods gang. The organization has been involved in multiple shootings, murders, and carjackings in the span of a decade.
"Mr. Williams committed no crime whatsoever," his lawyer, Brian Steel, told the media, claiming that he would "fight till his last drop of blood to clear him." And now Drake offered his support to the rapper on "Sticky," saying, "Ayo Eric, bring them girls to the stage / 'Cause somebody's getting paid and / Free Big Slime out the cage," per Genius. Drizzy notably collaborated with Young Thug on a song called "Bubbly," along with Travis Scott. For the video of this track, "Falling Back," he also included a "Free YSL" message to offer his support.
It's unlikely that Young Thug will go free after being denied bail, but he thanked everyone who showed support. "I just want to say thank you to all my friends and my family for coming out and supporting us. You know, your support during this time means a lot to us. ... This isn't just about me or YSL," he said, per Complex. "I always use my music as a form of artistic expression and now I see that Black artists and rappers don't have that, you know, freedom. Everybody please sign the 'Protect Black Art' petition and keep praying for us. I love you all."