Were Olivia Munn And Aaron Rodgers Ever Actually Engaged?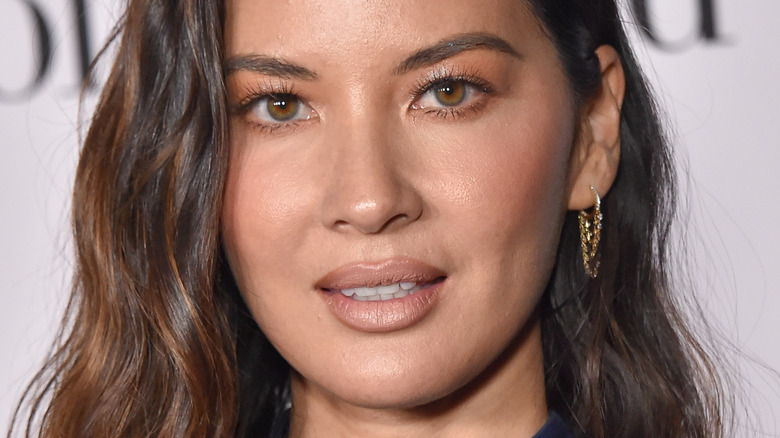 DFree/Shutterstock
A past Hollywood couple that made headlines with their romance was actor Olivia Munn and NFL star Aaron Rodgers. The pair first began their relationship in 2014, as sources confirmed to Us Weekly at the time. According to the outlet, Munn and Rodgers met while they were both attending the Academy of Country Music Awards and started seeing each other shortly after this. In a 2015 interview with Good Housekeeping, Munn raved about Rodgers' approach to health and fitness and called his dedication "so motivating." 
"My boyfriend's healthiness inspires me. Aaron is different than every other man I've ever met ... there's so much I could say," Munn said before adding, "Everything a good person can be, he is." Sadly, the relationship ultimately didn't last, and Rodgers and Munn couldn't make it work and two parted ways in 2017. A source told People that Munn and Rodgers planned to stay "close friends and wish nothing but the best for each other moving forward." Prior to their breakup, rumors swirled that the couple had become engaged, which caused Munn to speak out publicly and address the speculation.
Olivia Munn and Aaron Rodgers never officially planned to walk down the aisle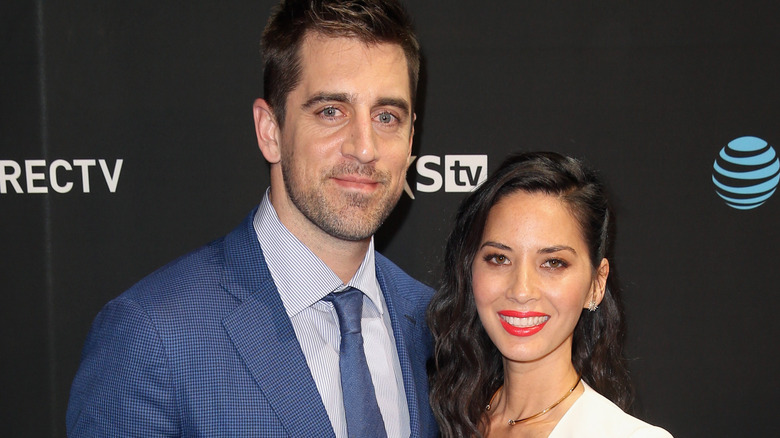 Joe Scarnici/Getty Images
In spite of reports that Olivia Munn and Aaron Rodgers may have once been engaged, this rumor proved to be inaccurate. The engagement gossip was shut down by Munn herself when she spoke to Entertainment Tonight in 2016. Prior to this interview, Munn was photographed with a diamond band on the ring finger of her left hand, per the Daily Mail. This sparked speculation that she and Rodgers were intending to tie the knot soon. 
However, there was a simple explanation Munn gave involving salty food that described why she put her ring on that finger.
"No, [it's not an engagement ring]," Munn said to ET. "The other day I was eating... I had been eating too many salty foods, so it didn't fit. It's my emerald ring that I wear all the time on my right hand, and I had to put it on my left because my right hand was getting too swollen!" During a visit on "Live! with Kelly and Michael" earlier that year, Munn had further stated that the story was started by "just some random magazine that was bored that day and was like, 'I'm gonna write this story.'" Although the pair never made it down the aisle and later called it quits, they've each moved on and have since found new love.
Olivia Munn and Aaron Rodgers have started new relationships
Following their 2017 breakup, Olivia Munn and Aaron Rodgers both entered into new romantic relationships. Rodgers first dated actor Kelly Rohrbach, then fomer NASCAR driver Danica Patrick, per Page Six, before dating and becoming engaged to actor Shailene Woodley in 2021. This engagement news didn't seem to stir up any negative feelings, as a source told Hollywood Life in 2021 that Munn "[didn't] care one bit" about Rodgers' plans to wed. Before they could tie the knot, however, Rodgers and Woodley ended up parting ways in early 2022, as InTouch reported. In June 2022, the New York Post wrote that there were reports Rodgers has since begun seeing a woman named Blu, although this news hasn't yet been confirmed by either party.
After her split from Rodgers, Munn moved on to date actor Álex González and, later, Tucker Roberts for a time, per PopSugar. Munn's current partner is comedian John Mulaney, with whom she has a son named Malcolm Hiệp who was born in December 2021, per TMZ. The couple was last seen happily holding hands while out and about in New York City on June 23, per Us Weekly. Munn and Rodgers' union may not have worked out, but in the long run, their love lives have seemed to evolve for the best.