The Two Friends Stars Brandi Glanville Says She Dated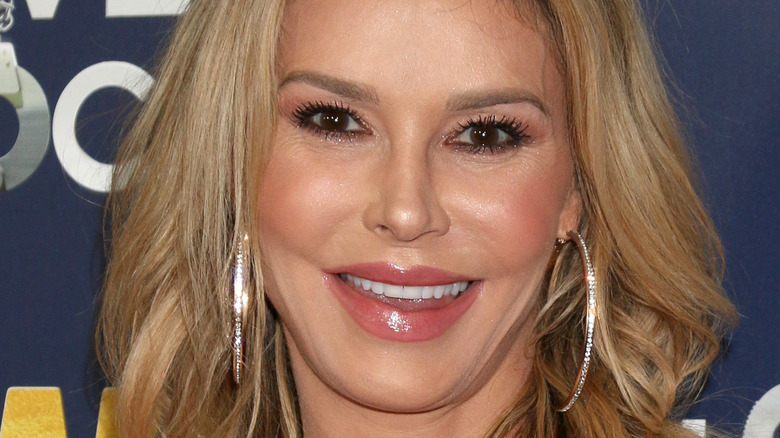 Kathy Hutchins/Shutterstock
Brandi Glanville doesn't hold back, especially when it comes to the more personal details about her life. The entire scandal surrounding her ex-husband Eddie Cibrian and his affair with LeAnn Rimes while they were still married has been well documented. While there was probably a time during which the two couldn't even look at one another — let alone stand in the same room together — thankfully, that's all changed. While on the "Hollywood Raw" podcast back in 2021, Glanville said she and Rimes now feel like "sister wives." Glanville said (via Page Six), "Eddie's going to be in my life for the rest of my life. We bicker still like we're married when we're not ... It's me and LeAnn and Eddie."
But before all the bickering, the scandals, and even those rumors that suggested she hooked up with Denise Richards, Glanville claims she dated two other very high-profile television actors. And while Glanville usually has no problems talking about her love life — or her bizarre encounters, for that matter — this revelation might actually come as a surprise to some of her fans.
Brandi Glanville got up close and personal with two Friends stars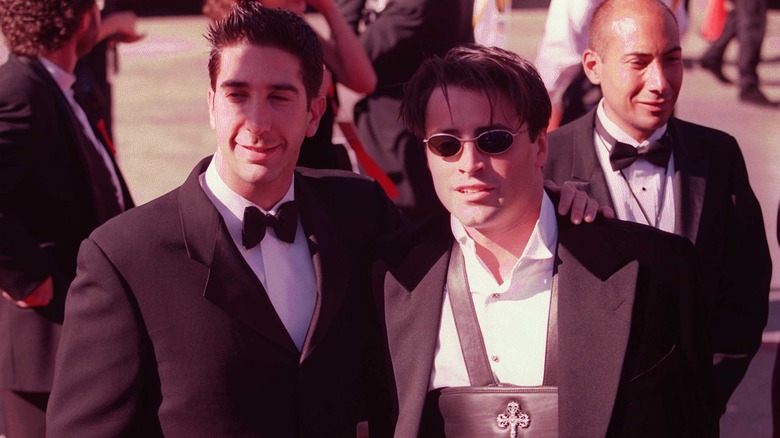 Stewart Cook/Getty Images
It's not very often that the sitcom world and reality television world collide, but throw Brandi Glanville in there and you've got yourself a tabloid headline. While on the "Everything Iconic" podcast back in 2020, Glanville admitted that she dated both "Friends" stars Matt LeBlanc and David Schwimmer. However, Glanville added that the dates happened well before her marriage to Eddie Cibrian. Speaking about her time with LeBlanc, she said (via Page Six), "We went back to his house, he let his dog lick his ice cream and I was out." That's when Glanville wrapped up that friendship and walked out the door. Glanville also said that she couldn't continue dating Schwimmer because it bothered her that he wore makeup during their dates. "He wore concealer out during the day and it really annoyed me," the reality star revealed. 
And because Glanville doesn't limit herself to just sitcom stars, she also admitted to dating an Uber driver in 2016, per E! Online, and British reality star Calum Best that same year, according to the Daily Mail. That, and she also enjoyed a relationship with a French man 10 years her junior in 2019. While her dating history might raise an eyebrow or two, Glanville also added some interesting comments about another huge Hollywood star that she got to know quite personally, as well.
Brandi Glanville's little black book is full of surprises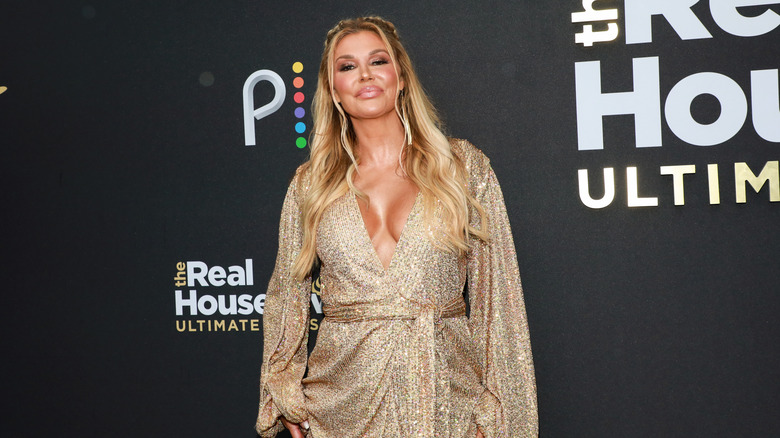 Jason Mendez/Getty Images
Brandi Glanville's little black book might be an interesting one to dig through because she has also reportedly dated Gerard Butler and one of "The Notebook" stars, even though she's declined to reveal who it was, according to the Daily Mail. Glanville eventually tied the knot with Eddie Cibrian in 2001, but before then, she went on a date with another Hollywood star. She told the "Everything Iconic" podcast that she dated Hollywood actor Ben Stiller, and even went on the record to stay that the "Zoolander" star was supposedly well-endowed (via Page Six). Stiller confirmed on "Watch What Happens Live" back in 2016 that he did date Glanville by saying, "It was short-lived and it was fun, I wouldn't characterize it as a relationship. It was a couple of dates and fun. I'm not sure my wife is even aware of that."
Funnily enough, as some fans can probably recall, Stiller is also loosely connected to Matt LeBlanc and David Schwimmer, as he guest starred on an episode of "Friends" back in 1997. He played a character by the name of Tommy who was Rachel Greene's (Jennifer Aniston) boyfriend who liked to scream a lot. One can only wonder if Glanville's name ever came up behind the scenes while shooting that episode!