The Question From David Letterman That Made Jennifer Aniston Uncomfortable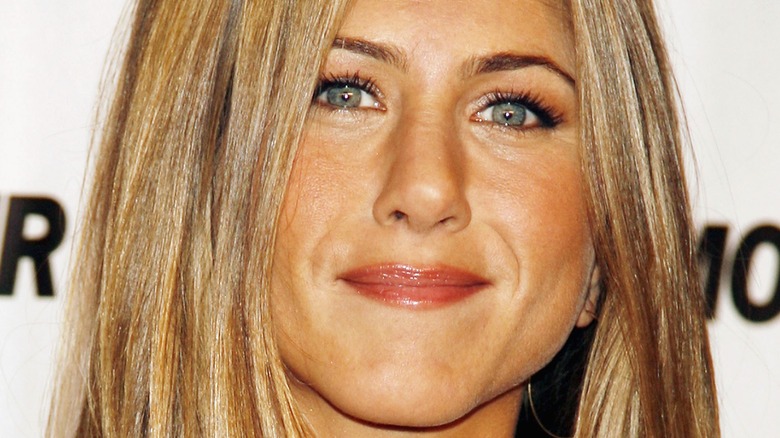 Kevin Winter/Getty Images
David Letterman is well-known as one of the longest-running talk show hosts in America. Although Letterman's famously direct and controversial interview style has led to a number of poignant and hard-hitting questions, it has perhaps more often led to awkward interactions for both guests and the audience. Letterman even admitted to this interview style in 2012, saying, "That's what I do — I make people uncomfortable!" 
Given how Jennifer Aniston has been one of the world's most famous TV and film actors since the mid-1990s, many fans have been interested in her personal life, with her short-lived marriages to Brad Pitt and Justin Theroux – as well as several relationships with co-stars – highly publicized in the media. Although this may be worth discussing in some interviews, Letterman proved time and time again that whenever he had Aniston on his show, he had a tendency to go a bit too far in his interrogation — and flattery — of the actor. There was one question in particular that he asked the former "Friends" star in 2006 which she refused to answer, while also being visibly uncomfortable. 
Jennifer Aniston refused to answer a question about her relationship history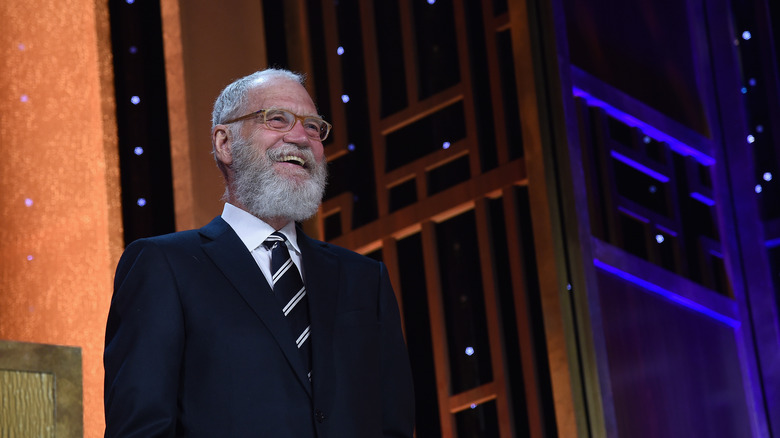 Ilya S. Savenok/Getty Images
In 2006, Jennifer Aniston appeared on David Letterman's talk show, in which she had come to promote "The Break-Up," a 2006 romantic comedy film in which she starred alongside Vince Vaughn (who also co-wrote and produced the film). The interview started on an awkward note, when Letterman complimented Aniston on her legs (comments which he went on to repeat numerous times throughout the interview), then began to press her on whether she was dating Vaughn. Aniston was in fact dating Vaughn at the time; they got together in 2005 while shooting the film, per People, but would break up later in 2006, though she was clearly reticent to talk about it. 
After discussing her legs, Letterman kicked off the interview by asking Aniston if it was Vaughn's idea to have her "appear naked in the movie." Aniston, at first flustered, responded by telling him he should have asked Vaughn that when he was on the show. 
When Letterman went on to say that Vaughn got "all squirrelly" when he asked him about whether he was dating Aniston, she responded by immediately turning the conversation around, asking Letterman about his feud with Oprah Winfrey. After following her on this tangent, Letterman immediately went back to Vaughn, in an exchange which went on for several minutes until Aniston finally pleaded, "Let's move on." In the end, Aniston never answered the question, but very clearly demonstrated how uncomfortable she was with it. 
David Letterman made guests uncomfortable more than once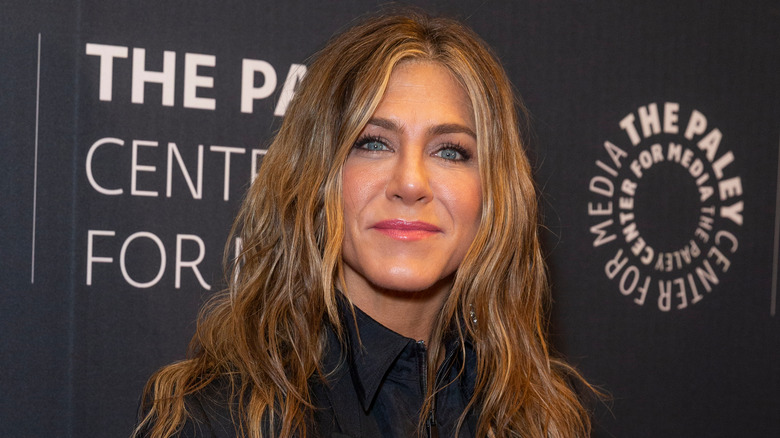 lev radin/Shutterstock
Jennifer Aniston's 2006 appearance on "The Late Show with David Letterman" was not her first appearance on the iconic talk show, nor the first time she had an awkward interaction with the host. In 1998, Aniston first appeared on Letterman's show to promote her show, NBC's "Friends." In the now-infamous interview, Letterman spent quite a bit of time talking about her experiences nude in public steam rooms. Then, out of nowhere, he decided to suck a strand of her hair. 
"Forgive me if this is rude, I just want to try one thing," he said as he wheeled his chair over to her amidst a drumroll. Aniston then recoiled back instinctively, laughing nervously as he opened his mouth and leaned toward her neck. He then grabbed a strand of her hair and sucked on it, and gave her a paper towel to wipe it off, which she did with visible discomfort. "People are horrified by that," Letterman said afterward. "We'll take it out in editing, don't worry." 
Although Letterman has never been accused of sexual harassment, he admitted in 2009 to having affairs with many members of his staff. In addition, while hosting female guests over the years, Letterman has often demonstrated behavior which many have come to interpret as sexual harassment, or "mistreatment." Clearly, Aniston has been among those guests more than once, though she has yet to call out Letterman for any mistreatment she may have felt from him.