How Ivana Trump's Funeral Completely Shaded Hillary Clinton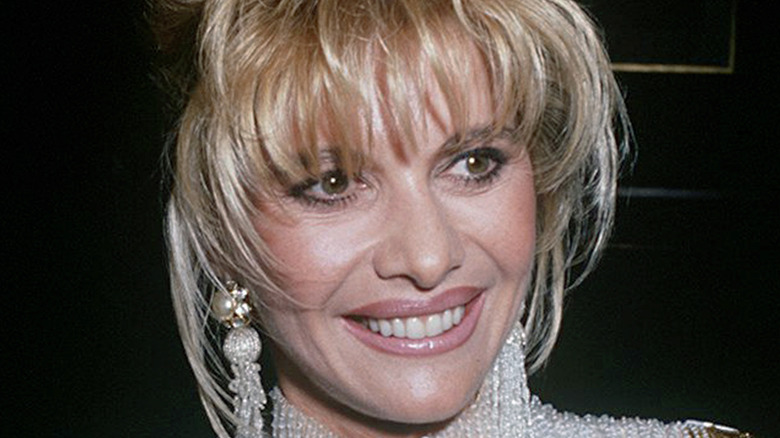 Kypros/Getty Images
Loved ones of famed businesswoman Ivana Trump saw a heartwarming sendoff to the American socialite after her unexpected death on July 14. Donald Trump's first wife died from blunt impact injuries to the torso, which took place after a fall down a flight of stairs on July 14 in her Manhattan home. The commemoration of life took place on July 20 and was filled to the brim with Trump family members, including several who entered the picture only after her divorce from her second husband — and father to her only children — Donald. Apart from her first husband, the little-known Austrian ski instructor Alfred Winklmayr (to whom she was only briefly married to escape her native Czechoslovakia), Donald is Ivana's only living former spouse still living as her later two husbands — Riccardo Mazzucchelli and ​Rossano Rubicondi — died in 2017 and 2019, respectively. As such, Donald was her only spouse to appear at the funeral.
In fact, according to The New York Times, it was Donald's business conglomerate, the Trump Organization, which handled the logistics of the funeral. What's more, Secret Service was in attendance. Even with the shadow of the White House looming over the funeral, the Trump Organization still found a way to completely shade another figure in Donald's life who seems to loom large to this day: former secretary of state and first lady Hillary Clinton. 
Hillary Clinton almost made an unexpected appearance at Ivana Trump's funeral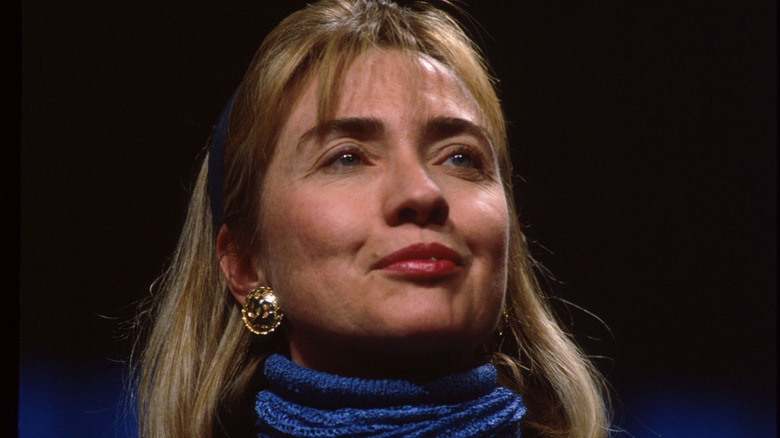 Cynthia Johnson/Getty Images
As Variety's chief television critic, Daniel D'Addario, noted on Twitter, Ivana Trump's family made a big display of her appearance on a 1992 cover of Vanity Fair, which was mounted on a plaque in the middle of her funeral. However, there was a crucial element of the real cover which seems to have been omitted: a corner headline promoting a story about then-First Lady of Arkansas, Hillary Clinton, whose husband Bill Clinton was in the midst of running for president during his first campaign. The promotion read: "Hillary Clinton: Will she get to the White House with Bill or Without Him?" Vanity Fair itself noted that the cover is likely Photoshopped, though the publication note there could have possibly been some subscriber editions which were published the way the cover appeared at the funeral. 
As some on Twitter were eager to point out, the Trumps neglected to omit other promotional headlines about other controversial figures on the cover, namely right-wing radio host Rush Limbaugh, as well as notoriously corrupt former first lady of the Philippines, Imelda Marcos. Of course, Donald Trump, who owns the Trump Organization, was a strong ally of Limbaugh, and spearheaded a famously bitter campaign against Hillary in 2016.
Although the former presidential nominee has yet to respond to this story, she did cryptically tweet a picture of herself "on the move" during the 1992 campaign season, releasing the photo only one day after the funeral. Perhaps she was sending a message that her history cannot be ignored.
Ivana Trump's funeral was filled with right wing speakers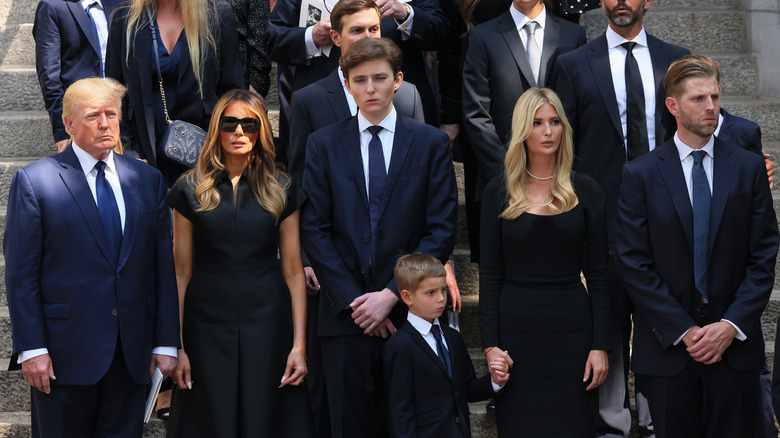 Michael M. Santiago/Getty Images
Unsurprising — given Ivana Trump's lifestyle and reputation amid the New York City social scene — her funeral was packed with a number of well-known personalities, extending far beyond Ivana's extensive family. According to The New York Times, attendees included major New York-based media personalities such as modeling agent Paolo Zampolli, fashion designer Dennis Basso, and gossip columnist Couri Hay. Also appearing at the funeral were right-wing Fox News hosts and major Trump allies Jeanine Pirro and Kimberly Guilfoyle — to whom Ivana's eldest son, Donald Trump Jr., is currently engaged — fitting with Ivana's appearance alongside the late Rush Limbaugh, another famous right-wing media figure and close Trump ally. Unsurprisingly, none of the Clintons appeared at the funeral (but were simply alluded to in the aforementioned magazine cover).
There were a number of less-than-famous guests and speakers as well, however, one of which included Dorothy Curry. A former nanny to Ivana's children, Curry spoke of her sadness at Ivana's increasingly isolated life in her final years. "Ivana, we have reached out to you many, many times, but obviously we didn't reach out far enough," she said, per The Times. "We all basically let go and let God, and now you are totally in God's hands."
Ivana's children described her as a loving parent who could also be a hard-liner when she had to be. "She had brains, she had beauty, and she had grit," her youngest son, Eric, said in his eulogy. He added that as a parent, she "ruled with an iron fist and a heart of gold."