The Truth About Anna Wintour And Huma Abedin's Friendship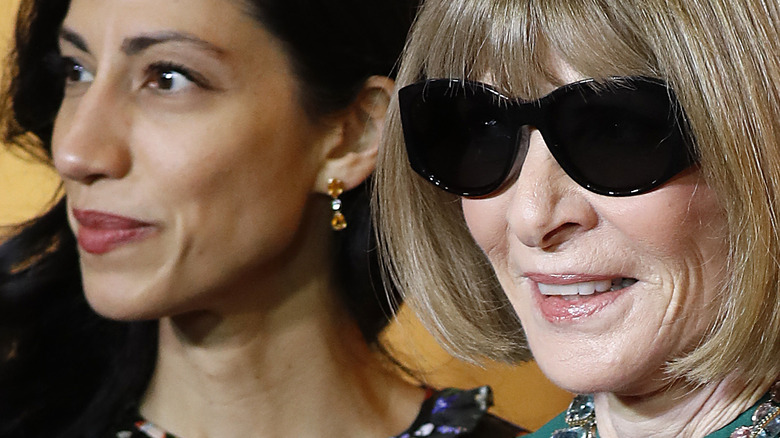 John Lamparski/Getty Images
Two insanely influential women, both known for their impeccable personal style — Anna Wintour and Huma Abedin's friendship reads a little like a movie plot, and we want front row seats! 
In 2021, Abedin published her memoir, "Both/And." The launch party was hosted by none other than the Vogue editor-in-chief, at her New York pad. If that wasn't evidence enough of their closeness, Abedin revealed at the party that Wintour played a big part in the writing of the memoir. "She was the very, very first person to see the pages," Hillary Clinton's aide told WWD. That only made sense. After all, as she further told the publication, "I wrote most of the book at her house." Another revelation made at the event? Wintour urged Abedin to write her story in the first place. 
But don't expect her to take credit for anything further than encouragement. Speaking like a true friend, Wintour told those in attendance, "While I did push her just a little to write this book, I can take no credit at all for the care and sensitivity she's shown in doing it" (via Vogue). It's pretty clear these two have some serious mutual admiration for each other. However, this bond goes way deeper than professional respect. 
Anna Wintour supports Huma Abedin through the good times and bad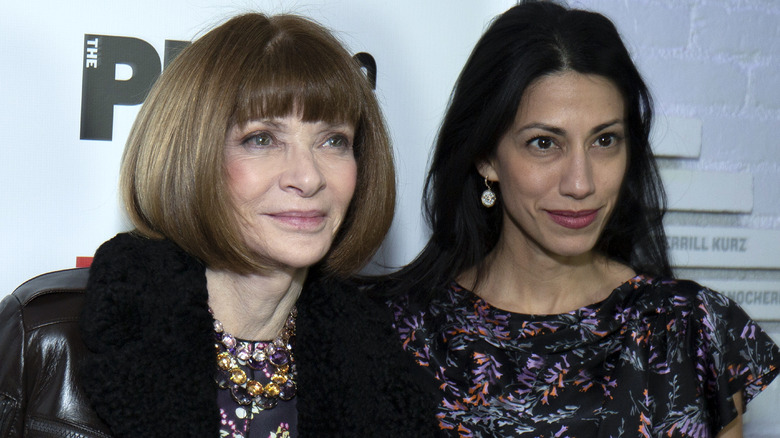 Santiago Felipe/Getty Images
As with all good friendships, support is at the center of Huma Abedin and Anna Wintour's relationship. However, given how high-profile both of them are, that support is a little more on the extra side. Exhibit A: Vogue profiles. 
Abedin has been profiled not just once, but twice by the fashion bible — in 2007 and 2016. Both times, the articles have painted a glowing picture of Hillary Clinton's right-hand woman. Vogue has also published excerpts of "Both/And" and run pieces complimenting Abedin's style choices. Abedin has even scored invites to several Met Galas over the years. That's sure to have been an honor in itself for Abedin. After all, the 2007 Vogue profile revealed that she was a lifelong fan of the magazine, even keeping her older copies into adulthood. 
However, it's not just Vogue profiles and glamorous invites that keep these two close. Quite the contrary, they've been by each other's side in the hard times, too. As noted by The Washington Post in the wake of yet another scandal surrounding Abedin's ex-husband, Anthony Weiner (yup, the one that prompted the investigation into Clinton's emails), Wintour was spotted greeting her with a kiss at an event. This was despite the presence of hecklers outside said event. Two months later, eyewitnesses told Page Six that Wintour and Abedin had been spotted at dinner, in "deep conversation." One thing's for sure: the Vogue doyenne is always in Abedin's corner. 
Anna Wintour loves introducing Huma Abedin to people outside of politics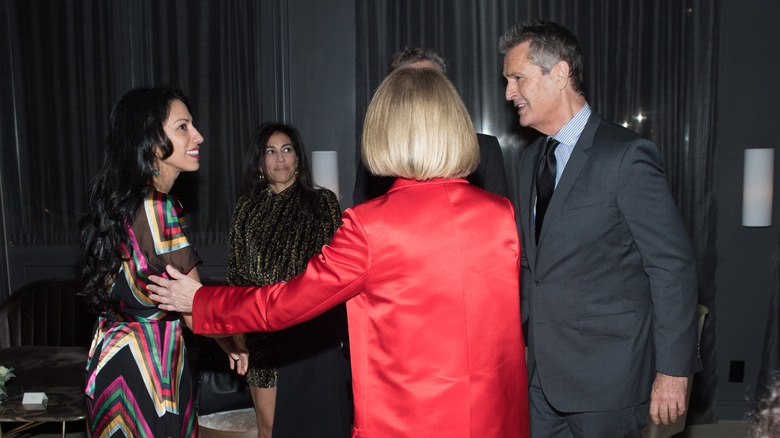 Noam Galai/Getty Images
We may never know if Anna Wintour encouraged Huma Abedin to file for divorce from Anthony Weiner over that dinner. However, there's a popular assumption that the Vogue editor-in-chief is invested in the political staffer's love life. In July, sources told Page Six that Wintour had paved the way for a romance between Abedin and actor Bradley Cooper. According to sources speaking with the publication, "Anna definitely played matchmaker." Soon after that, an insider told Us Weekly, "Anna Wintour did set them up." Wintour herself has remained tight-lipped about the situation. Sources close to both Cooper and Abedin, meanwhile, have debunked the theory. Speaking to Radar, one source revealed, "They know each other, but are not even that good friends." 
Well, even if Wintour didn't set Abedin up with Cooper, what we do know is that she's been committed to fostering introductions to people outside of politics. Abedin told The Cut that Wintour had gone out of her way to ensure she "felt sort of normal and loved" after her ex-husband's scandal. Sometimes that meant "going to the theater for a random movie," and sometimes it meant being exposed to, "Writers, people in the fashion world ... Mostly people who just weren't really into politics."
Whether or not Wintour has any plans to find Abedin an A-list beau, it's clear that she only wants the best for her friend. We've said it before and we'll say it again: this is one high-profile friendship we love to see!