Beyonce's Latest Music Video Isn't What Anyone Expected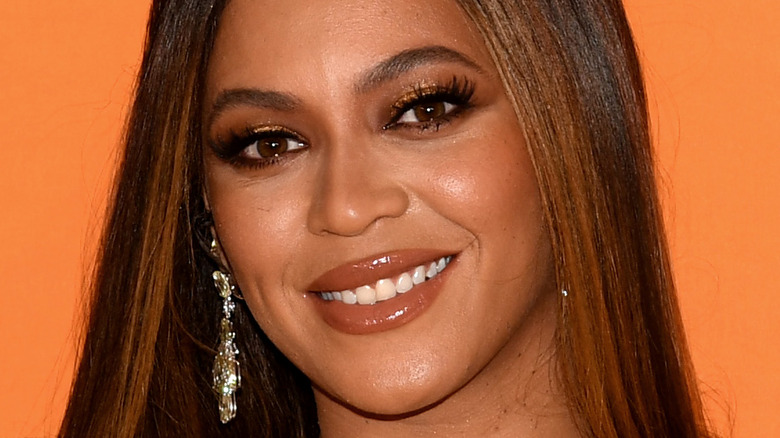 Gareth Cattermole/Getty Images
Since her '00s solo debut, Beyoncé has been just as well-known for her visual artistry as her music. In addition to iconic videos like "Crazy in Love" and "Single Ladies (Put a Ring on It)," Beyoncé reinvented the visual album as a popular medium of storytelling with "Beyoncé," "Lemonade," and "Black is King." Several artists have since followed in her footsteps, including Janelle Monáe, Halsey, and even younger sister Solange. Back in 2013, the "Renaissance" singer said, "I see music. It's more than just what I hear. When I'm connected to something, I immediately see a visual or a series of images that are tied to a feeling or an emotion." This quality has led to Beyoncé becoming the most awarded artist in MTV Video Music Award history, even receiving the Michael Jackson Video Vanguard Award in 2014.
However, despite Beyoncé's dazzling "Renaissance" cover art, the singer has gone surprisingly light on visuals for her newest effort. An accompanying visual album for "Renaissance" is reportedly set for release at a later date, but she has yet to share full music videos for any songs on the album, including its lead single, "Break My Soul." In the meantime, the Beyhive has been hungry for any morsel of footage — and while they finally got something, it wasn't quite what they bargained for.
The 'Break My Soul (Cliquebait)' video is just that
Even though the audio portion of "Renaissance" is already out, Beyoncé isn't toning down her signature secrecy around the project. A new four-minute video, titled "Break My Soul (Cliquebait)," was uploaded to her YouTube channel on August 4, causing some to celebrate that a long-awaited music video for the song was finally released. Unfortunately, its title wasn't just a play on words. Beyoncé herself only appears in the first 20 seconds, posing atop a prop horse, with 20 more seconds devoted to the horse before cutting to black for the rest of the song.
Fans were quick to voice their dismay, with one Twitter user joking, "Cliquebait??! That video has been reported. I hope it was worth it Giselle," dropping the singer's middle name. Another wondered, "Genuinely want to know how we went from 3 visuals album[s] into 20 secs of cliquebait." Amid the widespread disappointment, another person pointed out that Beyoncé delivered exactly what she promised: "I mean she did say it was cliquebait."
Despite seemingly being a teaser for a full video at a later date, "Break My Soul (Cliquebait)" surpassed 800,000 views in less than 24 hours. There's still no release date in sight for the official "Break My Soul" video or the "Renaissance" visual album, but after foregoing a surprise release for the audio version, it might turn up when we least expect it.