An Old Photo Of Kaia Gerber And Austin Butler's Ex Vanessa Hudgens Has Fans Doing A Double Take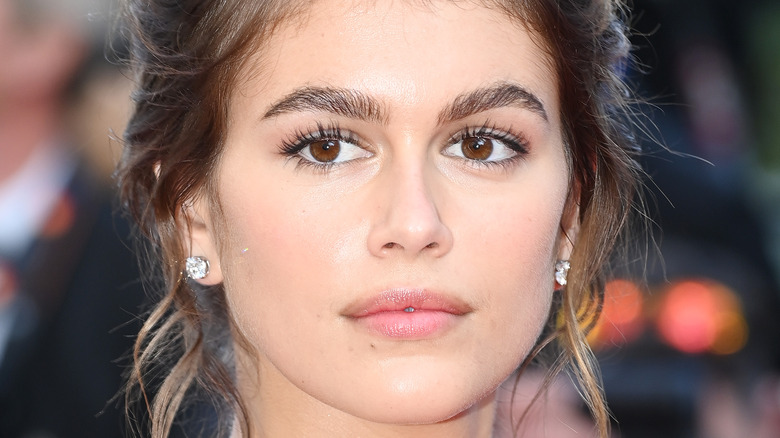 Pascal Le Segretain/Getty Images
Every year seems to bring a new Hollywood it-couple, and it's currently Austin Butler and Kaia Gerber's time to shine. With Butler lighting up the silver screen in Baz Luhrmann's "Elvis" biopic and Gerber booking modeling gigs left and right, both of their careers have never been better. Butler and Gerber first debuted as an official couple at the 2022 Met Gala in May, sending shockwaves across the internet — but not everyone was supportive of the match.
Some commenters took issue with the age gap between Butler and Gerber: With birth years of 1991 and 2001 respectively, there's a difference of 10 years. One person on Twitter said, "just found about the weird age gap between austin and kaia and needless to say i don't support whatever's going on here." This take had a mixed response, with some agreeing and others defending the couple as consenting adults.
This isn't the first time Gerber has dated an older star, previously being linked with Pete Davidson and Jacob Elordi, but Butler is the oldest yet. Nevertheless, her famous mother, supermodel Cindy Crawford, seems to approve. Back in January, a source told Page Six that Crawford and Kaia's father, Rande Gerber, are "supportive of the relationship and only want to see Kaia happy." Meanwhile, since his 2020 breakup with Vanessa Hudgens, Butler has been spotted with younger women like Lily-Rose Depp and "Elvis" co-star Olivia DeJonge. Now, fans have found a surprising link between Hudgens and Gerber that could reignite the negative chatter.
A young Kaia Gerber met Vanessa Hudgens on the red carpet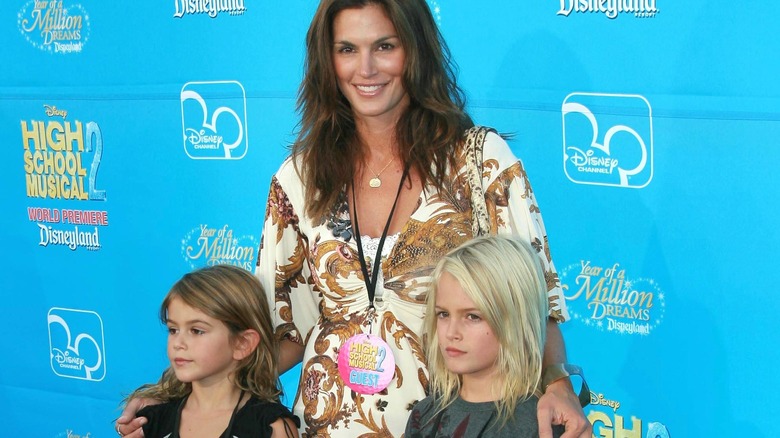 s_bukley/Shutterstock
An old photo from 2007 has resurfaced, in which a young Kaia Gerber met Vanessa Hudgens at the red carpet premiere of her Disney Channel film "High School Musical 2." The original poster of the image captioned it, "His ex meeting his new gf," while a quote-tweet added, "im crying i thought this was a meme but it really is venessa [sic] hudgens meeting kaia gerber pls austin butler is so nasty for this."
His ex meeting his new gf 😶 pic.twitter.com/QFKFkNfpm3

— KVee (@KNVee) August 5, 2022
Based on Hudgens' and Gerber's body language in the photo, where they're excitedly shaking hands, Gerber is more of a young fan meeting her idol than the fellow celebrity she would later become. Cindy Crawford is also in the photo, as is Gerber's brother Presley. Simultaneously shocking, funny, and creepy, the long-lost image put the age difference between Butler and Gerber in perspective for many: "Seeing it like this is so jarring im?)/&2&22," began one user before completely short-circuiting. Although Gerber is fully legal in present-day, some compared Butler to his breakout role as Elvis Presley, who had a history of relationships with underage girls. "Ain't nothing but a hound dog," cracked another.
So far, Gerber, Hudgens, and Butler have yet to comment on the viral photo. The original poster tagged them, so it's possible they'll see it — given how long ago it was taken, they might not have even remembered the interaction until now.