The Touching Way Olivia Newton-John's Daughter Honored Her Mother Just Days Before Her Death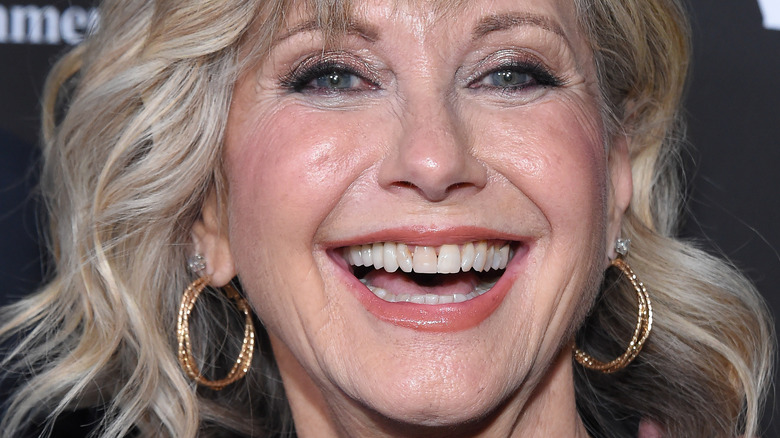 DFree/Shutterstock
Tributes continue to pour in after the tragic death of Olivia Newton-John, the singer and actor who died peacefully at her California home on August 8. Her husband, John Easterling, announced the news on Facebook. Though her exact cause of death is unclear, according to the Daily Mail, Newton-John had been diagnosed with breast cancer three times since 1992, most recently, in 2017. She was only 73 years old when she died.
Already a bona fide pop star with five Top 10 hits on Billboard's Hot 100, Newton-John's star reached stratospheric heights when she headlined the 1978 film adaptation of the 1972 musical "Grease." The movie became a massive hit, catapulting Newton-John and co-star John Travolta to superstardom. And yet, Newton-John almost turned down the role. Not only was she afraid to hurt her music career with a film people didn't expect to do well, per Vanity Fair, but she also felt she was too old. She clearly had nothing to fear there: all the high school characters in the movie were played by actors in their 20s or older. Stockard Channing, as Rizzo, was the oldest, at 33 years old, per Insider, and the youngest was Putzie, Kelly Ward, at 20. Newton-John was somewhere in the middle, as she turned 29 during filming and apparently passed director Randal Kleiser's "crow's-feet test," per VF. "High-school kids could not have crow's-feet," he said.
As the world honors the beloved star, we're all crying anew at a beautiful tribute Newton-John's daughter, Chloe Lattanzi, shared just three days before her mother's death.
Chloe Lattanzi called mom Olivia Newton-John her 'best friend'
Chloe Lattanzi, Olivia Newton-John's daughter with her first husband, Matt Lattanzi, took to Instagram on August 5 with a sweet message about her mother. "I worship this woman. My mother. My best friend," she posted, tagging Newton-John's Instagram in a photo of the pair (above). Newton-John looks happy in a white button-up shirt tied at the waist and a long cream-colored skirt. Lattanzi wore a white mini-dress with off-the-shoulder sleeves.
Chloe, born in 1986, went from needing her mother's care for many years to becoming her mother's biggest supporter. Newton-John eventually overcame her 1992 breast cancer diagnosis, and she and Chloe's father divorced in 1995, but her daughter entered a hospital for anorexia treatment in 2004, when she was 18, according to Marie Claire. Chloe's condition worsened as she turned to drug use and plastic surgery to heal her body dysmorphia, blaming the stresses of her life in the public eye. "Mum supported my surgery decisions, because she knew how unhappy I was before," she said.
But as Newton-John's breast cancer returned for the third time — she was diagnosed in 2013 and again in 2017 — and as the disease metastasized to her sacrum, Chloe cared for her. "Her illness helped me heal my illness," Chloe told "60 Minutes Australia." "I knew I needed to be — I wanted to be bright and happy and available and around for my mom when she was struggling with this." Chloe also noted, "We all have our cancers. Mine is my battle with addiction."  
Chloe Lattanzi and Olivia Newton-John both believed in positive thinking
Positive thinking became hugely important to Olivia Newton-John as she lived with cancer. "You have to believe you'll be okay because your attitude is so important to your healing," she told Australian Women's Weekly in 2021 (via 7news). "The body wants to heal naturally."
Her daughter, Chloe Lattanzi, kept that positivity in mind while supporting her mom. "We don't talk about [the cancer]," she told "60 Minutes Australia." "If she's having a day where she needs to talk about it, I'm there to listen and to always reassure. I'll never bring it up unless she wants to."
That viewpoint became an enormous influence on her cancer treatment, and a primary aspect of the program at the Olivia Newton-John Cancer Wellness and Research Centre, which the website says offers support for cancer patients "beyond their medical treatment." Newton-John agreed to add her name to the hospital if they made it a Wellness Center, too. "To say cancer and wellness on the same sign is positive and I wanted it to be a positive experience as much as it can be," Newton-John told "60 Minutes Australia." It was a bit of a battle in the beginning because it wasn't something that was incorporated into hospitals at that time." She also added, "I believe you have to treat the whole person. There's a human being with fear and a lot of things going on that need to be addressed, and I believe the mind is a huge part of your healing."