Johnny Depp's Career Revival Shows No Signs Of Slowing Down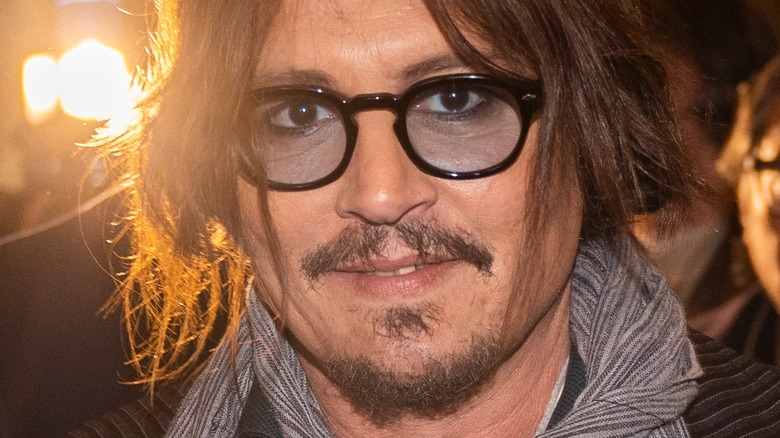 Jakov Simovic/Shutterstock
Johnny Depp has dominated Hollywood's headlines in 2022 due to the defamation trial involving him and his ex-wife Amber Heard, which culminated with a verdict largely in his favor in June. Given the largely unfavorable accusations Heard made against him during the trial and before, including that Depp was a perpetrator of "sexual violence" and "domestic abuse," Depp feared he may become a high-profile pariah in Hollywood, and would have a difficult time obtaining roles in the foreseeable future. 
However, all that fear seemed to be for naught when, on August 9, it was announced the would return as the face of Christian Dior's men's scent, Sauvage. He will also star as King Louis XV in the upcoming French-language Netflix film, "La Favorite." Depp's music career even seems to be getting back on track, proving that his career is truly seeing a revival. Now, with the announcement of yet another project of his in the works, it appears as though, despite his fears, there are no signs that he's slowing down. 
Johnny Depp will be directing and producing a new project alongside Al Pacino
BAKOUNINE/Shutterstock
"La Favorite" will not be the only European project in Johnny Depp's future. According to Page Six, Depp announced on August 15 that he will direct "Modigliani," a film based on the life of Italian artist Amedeo Modigliani, originally written as a play by Dennis McIntyre. He will also serve as its co-producer alongside Al Pacino and Barry Navidi. There is no word, however, on whether he will star in the film. 
"The saga of Mr. Modigliani's life is one that I'm incredibly honored, and truly humbled, to bring to the screen," Depp told The Hollywood Reporter. "It was a life of great hardship, but eventual triumph — a universally human story all viewers can identify with." 
Although Depp may not be as well known for his directing chops, he did direct another feature film in 1997, "The Brave," which he also co-wrote and starred in alongside legendary actor Marlon Brando in one of his final film roles. Variety states that Modigliani "long considered by himself a critical and commercial failure," and that the film itself will focus on the artist as he "navigates a turbulent and eventful 48 hours that will become a turning point in his life, ultimately solidifying his reputation as an artistic legend." No doubt that many viewers will see much of Depp in his lead character.