Vanessa Bryant's Testimony Reveals Heartbreaking Hopes Kobe Had For The Future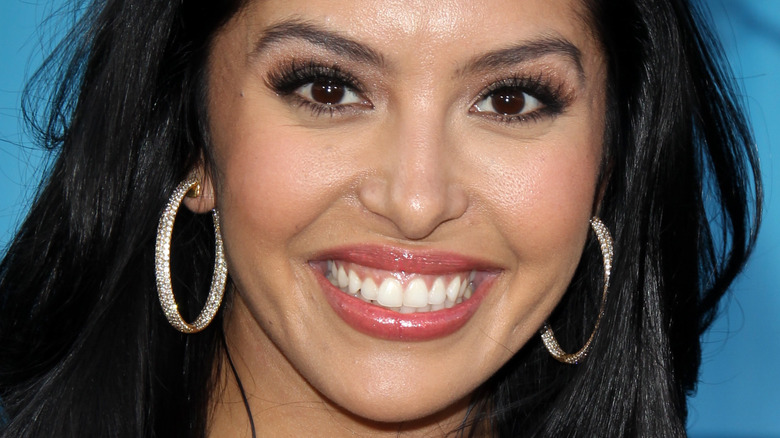 Kathy Hutchins/Shutterstock
The helicopter crash that killed Kobe Bryant, his teenage daughter Gianna Bryant, and seven other souls in January 2020 just seems to keep on getting more and more tragic. The awful accident returned to the headlines in August when Vanessa Bryant went to court after filing a case against Los Angeles County, claiming, per People, she suffered emotional distress due to some first responders taking gruesome photos of the scene, which they then shared with others.
Nicki Swift has been in the courtroom as the trial unfolds, including on August 17 when a forensics expert claimed a proper investigation into the Kobe crash photos couldn't be completed because those who took and shared the images were told to delete them. That came a few days after Vanessa broke down in the courtroom after a witness spoke about alleged insensitive remarks made when two firefighters were looking at the images — which are thought to show badly disfigured body parts — during an award show, cracking a joke about what they were looking at.
The case has also seen some heart-rending remarks from those personally affected by the horrific accident, with Chris Chester — who lost his daughter, Payton, and his wife, Sarah, in the crash – speaking candidly about his trauma and the fear he faces every single day that the gruesome images could leak. Now, Vanessa has also testified in the macabre case, sharing some emotional details — including Kobe's heartbreaking hopes for the future. 
Kobe Bryant's future goals were all about his family
In her devastating court testimony, Vanessa Bryant shared that, before his tragic death, Kobe Bryant planned to continue working toward new goals. However, those goals centered around her and their four daughters — Natalia, Gianna (Gigi), Bianka, and Capri. Per Nicki Swift's courtroom reporter, Vanessa shared memories of her marriage to Kobe on the stand. Though she admitted that it wasn't always a perfect marriage, it was a wildly happy one filled with fun, inside jokes, and healthy competition. When asked by her lawyer, Luis Liu, if Kobe was her best friend, the widow tearfully said, "He still is my best friend."
Vanessa also shared the immense love Kobe had for each of his daughters (he wanted all girls and got his wish, as Vanessa joked), which played into his future goals. He planned on continuing to coach Gigi in basketball, helping her to become a student-athlete at her dream school, the University of Connecticut (UConn). He thought that his oldest daughter, Natalia, could use her passion for film to adapt his books into movies. His youngest daughters, Bianka and Capri, would also get into basketball, with their dad behind them every step of the way. With all of these plans, Kobe even joked that Capri would have to play in Bianka's age group so they could manage carpool.
Vanessa also sadly explained that Kobe was really looking forward to quality time with her. "We wanted to travel the world together," she shared, adding how her husband hoped to do all the things he missed out on during his time as a busy star athlete. Remembering that this is a dream that will, sadly, never be realized, the mom broke down in tears on the stand.
Vanessa recalls painful moment she learned of photo leak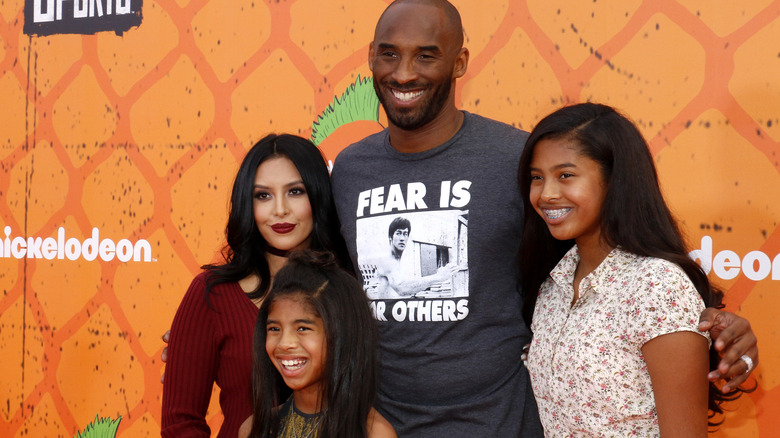 Tinseltown/Shutterstock
Sadly, Kobe Bryant's dashed dreams aren't the only pain Vanessa Bryant carries. The devoted mom recalled how, on February 28, 2020, she was at home with her daughters and a few close friends in their family game room, watching TV. At this point, Vanessa had just held the February 24 memorial for Kobe and Gianna Bryant, which was attended by fans and celebrities. "I just had to get through 2-24, then I could start the grieving process," she testified on stand.
But then she received a phone call from a friend about an article the Los Angeles Times published alleging members of the Los Angeles Sheriff's Department had shared gruesome photos from the crash site. The complaint was from January 29, 2020, but Vanessa said she never received any contact from Los Angeles County officials regarding the concerning matter. It left her feeling "blindsided again," adding, "I trusted them not to do these things."
"Not wanting to react" because her daughters were present, she passed off her nursing baby, Capri, to her friend and "bolted out of the house" so the "girls couldn't see" her. She then broke down and cried. "I wanted to run down the block and just scream," Vanessa recalled through sobs. Now she sees her life through two choices: "Try to live my life or end it."