The Unexpected Star Coming To Brittney Griner's Defense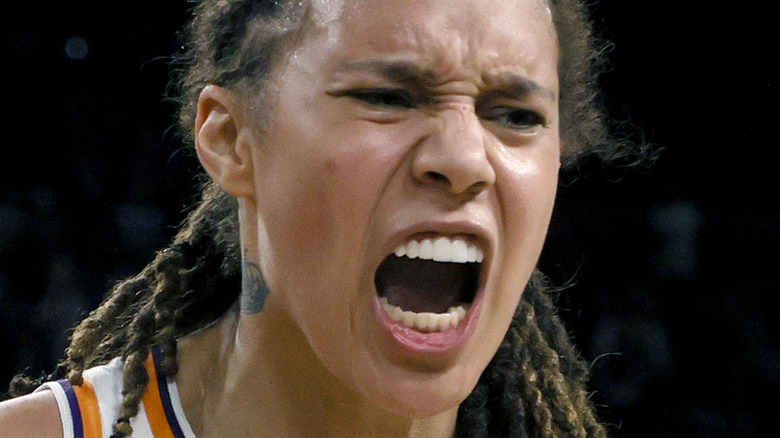 Ethan Miller/Getty Images
WNBA star Brittney Griner has been making headlines for her ongoing status as a political prisoner in Russia, amid Russian President Vladimir Putin's invasion of neighboring Ukraine, and the numerous sanctions the United States and other western countries have imposed on Russia in retaliation. 
On February 17, one week before Russia's full-scale invasion of Ukraine, Griner was arrested in a Moscow airport on charges that she possessed less than a gram of cannabis oil, an illegal substance in Russia, per The New York Times. In what was largely regarded as a show trial in July, Griner pled guilty and was subsequently sentenced to nine years in prison in August. Ahead of her trial, in July, President Joe Biden officially offered notorious Russian arms trafficker Viktor Bout in exchange for Griner and Paul Whelan, an American imprisoned in Russia in 2018 on charges of espionage, in a potentially controversial prisoner swap. No official agreement has been reached yet, however, and negotiations remain ongoing. 
Now, unexpectedly (or perhaps very expectedly), there seems to be a very well-known American athlete willing to step up to the plate in order to help Griner in her much-needed defense: fellow basketball star Dennis Rodman. 
Dennis Rodman wants to leverage his friendship with Vladimir Putin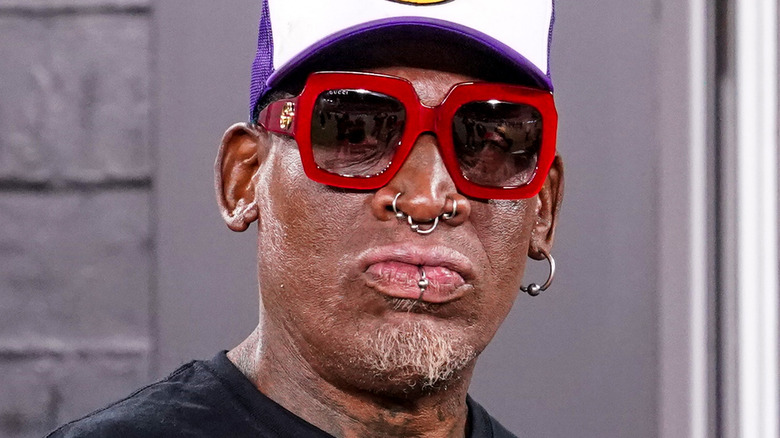 Tony Quinn/isi Photos/Getty Images
Former NBA champion Dennis Rodman once again intends to come to the rescue. On August 20, Rodman told NBC News in an impromptu interview that he "got permission to go to Russia" in order to help Brittney Griner, who he called "that girl," and plans to go later this week. It is not clear, however, who he received permission from, as White House officials say his visit may only hurt the ongoing diplomatic negotiations. 
"Anything other than negotiating further through the established channel is likely to complicate and hinder release efforts," a White House official told NBC, referring to President Joe Biden's official offer of Viktor Bout in exchange for Griner and Paul Whelan. 
Rodman is well-known for engaging in informal diplomatic relations with authoritarian leaders, making headlines in 2013 for his multiple visits to North Korea, where he met and befriended leader Kim Jong-Un. Several months after the visit, he called Kim a "friend for life." When it comes to Putin, Rodman is not quite as close with him as he is with the North Korean dictator — though he did visit Moscow upon Putin's request in 2014 to discuss basketball, after which he called Putin a "cool guy." However, as, he told NBC News, "I know Putin too well." Whether or not that will prove to be a valuable asset in negotiating Griner's release has yet to be seen.