Casey Affleck's Girlfriend Lets The True Reason He Skipped Brother Ben's Wedding Slip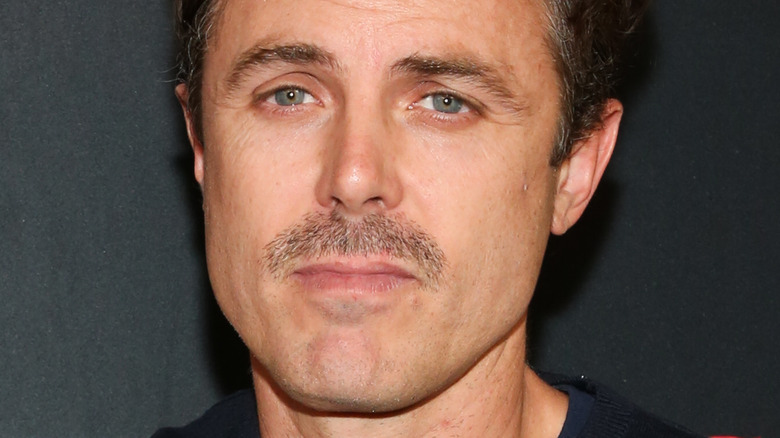 Paul Archuleta/Getty Images
All is well in the world of Bennifer — for the most part, that is. Ben Affleck and Jennifer Lopez's second wedding ceremony was a huge success, celebrating their nuptials on a larger scale after first tying the knot in Las Vegas. However, one important guest was conspicuously absent: Ben's brother Casey Affleck was nowhere to be seen. His no-show prompted much speculation, including rumors that he's feuding with his brother and disapproves of his relationship with Lopez. Throughout the wedding weekend, Casey was spotted in Los Angeles several times with seemingly no plans to join the festivities taking place in Savannah, Georgia. On a recent coffee run, one of his brother Ben's own signature moves, he vaguely responded to questions about missing it by saying he "fell asleep" (via Entertainment Tonight).
Fortunately, Casey has since addressed his brother's wedding, and sent his well-wishes. On Instagram, he posted a throwback photo of himself third-wheeling with the happy couple from their first go around in the early 2000s. The caption reads, "Welcome to the family. Get ready for some real dysfunction! Kidding. I am kidding." Despite the disclaimer, fans have wondered if Casey's absence from the ceremony suggests the joke might have a kernel of truth. While some are still skeptical, a recent admission from Casey's girlfriend finally gives him an alibi.
Casey Affleck was focusing on his children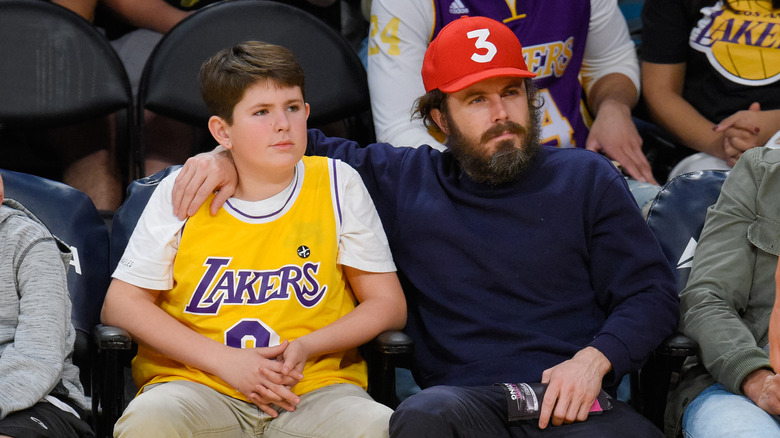 Noel Vasquez/Getty Images
While everyone's relationship with their family is different, your only sibling's wedding seems like a day you wouldn't miss for the world. That's why people were surprised when Casey Affleck stayed put in Los Angeles amid his brother Ben Affleck's Georgia wedding to Jennifer Lopez. With a star-studded guest list including Ben's friends Matt Damon, Jimmy Kimmel, and Kevin Smith, Casey's attendance seemed like a no-brainer. In addition to being siblings, the pair also worked together on the 2007 film "Gone Baby Gone," and always appeared to be close. However, according to Casey's girlfriend Caylee Cowan, there's no bad blood that prevented him from being at the wedding. Instead, he was simply unable to attend due to an important prior commitment: his son's soccer practice.
In a since-deleted Instagram comment under Affleck's tribute to the couple, Cowan said (via Page Six), "Hey, if you weren't in town Saturday to take Atty to soccer practice then who would've helped the kid who broke his arm?" "Atty" refers to Casey's son Atticus, his second child with his ex-wife, Summer Phoenix. Cowan didn't elaborate on the broken arm claim further, but a follow-up post from Casey about his eldest son, Indiana, is worded like a college drop-off message. Whether or not there was anything deeper to Casey's absence from the wedding, putting your kids first seems as good a reason as any.