The Full House Co-Star That Introduced Candace Cameron Bure To Her Husband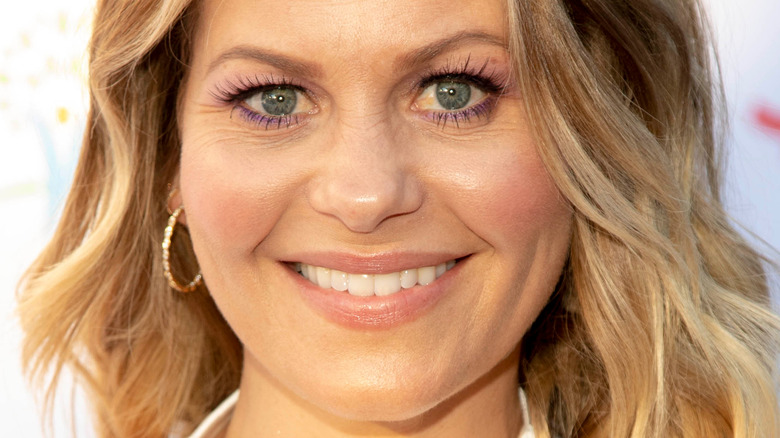 Eugene Powers/Shutterstock
It's no secret that the "Full House" cast is a close-knit bunch. Those who follow the group of actors on social media know that the cast regularly hangs out together, and it's fun to see the dynamic. After Bob Saget's death, the group came closer together to honor their late co-star with one touching tribute after another. On January 10, Candace shared a throwback photo of herself, Saget, Lori Loughlin, John Stamos, Dave Coulier, Jodie Sweetin, and a few others. "Thirty-five years ago, we came together as a TV family, but we became a real family. And now we grieve as a family. Bob made us laugh until we cried," Candace wrote on the gut-wrenching tribute. "Now our tears flow in sadness, but also with gratitude for all the beautiful memories of our sweet, kind, hilarious, cherished Bob."
Through thick and thin, they seem to go through life's significant events together, and Candace has frequently talked about how the "Full House" cast means to her. In an interview with Us Weekly in April 2021, Candace revealed that most of her castmates had a group chat (before Saget's death). "The 'Full House' group chat is, like, it's the OGs: John Stamos, Bob Saget, and Dave Coulier. The only one that's on both is Scott Weinger — oh, and Jodie Sweetin and Andrea [Barber], of course," she shared.
So, it likely comes as no surprise that one of her former co-stars set her up with her now-husband, Valeri Bure.
Dave Coulier is a matchmaker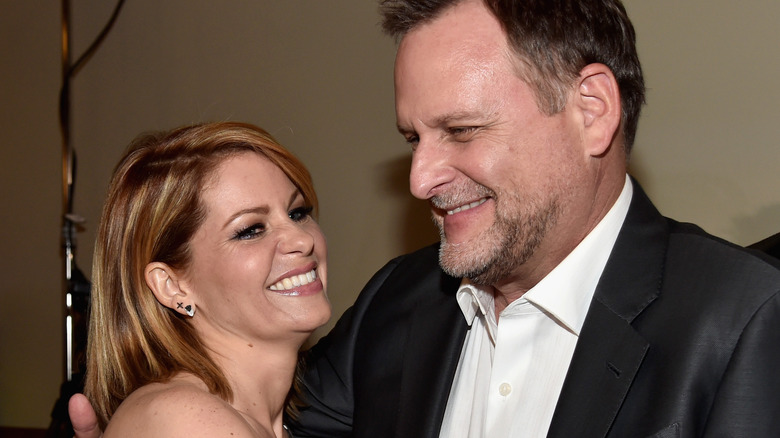 Alberto Rodriguez/kca2017/Getty Images
Who doesn't love a matchmaker? Believe it or not, Dave Coulier set Candace Cameron Bure up with her now-husband, former NHL star Valeri Bure. In a 2014 interview with HuffPost, Candace shared how Coulier (who played the role of Joey Gladstone on "Full House") linked her up with Val, and it's a cool story.
Coulier was playing in a charity hockey game with "two really good Russian hockey players," which ended up being Val and his brother. He invited the "Full House" cast and that's when things fell into place. "I went with Lori Loughlin [who played Aunt Becky], and we sat there and were looking at these two really cute boys — two cute men, I guess — on the ice, and I was like, 'I want to meet that one, the blonde one,' which was Val. And that was it," Candace explained. Their relationship progressed quickly, and they went on their first date the day after the meeting. Less than a year later, the couple got engaged, and the rest is history. The icing on the cake? Coulier still has a special memento for playing matchmaker — a hockey stick from Val that says, "Thanks for Candace."
Guess what? Candace wasn't the only one who was a fan of her significant other. In a 2007 interview with "Today," she revealed that Val loved "Full House," mainly because it helped him learn English when he moved from Russia to the United States. Adorbs! 
Inside Candace Cameron Bure and Valeri Bure's relationship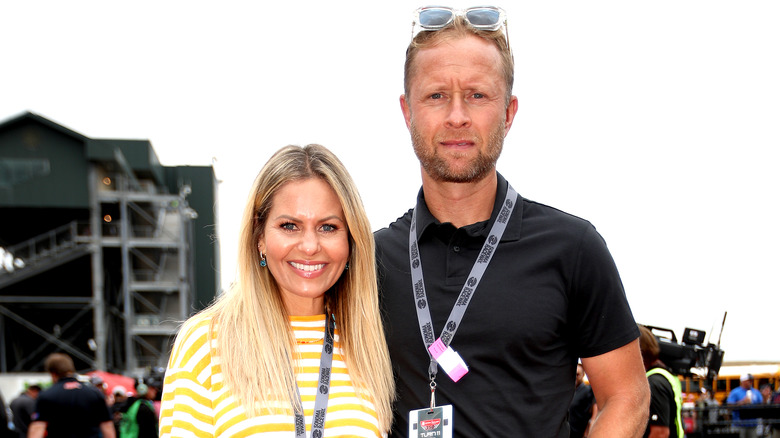 Sean Gardner/Getty Images
Candace Cameron Bure and Valeri Bure have a sweet relationship. After Coulier helped set up the couple and they wed, the pair welcomed three kids — Natasha, Lev, and Maksim. Candace regularly shares photos and videos of her kids on her Instagram feed, and she also posts tributes to her husband, which totally gives us heart-eyes.
In June of 2021, Candace and Val shared a milestone anniversary with their 25th. Candace shared a series of images to celebrate the special day as she gushed over all of the good traits that her husband possesses. "Praise the Lord for His faithfulness and, in humility, our willingness to trust Him and allow those who've gone before us and those who haven't but know God's Word to speak into us," she raved, adding that she's "grateful for every other bit of solid advice and encouragement inbetween." In the caption, Candace also offered a few pieces of marriage advice for fans, reminding them that "no marriage is picture perfect," including hers. "But through thick and thin, ups and downs, God has blessed us tremendously with guidance and perseverance," she wrote.
She posted another tribute on their 26th wedding anniversary the following year, but this upload was a little more light-hearted. The star explained that she and Val celebrated with their two sons in Miami, "having fun in the sun." Candace and Val seemed destined for one another, and they can continue to thank Dave Coulier for their beautiful life!