The Truth About Chris Rock And Eddie Murphy's Friendship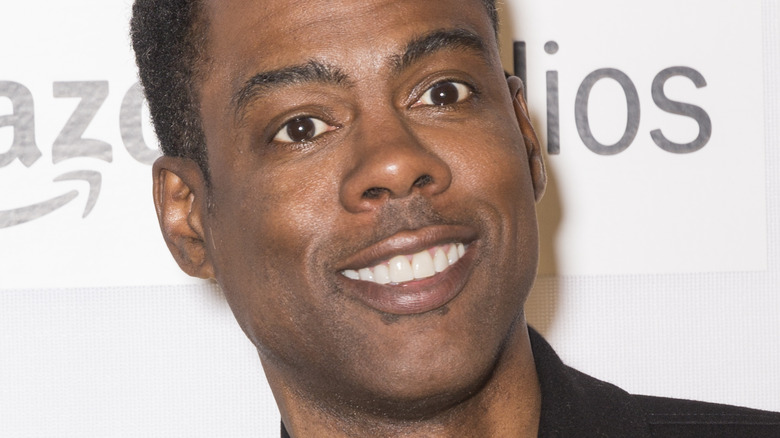 Ovidiu Hrubaru/Shutterstock
Chris Rock has made no secret of his professional admiration for Eddie Murphy over the years, but does their relationship go beyond a working one?
Rock previously revealed that Murphy played a major role in his career. In fact, in a "Saturday Night Live" tribute monologue introducing the "Coming 2 America" star, he shared that he'd never even believed comedy could be a source of income until he saw Murphy in action. "It changed everything ... not only could comedy be a job, it could be a career ... I wanted to be Eddie Murphy," he recounted. And the influence did not stop there. Rock has even credited Murphy with giving him his big break. While visiting The Comic Strip in New York, Murphy insisted that Rock perform, even though he wasn't in the evening's lineup, and was only there to stack chairs after the show. "They didn't have any Black comics on that night, and he asked the owner of the club, like, 'Where are your Black guys?' He's like 'Ah ... we have him right here!'" he shared (via Everything Comedy News). Planned or not, Murphy was impressed, and soon after, the comedy legend secured him a role in "Beverly Hills Cop 2" — a fact Rock himself confirmed in a 2021 episode on "The Tonight Show Starring Jimmy Fallon."
It's pretty clear that these two are big fans of each other's work, but our question remains... are they friends in real life? 
Chris Rock and Eddie Murphy love hanging out
...That would be a resounding yes! 
On top of mutual respect in the professional sense, Eddie Murphy and Chris Rock are good friends IRL — and it seems they hang out pretty regularly. In a 2019 "Saturday Night Live" monologue that saw Murphy welcome several comedians, including Rock, to the stage, the "Shrek" voice actor asked when they'd last had an opportunity to hang out. Rock's response? "Last Thursday at [comedian] Sinbad's," he quipped. 
As it turns out, Rock and Murphy have long enjoyed each other's company after hours. In the 2012 Spike Eddie Murphy tribute, Rock even revealed that he'd been a member of the former's entourage, during his early days as a comedian (via Entertainment Weekly). That was doubtless a dream come true, given he's previously gushed over the aforementioned entourage pulling up in "Five Porsches" and leather suits (via Everything Comedy News). 
However, that little detail was a bit of a sticking point for Rock's now-best friend, Adam Sandler, before they'd met. In fact, in a 2020 interview on "The Tonight Show Starring Jimmy Fallon," Sandler joked that he'd been jealous of their bond before he'd become friends with Rock, himself. "I kept saying, 'Who's Chris Rock? What do you keep bringing this other guy [up] to me?' And they're like, 'Well, he's out with Eddie Murphy right now, Eddie Murphy loves him,'" he reminisced. Luckily for everyone involved, Sandler was able to move beyond his playful jealousy. 
Chris Rock admits he's still intimidated by Eddie Murphy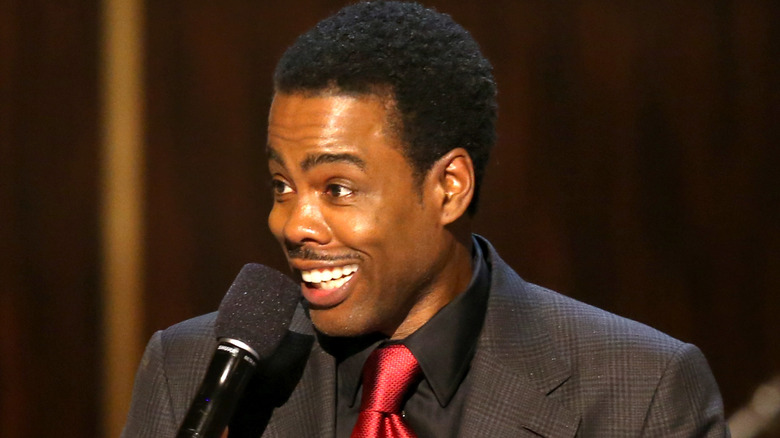 Christopher Polk/Getty Images
Chris Rock may be friends with Eddie Murphy, but that's not to say he doesn't get nervous at all anymore. In fact, Rock is the first to joke that he still gets starstruck sometimes. 
In a 2021 appearance on "The Tonight Show Starring Jimmy Fallon," Rock revealed that, if anything, he'd become more intimidated by Murphy over time. "You know, like, normally ... the more you meet somebody, the more normal they get? And you feel comfortable? Eddie's the exact opposite. The more you meet him, the more scared you get," he joked. Rock's comments make sense in the context of something Jimmy Kimmel told Murphy in a 2019 episode of "Jimmy Kimmel Live." That is, Rock, fellow comedian Dave Chapelle, and Kimmel himself had been positively "giddy" to have scored an invite to his abode. Ever humble, the father of 10 seemed taken aback by the fanfare, pointing out, "They've been to my house before!" 
Guess sometimes forging a friendship with an idol can be tricky! One thing's for sure, though: Murphy has the utmost respect of everyone in his inner circle. And, given all he's achieved over the years, we're not surprised one bit.