Kanye West's Latest Instagram Tirade Could Land Him In Financial Trouble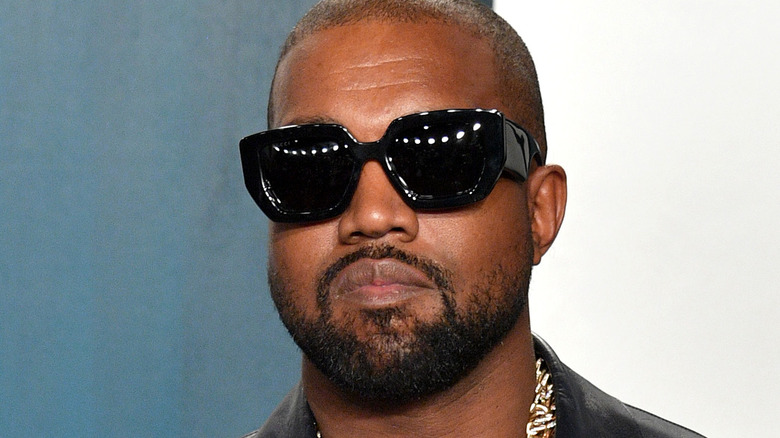 George Pimentel/Getty Images
It's only been four, five seconds since the last Kanye "Ye" West controversy, and he's already found himself in another one. The "Donda 2" rapper and fashion mogul has been blowing up Instagram throughout the week, with rants directed at more than one Kardashian: ex-wife Kim Kardashian and mother-in-law Kris Jenner. He has also been feuding with clothing company Gap. Ye claims that the retailer, who carries an exclusive Yeezy Gap collection, has been excluding him from private meetings. In a list of grievances posted on Instagram, Ye said "Gap having meetings about me without me." He also went on to criticize Adidas, who owns the flagship Yeezy sneaker collection, for making business decisions without him, saying "Adidas releasing old shoes and coloring my shoes like I'm dead."
Ye's public call-out of the two companies is a bad look for business: their issues should ideally be solved behind closed doors, but Kanye is known for public feuds. To make matters worse, Ye has scrubbed his Instagram up until the past week, making his page look like a personal Burn Book towards Gap and Adidas. In fact, many of his recent posts are screenshots of names and photos ripped from Adidas' supervisory board, as well as the company's general manager, Daniel Cherry — he even posted roasts from fans in the comments. However, a recent threat from Gap could put Ye's Instagram antics to an end at long last.
Gap has asked Kanye West to stop posting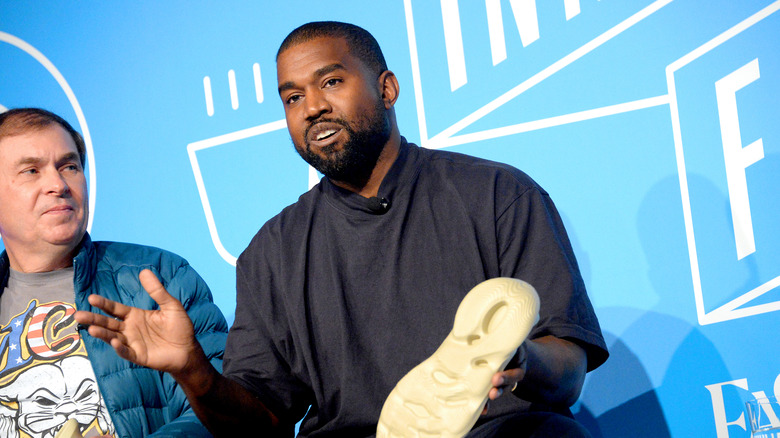 Brad Barket/Getty Images
While most of Kanye "Ye" West's recent online behavior has been directed at Adidas, the rapper has teased more to come for Gap. On August 4, Ye posted an ominous message, saying "When I'm the head of adidas who should be my next hire ... Gap I'll get to you next week." He then followed it up by saying "Adidas don't want more smoke ... now it's time for Gap." Unfortunately for Ye, the clothing company seems to have anticipated a similar public shaming. He's since posted a text screenshot, saying "Dear Ye, your legal team recommends that we refrain from posting anything on Gap for another 10 days."
The post doesn't say who the message is from, but it's likely a manager or publicist on Ye's team. While his social media behavior is still ongoing, Ye has most recently turned his guns back to Adidas, likely as a result of the legal threat from Gap. His latest post is a photo of Alasdhair Willis, Adidas' chief creative officer. Willis is the son-in-law of Paul McCartney, which Ye references in the post: "I've done songs with your father-in-law ... How can you watch adidas do what they've done to a fellow creative and not say anything and never even meet me or call me?"
Once the 10 days are up, time will tell if Ye still goes after Gap. If he does, it's safe to say Kim won't be representing him!