William's Contrasting Treatment Of Catherine Vs Meghan And Harry Is Starting To Become Clear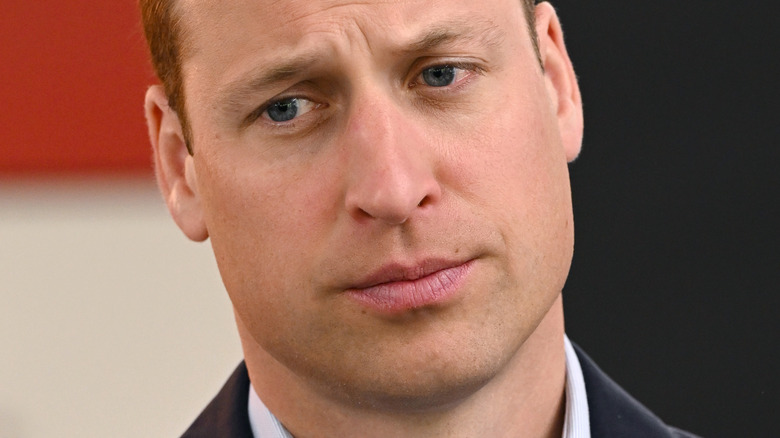 Jeff Spicer/Getty Images
After years of tension, the reunion of Prince William and Prince Harry and their wives certainly took royal fans by surprise — but now, many have turned their attention to the differences in each couples' dynamic. 
In the wake of the unexpected joint engagement, experts have weighed in on Meghan Markle's perceived awkwardness during the reunion. However, it seems that wasn't the only awkward vibe people picked up on. So, what's got everyone talking? Well, as the couples returned to their vehicle after greeting well-wishers outside Windsor Castle, Prince Harry opened the door for his wife. However, Prince William — who, according to Hello!, drove both couples to the engagement himself — did not do the same for Kate Middleton. Suffice it to say, many were not amused, and some even complained that it was a disrespectful move on the new Prince of Wales' part. 
One Twitter user wrote, "William left poor Kate to fend for herself. N shes so use to tht ill treatment its sad [sic]." Another bemoaned, "William can't even open a door for this wife? Goodness me." In comparison, Prince Harry was lauded for his sweet gesture. "Harry is such a gentleman making sure he opens the door for his wife and she's in the car safely," wrote one fan. Whether or not Prince William intended to slight his wife, (though we're going to bank on that being a no), the difference in dynamic is a stark one. However, we can't help but wonder ... is there a reason for it? 
This probably had something to do with the nature of the engagement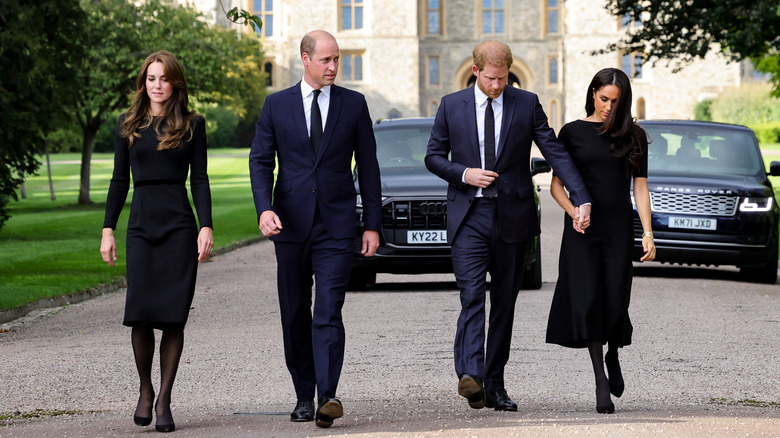 Chris Jackson/Getty Images
Let's get one thing straight: Kate Middleton and Prince William have never been too big on public displays of affection. 
After all, who can forget their quick peck on the Buckingham Palace balcony on their wedding day? Even their second kiss — which won the approval of ABC correspondents, one of whom laughed, "That's what we've been waiting for" — lasted mere seconds before both caught a case of the giggles. Over the years, one might have caught glimpses of the two hugging, but even as recently as July, when the pair made news on "Access" for kissing at a polo event, the kiss in question was a simple one on the cheek. 
According to etiquette expert Myka Meier, there's a good reason why these two typically refrain from being overly affectionate. Speaking to People, Meier explained that, though it wasn't necessarily required, "The couple are working representatives of British Monarchy." As such, "The couple are likely to show very little PDA, if any, to remain professional." Meier has subsequently told the outlet that the nature of the engagement also often plays a role in how members of the royal family conduct themselves. In particular, she pointed out that "somber" occasions would likely see even less public affection. Given that the Windsor Castle engagement marked an opportunity for the royals to greet mourners, it was about as somber as could be, so we're not shocked by the absence of PDA. 
...but let's not forget that Prince William has just lost his grandmother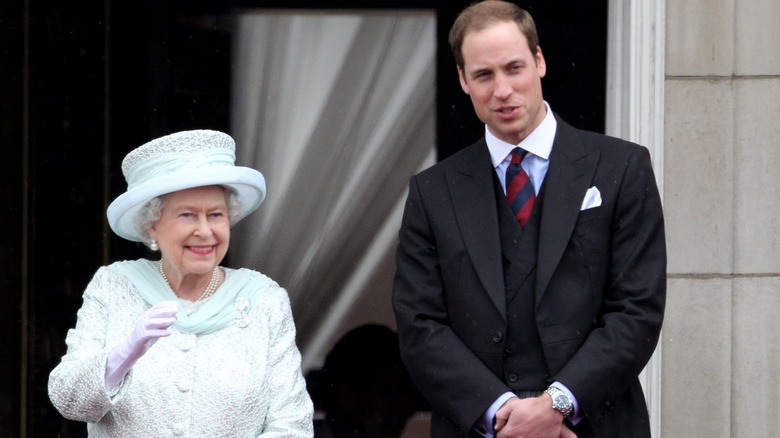 Oli Scarff/Getty Images
With the Duke and Duchess of Cambridge and Cornwall now occupying a higher position in the firm than they previously held, it makes sense that they would be going above and beyond to come across as professional. However, one could also say that the new Prince of Wales simply wasn't thinking about chivalry in the wake of his grandmother's death. As one Twitter user pointed out in response to the comments that he was mistreating his wife, "The guy just lost his granny. It's just a car door ... Can't we cut him some slack?" 
Countless others have taken to social media since the tragic death of Queen Elizabeth II to remark on how Prince William is handling the grieving process. In response to his father King Charles' accession ceremony, one person tweeted, "You can see just how incredibly sad The Prince of Wales is at the loss of his much loved grandmother." Another echoed those sentiments, sharing two screenshots of the prince with a solemn expression. "This is such a hard moment for him," they wrote. 
Of course, the coming weeks — and years, even — will be difficult for the entire extended royal family. As Prince William himself shared in a heart-wrenching statement, "I knew this day would come, but it will be some time before the reality of life without Grannie will truly feel real." We hope each member can be afforded grace as they navigate their new reality.