Rudy Giuliani's Ex-Wife Paints Disappointing Picture Of Him Today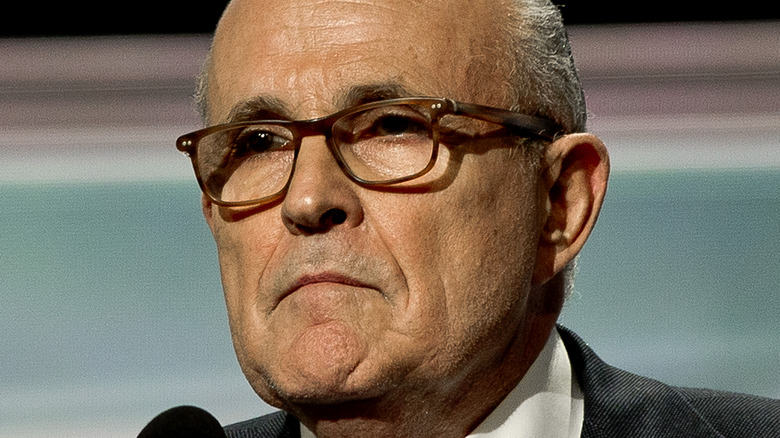 mark reinstein/Shutterstock
"The Masked Singer" is usually dependable for being light and fun television, but that all changed earlier this year when the Jack in the Box was revealed as Rudy Giuliani. The lawyer and former mayor of New York City represented Donald Trump throughout his presidential term and beyond, repeating his false narrative of voter fraud — not exactly what people want to think about while watching mindless TV. On a show largely devoid of drama, Giuliani's participation became its first true controversy: Judge Ken Jeong walked off set after the lawyer's unmasking, with co-star Robin Thicke following him.
Nevertheless, the original creator of "The Masked Singer" franchise defended Giuliani's inclusion. Wonwoo Park, who first launched the series in South Korea, told Deadline, "It would be taboo [in Korea] to have someone controversial or political on the show. But it can't always be pleasant when the mask comes off and the more "Masked Singer" seasons [globally] we do, the more we realize you can't always have contestants that everybody loves."
While reality TV certainly thrives on the love-to-hate archetype, the "love-to" part may have been missing. Not long after his exit from the show, Giuliani was tapped on the back by an employee in a Staten Island grocery store, reportedly due to his political ties and views. Now, Giuliani's ex-wife is adding to the chorus speaking out against his actions since joining Trump's inner circle.
Judith Giuliani says ex-husband Rudy has changed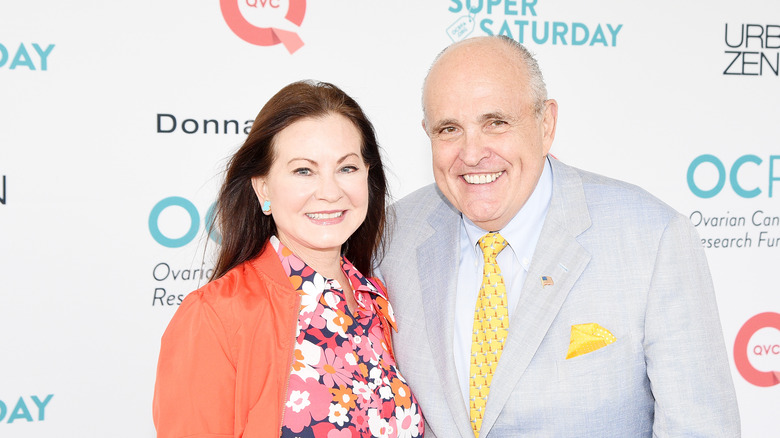 Mike Pont/Getty Images
Rudy Giuliani wasn't always as divisive as he is now — in fact, he was widely praised for his response to the 9/11 terrorist attacks in 2001. Oprah Winfrey christened him "America's Mayor," and he became Time's 2001 Person of the Year. However, throughout their marriage from 2003 to 2019, Giuliani's ex-wife saw him take a turn for the worse. In a new interview with Inside Edition (via the Daily Mail), Judith Giuliani said, "'I can certainly tell you — the person you see now is not the man I married."
As for where it all went wrong, Judith attributes Rudy's changes to his loss of the 2008 Republican presidential nomination. After John McCain won instead, Donald Trump took Rudy under his wing and began grooming him for a spot in an eventual campaign of his own. Judith said, "There becomes this thing I watched happen to him — that power just becomes extremely addictive." She continued, "One of the other things Rudy also loves is the limelight."
That could possibly explain his appearance on "The Masked Singer." When asked if he did it for the money, Judith was adamant he didn't need any "'The guy I married would not have gone on 'The Masked Singer,'" she revealed. "I just thought it was rather silly for someone in his position." The interview coincides with the release of "Giuliani: The Rise and Tragic Fall of America's Mayor," a biography by Andrew Kirtzman.