Every Victoria's Secret Model Adam Levine Has Dated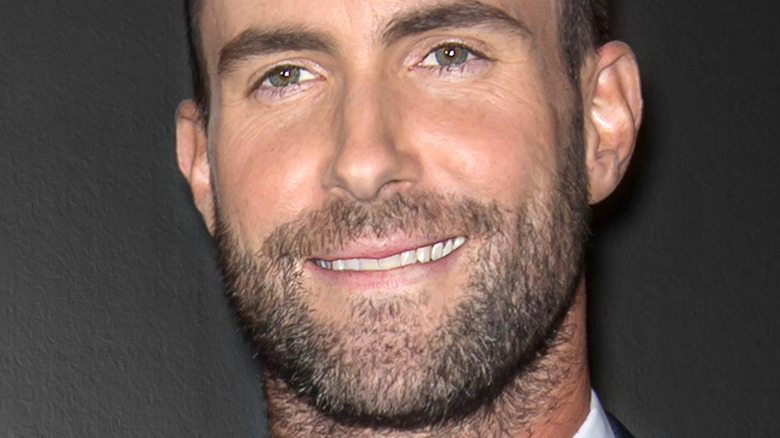 Ovidiu Hrubaru/Shutterstock
Maroon Five's music is filled with lovey-dovey lyrics that make fans swoon. Case in point? Songs like "Sunday Morning" and "Sugar" where lead singer Adam Levine belts about love. In fact, Levine has written at least a few songs for the band based on his love life (via The Hollywood Reporter). As the band grew popular, so did Levine. With an attractive, tattooed lead singer, it became the interest of many as to who Levine was dating. The singer's dating history has kept people's interest to this day.
In September 2022, a model by the name of Sumner Stroh came forward on TikTok, claiming she and Levine had an affair. Many fans were shocked and disappointed to hear that he had cheated on his wife, Victoria's Secret model Behati Prinsloo. Stroh even released DMs she alleged were sent between her and the singer. Levine eventually commented on the situation, telling TMZ that he "used poor judgment."
At the time of the cheating scandal, Levine and Prinsloo had been married for eight years, per US Weekly, but their relationship actually dates back to 2012 when they first sparked relationship rumors. While Prinsloo and Levine were apparently end game, Prinsloo wasn't the first model to strut her way down the runway of the Maroon 5 singer's heart.
Adam Levine's steamy relationship with Anne Vyalitsyna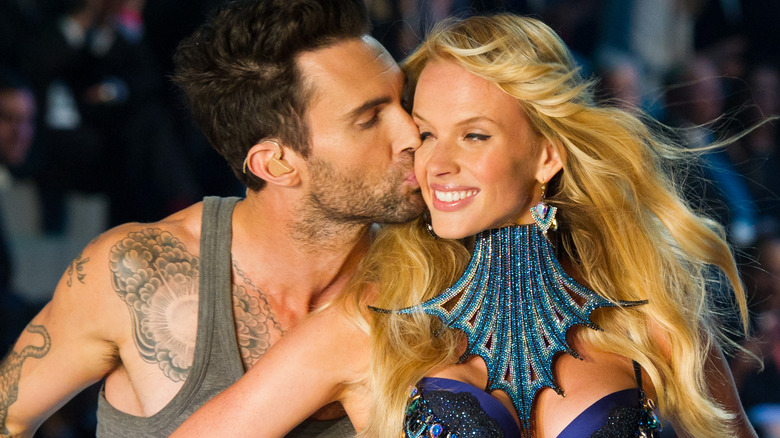 Michael Stewart/Getty Images
Adam Levine seems to have a type, and that type is Victoria's Secret models. In 2010, just two years before he met Behati Prinsloo, Levine was dating Anne Vyalitsyna, also known as Anne V. Just like Prinsloo, Vyalitsyna was a Victoria's Secret model. The couple first met at a Sports Illustrated party back in 2010 and began dating that same year (via US Weekly). Levine and Anne V had a pretty public relationship, with the Maroon 5 frontman famously giving his model girlfriend a peck on the cheek while performing at the 2011 Victoria's Secret Fashion Show. And that wasn't the only time the couple showed some serious PDA.
Anne V also starred as the lead in two of Maroon 5's music videos. The couple got steamy in the "Misery" music video, and cuddled next to each other in the "Never Gonna Leave This Bed" music video. Additionally, the two got up close and personal on the cover of Vogue Russia in 2011. 
Despite seeming so affectionate, the relationship ended in April 2012. At the time, Anne V issued a statement, writing (via People), "Adam and I have separated in an amicable and supportive manner. We still love and respect each other as friends. I wish him all the best." There's always two sides to every story and despite Anne V's amicable message, Levine was allegedly "blindsided" by the split. A source told US Weekly, "Adam's heartbroken. He wasn't even fully sure they were really broken up."
Nina Agdal was stuck in a love triangle with Adam Levine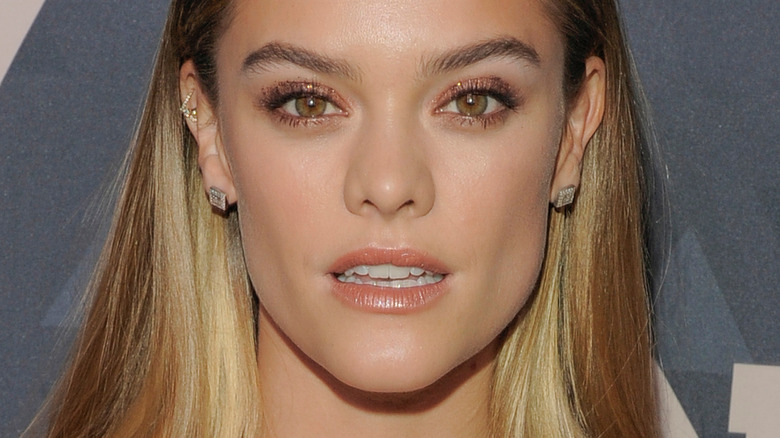 lev radin/Shutterstock
No one ever wants to find themselves at the center of a love triangle, as having to battle for someone's love can only cause heartache for those involved. Unfortunately for model Nina Agdal, she found herself in a love triangle with Adam Levine and Behati Prinsloo. Shortly after Levine and Anne V split in 2012, Levine briefly got into a relationship with his current wife, Prinsloo (via US Weekly). By May 2013, Prinsloo and the Maroon 5 singer had broken up (via People). The timeline of Levine's next relationship remains questionable. That's because in the month he and Prinsloo called it quits, he reportedly began dating Agdal.
At the time, a People source described things as being "casual" between the two."They're just getting to know each other," the source said. "Unlike [Levine's exes] Behati and Anne [Vyalitsyna], where he was serious with them, this just seems to be a new, casual thing." By June 2013, Levine and Agdal were seen spotted on a beach vacation in Mexico (via US Weekly). However, heartache was just around the corner, because one month later, Levine was engaged to Prinsloo, per People. A source told US Weekly that Levine came to a quick revelation about Prinsloo, sharing that Levine "realized he really does love [Prinsloo], and she was The One." 
Publicly, Agdal didn't show any hard feelings towards the couple. Towards the end of 2013, she spoke about her relationship with Levine in an interview with Ocean Drive magazine, sharing (via E! News), "I think love just happens. It happened to them and I'm happy for them."