Former Real Housewife Claims She Has Romantic Past With Prince Harry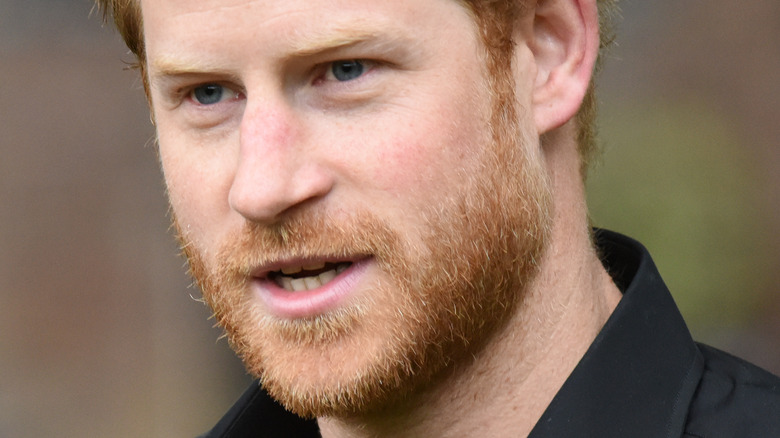 LINGTREN.COM/Shutterstock
Prince Harry is known for a lot of things, but these days, his romance and marriage to Meghan Markle is one of the most headline-making aspects. As fans know, the two have been enjoying time away from the United Kingdom after hopping over to the United States and building a new life together in California. In 2019, the couple welcomed their first child, Archie, and in 2021, they welcomed a daughter named Lilibet.
Both Harry and Meghan have spoken about one another on several occasions, including at the beginning of their love story. "I was beautifully surprised when I walked into that room and saw her. I was like I'm going to have to really up my game here," Harry told BBC in 2017. "It was I think, about three maybe four weeks later that I managed to persuade her to come and join me in Botswana, and we camped out with each other under the stars." How sweet is that? Meghan also spoke about the romance early on in an interview with Vanity Fair, calling it a "great love story," before gushing further. "We're in love. I'm sure there will be a time when we will have to come forward and present ourselves and have stories to tell, but I hope what people will understand is that this is our time," she said at the time, adding the special time early on in their relationship was just for them.
But before this seemingly fairytale romance, Harry was allegedly tied to another TV star.
Inside Prince Harry's surprising past love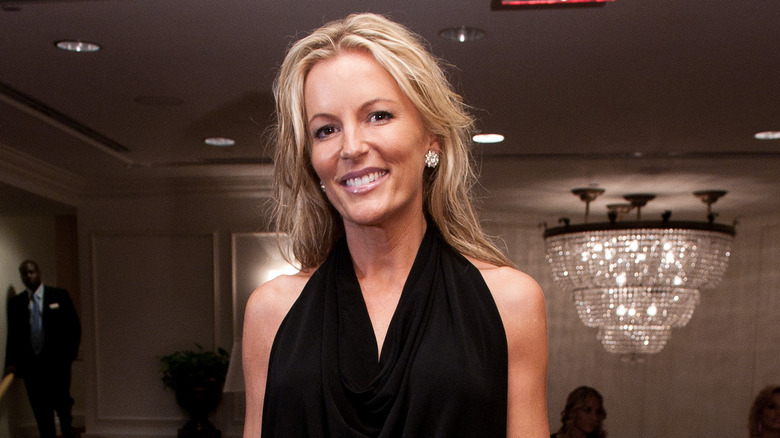 Kris Connor/Getty Images
It's hard to believe there was once a time when Prince Harry and Meghan Markle weren't together. One of the royal family member's former flames is spilling the tea on when she dated Harry, and we'll give you a hint ... she's kind of famous herself — in reality TV, at least. Catherine Ommanney, who appeared on the Bravo show "The Real Housewives of D.C.," spoke to The U.K. Sun about the royal romance that occurred when she was 34 years old, and Harry was 21 years old.
Ommanney explained to the outlet that she and Harry met through mutual friends and hit it off one night. "He was only 21, so a relationship was the furthest thing from my mind," she explained. "But when everyone started leaving at around 11pm, Harry pointed to one of three Range Rovers parked outside and said, 'Hop in with me,' which I found very flattering." The pair ventured off to a nightclub and later landed back at a friend of Harry's house. "He gave me the most incredible, passionate kiss I have ever had in my life," she explained. "I was absolutely speechless." The couple hung out a few more times, but things fizzled out when Harry changed his number and got back together with on-again, off-again love Chelsy Davy.
For those who don't remember, Ommanney appeared on the only season of "The Real Housewives of D.C." in 2010 (via IMDb). 
Catherine Ommanney got Harry's attention by roasting him
Catherine Ommanney told The U.K. Sun how she broke the ice with Prince Harry and how they even met in the first place. "We had some mutual friends in the property business and he introduced himself," Ommanney said. Ommanney decided to tease the young prince. "Harry was wearing an Australian-style hat that made me laugh so I asked him, 'What are you doing looking like a t*** in that?'" she said. "I don't think he was used to people taking the Mickey and once we started talking, it was like there was no one else was in the room."
Ommanney decided to speak up since Harry's memoir, "Spare," is slated to come out in January 2023, which promises a candid, raw look at his life, The New York Times notes. In a statement of what's coming, Harry said: "I'm writing this not as the prince I was born but as the man I have become," stating that the memoir was offering an account of his whole life (via The New York Times). Harry's book was on Ommanney's mind, but she doubted that she'd make it into his memoir. "I doubt I will be in Harry's book, as a prince can't run off with a 34-year-old mother of two," the former Real Housewife said. "It's just not the done thing." 
While there was no hope for anything substantial, Ommanney said that they both really liked each other, and her pet name for Harry was "Baby," because he liked lollipops. Cute.