Lisa Rinna And Yolanda Hadid's Feud Explained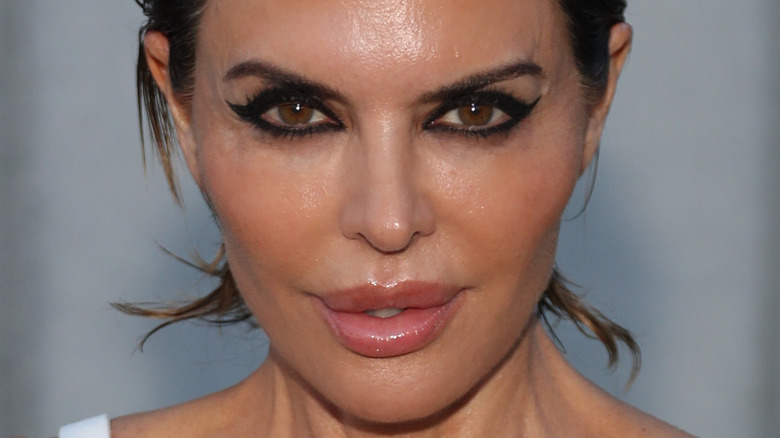 Manny Carabel/Getty Images
Feuds and "Real Housewives" go together like ... well, wine and "Real Housewives," so it's no shock that Lisa Rinna and Yolanda Hadid have been beefing for years. That said, just where did this particular drama begin? 
Let's get one thing straight: Rinna has never really shied away from falling out with her co-stars. She and Kim Richards were famously at odds for years — an epic feud that saw glasses thrown in Amsterdam, via Reality Tea, and baby shower bunnies returned at reunions. In the latter incident, Richards told Rinna that she refused to pass along the bunny intended for her grandson because, "I don't feel it was given to me with the right energy," per Bravo. In later seasons, she's also been at odds with her friend, Denise Richards. To paraphrase the "Days of Our Lives" actor herself, "Ooh [Denise was] so angry!" per Bravo. Most recently, she's found a sparring partner in Kathy Hilton — a move that's seen Rinna coming under fire, left and right. 
In light of all the current drama surrounding the "RHOBH" star, Rinna's well-established tension with Hadid may seem a little like old news. However, the drama recently made headlines again — so, our question remains. What started Rinna and Hadid's feud in the first place?
One word: Munchausen's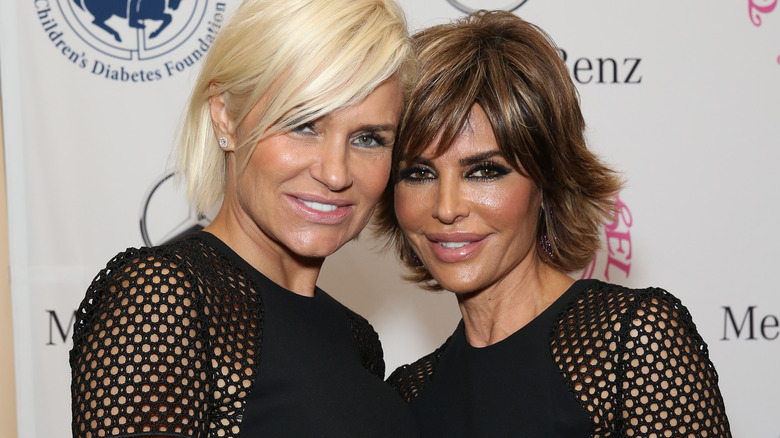 Chelsea Lauren/Getty Images
Yolanda Hadid first revealed that she was diagnosed with Lyme disease via Twitter back in 2012. "Need to Start my treatment for Neuro Borellia Lyme disease, can't wait to get my energy back," she wrote at the time. As Hadid told ET, the diagnosis coincided with her first season on "Real Housewives of Beverly Hills." However, she opted to continue with the show for three seasons, anyway. "I kind of stayed on because I thought, 'OK, I'll be better next season.' I didn't know Lyme disease was a life sentence," she explained. 
Hadid's time on "RHOBH" explored her battle with Lyme disease, particularly in her later seasons,  and that's where things took a not-so-great turn. In Season 6, relative newbie Lisa Rinna brought to light rumors she'd heard in Malibu about her co-star's illness — or perceived lack thereof. In a scene with Kyle Richards and Lisa Vanderpump, Rinna brought it up, then added in something she'd been pondering: Munchausen's syndrome. "Those affected feign disease ... to draw attention, sympathy, or reassurance to themselves," she suggested. as reported by Bravo. 
As for her co-stars' response, Richards shared that while she'd heard people speaking about Hadid's illness, Rinna's line of questioning had taken things to another level. "I don't want to be around when Yolanda hears about this conversation," she mused, via the Daily Mail. Ultimately, Hadid did hear about it — and let's just say, she was not amused. 
Yolanda clapped back hard — and she's still not over it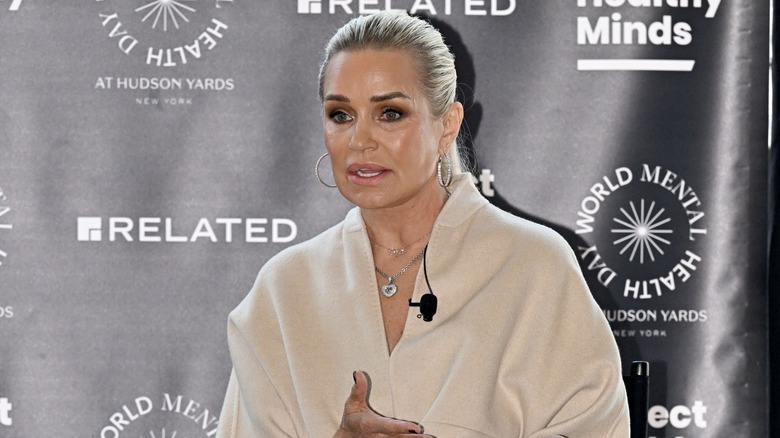 Dave Kotinsky/Getty Images
It took Yolanda Hadid a minute to fully grasp what Lisa Rinna meant by her suggestions of Munchausen's syndrome — but once she did, she was livid, and it's safe to say she's never fully forgiven her former co-star. 
In an explosive confrontation at Erika Jayne's barbecue, Hadid lambasted Rinna for making the suggestion on such a public platform. "You put it out in the universe, and that sucks," she said, via TheThrowBackQueen. And, she didn't hold back on Rinna's behavior the previous season, either. "You labeled Kim last year, you labeled Brandi, and now you're labeling me," she complained. Though Rinna told Hadid she had no doubts about Hadid's very real health issues during the exchange, the damage was done. Years down the line, Hadid has doubled down on the sentiment that Rinna went after a target, every season. Speaking to ET of Rinna's recent, messy feud with Kathy Hilton, Hadid lamented, "I feel sorry for Kathy because I've been in her shoes. I feel sorry [for] what it does to her family ... and why? Because you want camera time?" 
As for Rinna, she's previously shared on "Watch What Happens Live with Andy Cohen" that she learned a lot from the experience. She also told Los Angeles Times that she considered exiting over the drama. Six seasons on, however, she's still on the show, stirring the pot.