What Andy Murray And Roger Federer's Rivalry Is Like Off The Court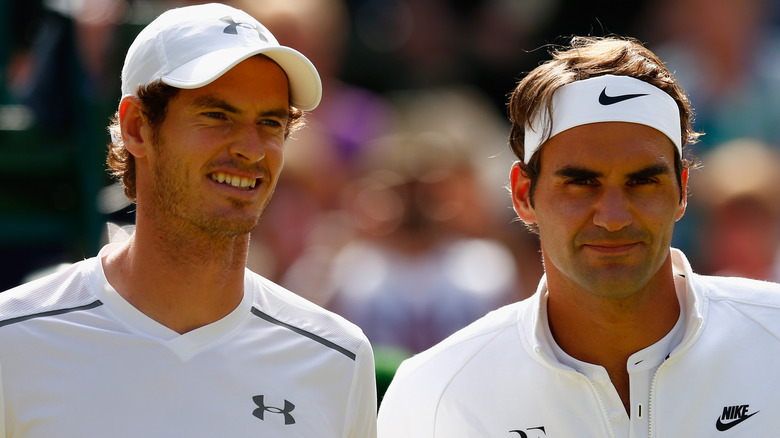 Julian Finney/Getty Images
Competition may be at the heart of every sport, but even the biggest rivals on the court can be best buddies outside of the game.
Case in point: Magic Johnson and Larry Bird, NBA legends who used to hate each other's guts, managed to turn their rivalry into a meaningful friendship. Their feud started when they were in college playing on different teams and intensified once they reached the pros. But, when Johnson found out he was HIV positive back in 1991, Bird was one of the first people he turned to. "I knew that he would want to know and also know from me," Johnson told NPR. "And I'm glad I was able to talk to Larry and let him know that I'm gonna be OK, and I knew he was going to be supporting me." To this day, they remain good friends, even though they don't see each other often. "You don't have to talk every day and we don't," he added. "But we know that if I need something, he's gonna be there. If Larry needs something, I'm gonna be there."
Friendly rivalries occur in tennis, too, especially among the so-called Big Four, the group of tennis greats composed of Roger Federer, Rafael Nadal, Novak Djokovic, and Andy Murray. And while the four often go head to head on the court, they're good buds once they hang up their rackets. Federer and Murray, for instance, managed to build a great friendship despite not liking each other from the get-go.
Andy Murray and Roger Federer got off on the wrong foot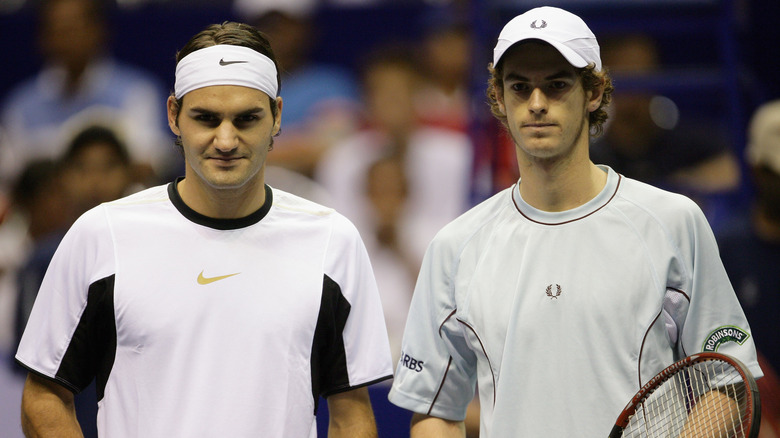 Ryan Pierse/Getty Images
Long before Andy Murray reached the pros, he was already a huge fan of Roger Federer. In a letter he penned to his younger self on Big Issue, Murray revealed that when he started taking tennis seriously, he took inspiration from the person who would become his so-called rival. "I watched Federer on the TV when I was young, and I took a lot of notes, coming up with strategies of what I would do if I was playing against him," the athlete wrote.
But during the first few matches they had together, he failed to impress his idol. The two had their first-ever match in 2005 in the Thailand Open, which Federer won. Murray managed to beat him in two matches afterward, but by the time they played again in 2008, Federer was disappointed by Murray's apparent lack of technique. "I don't think he's changed his game a whole lot since I played him in the Bangkok final," he told Reuters, adding that Murray's defensiveness on the court could be a flaw. "It sort of works for him but he's going to have to grind very hard for the next few years if he keeps playing this way." But, per Murray, he only did what he thought was best. "You do different things against different players," he explained.
Federer changed his tune, however, when he beat Murray at the US Open that same year. "He's a wonderful player," Federer shared with The Scotsman. "He brings something different to the game. He has a lot of options: good serve, good backhand, good volley."
Andy Murray and Roger Federer remain supportive of each other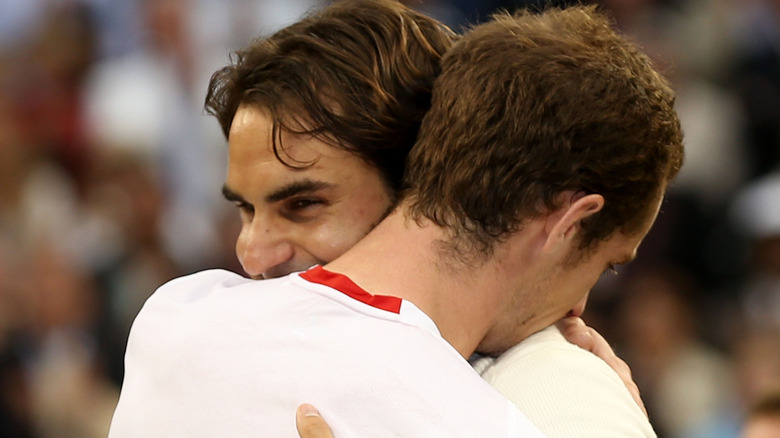 Clive Brunskill/Getty Images
Andy Murray and Roger Federer have played against one another 25 times in their careers, and through it all, they have remained friends. In fact, the two expressed support for each other even through retirement. In 2019, back when Murray told the press that he was thinking of giving the sport up following injuries, Federer said that his absence would have a ripple effect throughout the tennis world.
"He doesn't have many enemies, he's a good guy, a legend," Federer said of Murray. He also sang praises for how Murray had played over the years. "The first thing that comes to mind (with Andy) is he's somebody that will try everything on the court to beat you," he shared. "Within the rules, whatever he does, with his fighting spirit, with his tactics, with slicing, defense, attacking play, even serve and volley, chip and charge, he'll do it all. He'll leave everything out there."
Murray, for his part, was equally supportive of Federer when he retired. "I was lucky to get to compete against him in some of the biggest matches, in the biggest tournaments, on the biggest stages in our sport," he said of his idol, rival, and friend. "It's incredible what he achieved... It's a sad, sad day for the sport. Unbelievable career, the longevity that he's had."